Corinthian Casuals 0-0 Kingstonian
CORINTHIAN SPIRIT
For the second time in four matches, K's travelled away today to a team in the drop zone. And again the potential for the banana skin was realised, though this time the points were split rather than lost.

For the first time all season, all sixteen named players remained unchanged from that which dispatched Bashley on Monday night. With the possible exception of finding a place for Mazin Ahmad when he returns from his suspension, it seems Ian McDonald has now found a first 11 he is happy with, following the streamlining of the squad earlier in the week.

The first fifteen minutes of the match produced little to write home about, with the hoops showing little of the spirit they had mustered against Bashley. A couple of Martyn Lee corners and a free kick produced no real chances. After a quarter of an hour a Richard Taylor special looked like creating more of a chance, but Kenny Ojukwa's header was easily picked out by Casual's youngster between the sticks, Gareth Williams. Casuals were equally lacklustre in the early exchanges, producing only a couple of corners which were cleared away from the K's box with little difficulty.

After twenty minutes, Ian "Tizer" Dickens joined midfield to replace an injured Michael Brady. Shortly after, another good chance came for K's when Ojukwa won a free kick on the left side. It was then Ojukwa who got on the end of Lee's cross, but his head was just over. The attack then went into another nonthreatening spell, with neither a corner or a couple of Taylor long throws producing anything form Williams to worry about.

On the stroke of half time, K's won another corner and Lee delivered an excellent ball into the box. Williams and Ojukwa went up together and both missed, leaving Watson free to head home at the far post. Early delight for Watson, who thought he had scored his first competitive goal for the hoops, was cut short when the ref decreed that Ojukwa had impeded Williams.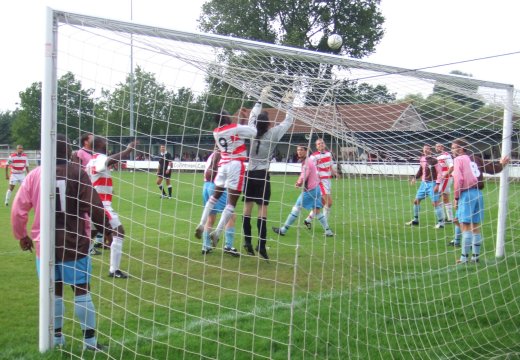 Photo: kingstonian.net
Macca made a change at half time, with Tony Reid replacing Watson. The second half started with little more enthusiasm than the first, and it was nearly ten minutes before anything noteworthy occurred. In the 53rd minutes Casuals striker Gove broke through the K's defence, but his shot failed to test Chuck Martini, with the ball soaring out of the ground.

After about a quarter of an hour, the game picked up some pace, and Kingstonian began to apply some real pressure. Another Lee corner was headed out, but only as far as Bashiru Alimi, who took a shot, which the keeper had to tip over. A couple of minutes later, Lee crossed in a free kick which Taylor headed goalward, but it was an easy catch for Williams.

A real chance looked on the cards when Jon Coke, moving forward on the right put a cross to the far side of the box. Reid chested down and looked certain to score when Casuals midfielder Tydeham slid in to produce a superb block. Despite K's persistent pressure, the Casuals just could not be broken, and even when Ojukwa made a blinding run to be one on one with Williams in space, the keeper pulled a stunning save to tip the shot over. Then the resulting corner created an even more frustrating chance when Scott Corbett's header to the far post beat the keeper only to be cleared off the line.

K's looked certain to finally break the deadlock when a quick free kick from Alimi played in Lee, but again Williams did well, pushing the shot wide. Tony Reid came close a few minutes later, when he met a long cross from Lee at the far post, but the header drifted wide. Three minutes from time substitute Tommy Cass headed down a cross to Alimi, whose effort was blocked from a yard out. One last effort came, when Julian Sills headed a Lee free kick at goal. As seemed to be the run of the day, the ball struck the crossbar, ensuring that Kingstonian were to walk away without taking the advantage.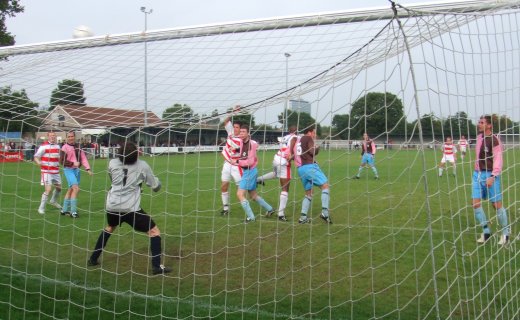 Photo: kingstonian.net
There was one last turn of events, when Corinthian Casuals looked like they might break the deadlock. A break down the left by the Casuals led to a cross which set up Hayle, who blasted wide of goal. Protestations from the players that the ball had gone out of play before the cross fell on deaf ears, so Martyn Lee added extra emotion to his expression. This was not appreciated by the linesman, and the referee produced a red card for aggressive and foul language.

There were, if you looked hard enough, positives to take from this match. K's remained solid at the back, with Jon Coke's return suring up a solid back 4. Up front, Kenny Ojukwa performed well again, and Reid and Cass both looked to be returning to match form. But there were two fundamental negatives which must be fixed. Again, players, this time Martyn Lee, fail to control themselves when agitated. This must be stopped as more suspensions can ill be afforded. And at the end of the day, you can't win football matches without scoring goals.
Sat 8th Oct 2005
King George's Field
301
Isthmian League Division One

Corinthian Casuals
0
Kingstonian
0

1
Chuck Martini
2
Jonathan Coke
3
Richard Taylor
4
Scott Corbett
5
Julian Sills
6
Stuart Reeks
7
Michael Brady

15

8
Bashiru Alimi
9
Kenny Ojukwa

12

10
Mark Watson

14

11
Martyn Lee
12
Tommy Cass

9

14
Tony Reid

10

15
Ian Dickens

7

16
Mark Rhodes
17
Jon Ashwood
Kevin O'Connor