Kingstonian 2-0 Croydon Athletic
RAMS TAKE A BASH-ING
This was a crucial game. Croydon Athletic (aka the Rams) in sixth place on 57 points; Ks in seventh place on 55 points. A defeat, and Ks would sit five points off the last playoff place. A genuine six pointer, and a heartening game in which Ks showed determination and steel to bounce straight back from the disappointing defeat against Fleet Town. Moreover, it was a tough assignment with the Rams in excellent form, having just beaten league leaders Ramsgate prior to this match.

Ks started off attacking the Athletics End. They immediately made some headway down the left side with Symes swinging in a dangerous cross resulting in a corner taken by Alimi. Bash was in charge of the set pieces with Ahmad on the bench, and he was in for an excellent game as he dominated the midfield and proved a very cohesive presence for the Ks.

Ks early pressure paid off in a surprisingly tame fashion after five minutes. Croydon rather unnecessarily gave away a throw in approximately adjacent to their area on the right hand side. Richard Taylor took one of his enormous long throws, and Scott Corbett ghosted into the heart of the Rams defence to flick a neat header into the unguarded net. It was a simple goal, and a real boost for the Ks. One slightly wondered that the league's tightest defence had been unlocked by what one could hardly call K's secret weapon, but all is fair in love and football - one-nil to Kingstonian.

Better was to come five minutes later. Croydon seemed rocked by Corbett's cheeky strike, and Ks were able to link up several passes in the midfield until the ball came to Alimi. Looking up from some 25 yards out, he rifled a low half-volley which whizzed into the right-hand side of the net, just inside the post. Two-nil to Kingstonian following a perfect strike where the ball moved at a swift pace and never more than a foot off the ground.

That proved to be the end of the goalscoring action although both sides created chances. Croydon looked thunder-struck at their poor start, and perhaps got encouragement when the K's talismanic central defender Julian Sills came off after a difficult challenge on 20 minutes. Paul Wetherall was the substitute. Croydon improved somewhat, pressurising Ks but were frustrated when James Rose managed to hack a good chance off the line to preserve a two goal advantage.

On the other hand, Ks came close several times to extending their advantage, Rose was agonisingly close as he flicked the ball just past the keeper's near post and then frustratingly seeing his header just before half-time blocked off the line by Waters.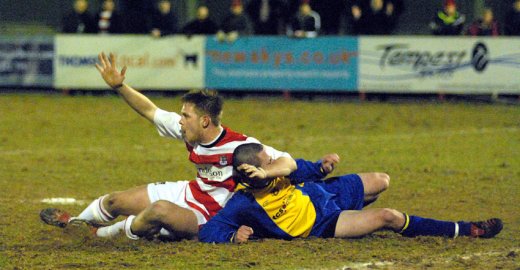 Photo: Neil Harvey
When Croydon carved out some chances, they found Alan Hughes in impressive form. Croydon would have been annoyed though to have fashioned a free header in the box on 35 minutes, only to see it bulleted straight at the Ks keeper. Shortly before half-time, Hughes was called on to make a fine stop to ensure Ks went into the break in well in the ascendancy.

The second half was played at a lower tempo as Croydon, tried to find a way back in. It was stilled by a number of injuries to Croydon players. The first one after about 50 minutes saw Barry Stevens struggling after a challenge from Taylor. He was replaced by Byatt. The second long delay saw Hall struggling for long enough for the keeper to replace a massive divot he had taken out of the ground with a free-kick.

Croydon came close again, with Hughes making a good stop on 65 minutes, and again being called into sharp action with about 10 minutes to go after Croydon looked to have got the better of him.

Mazin Ahmad replaced Scott Corbett on 73 minutes, and the substitute came close after bursting into the box; shortly afterwards the industrious Side saw his fierce shot blocked out by a great clearance from a defender on the line. In the closing stages, Side was replaced by Tony Reid. The next chance saw Alimi spring into the box after Ahmad's ball; he set Rose up but the Ks striker blasted the loudspeakers behind the goal rather than the net with a rasping shot.

With the final score being two-nil to Ks, this was a fine win for team, rather bucking the trend for poor home performances. Ks won fairly easily and for once tied the game up in the earliest stages. With Dover away up next, the importance of these three points could hardly have been overstated.
Mon 6th Mar 2006
Kingsmeadow Stadium
284
Isthmian League Division One

Kingstonian
2
Corbett, Alimi
Croydon Athletic
0

1
Alan Hughes
2
Steve Potterill
3
Steve Symes
4
Scott Corbett

12

5
Julian Sills

15

6
Richard Taylor
7
Stuart Booth
8
Bashiru Alimi
9
James Rose
10
Charley Side

14

11
Jon Coke
12
Mazin Ahmad

4

14
Tony Reid

10

15
Paul Wetherall

5

16
Kenny Ojukwa
17
Jonty Venter
Jonathan Burt