Fleet Town 3-3 Kingstonian
FLEETING HEADER
After a promising start to the season Kingstonian fans have recently started to show the first signs of dissatisfaction with the side, their frustration brought on by a lack of both good results and entertainment. A three-all draw at Fleet Town certainly did much to rectify the latter issue and while the result is hardly a return to promotion-seeking form, it at least represents a significant improvement on the miserable displays of the previous week against the South London duo of Dulwich Hamlet and Croydon Athletic.

With nobody coming off of K's extensive injury list that now includes Corbett, Brady, Sanders and Cass, the only change to their line-up saw Kenny Ojukwa return to the side in favour of Paul Wetherall after being delayed by work in midweek. The opposition featured a trio of recent ex-K's players; James Mann, Ian Dickens and skipper James Rose, while a fourth, Josh Francois, was named on the bench by Fleet Manager Andy Sinton - a man awarded with no less than twelve England caps by Graham Taylor.

The opening exchanges did little to suggest that the game would feature six goals. Kingstonian moves regularly broke down in the final third, while at the other end Julian Sills led the defence in snuffing out any Fleet attacks. The first moment of serious concern for either goalkeeper did not come until the 27th minute, when Martin Girling's twenty yard drive cannoned back off Chuck Martini's left-hand post.

The visitors failed to heed this warning though and a minute later K's were behind. Their recent habit of conceding goals to free headers continued, as a Terry Davies free kick found Paul George and he made no mistake in beating Martini. The Surrey outfit fought straight back though and four minutes later the scores were levelled. A tenacious run down the left by Bashiru Alimi was followed by a high cross, goalkeeper Justin Gray failed to claim it and Tony Reid was in the right place for a relatively simple headed equaliser.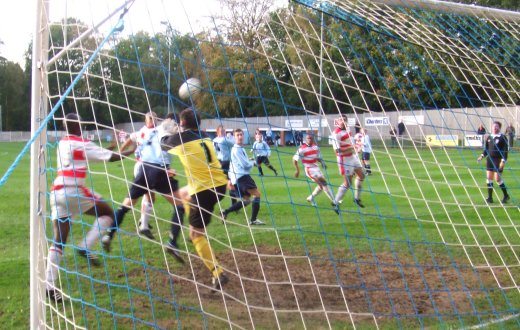 Photo: kingstonian.net
George tried to reinstate Fleet's advantage with another header from a free kick but this time he provided Martini with an easy save. K's also started to threaten more regularly, with Lee having a free kick deflected wide after a foul on Ojukwa and Ahmad narrowly missing the target with the subsequent corner - possibly another ambitious attempt at scoring directly.

Just after the interval he came close again, this time from a free kick, but Gray was comfortably equal to it. K's next good opportunity came just after the hour mark and it was taken in spectacular style. Another set piece, this time crossed in by Lee towards the penalty spot, was met with a superb header by an off-balance Sills which flew into the top corner.

Reid had an effort saved but K's had little time to enjoy their lead before they had lost it again. A Fleet corner set up another free header, Martini did well to tip it onto the bar but Mann was first to react and slammed it into the net. He looked particularly pleased to have scored against his former club where he was never really given a chance to establish himself in the team.

On seventy minutes, Fleet once again recaptured their lead. Eddie Smith's powerful low shot was every goalkeeper's worst nightmare - the one that bounces just in front of him - and it caught an awkward bobble, but nonetheless Martini will be disappointed that he got a hand to it but was unable to keep it out of the bottom corner.

Stuart Reeks tried to answer immediately from twenty yards but it was comfortably saved. K's seemed to lack the drive and imagination to get back into the game again but towards the very end they managed to rally and eventually won themselves a point after a spell of pressure. An excellent header from Reeks produced the save of the match from Gray, flying to his left to palm it away for a corner. K's kept Fleet on the back foot though and in injury time another free kick from Lee found Ojukwa, who beat his marker and scored K's third headed goal of the match.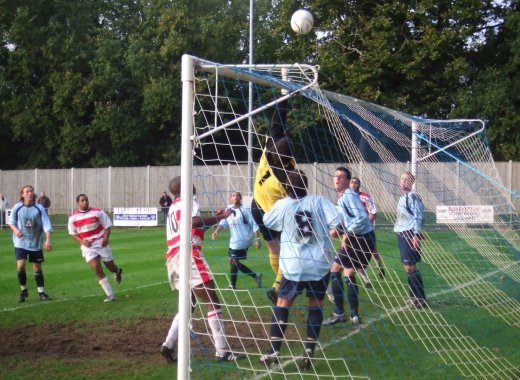 Photo: kingstonian.net
It is rather unfortunate for K's that just as they have managed to score slightly more freely (five goals in three games) it has coincided with a loss in form of the solid defence that was the base of the promising early season results. The side is still struggling to create from open play although the quality of the finishing today was vastly improved. There can be no doubt that the performance was a big improvement on the previous two - but then it could hardly have been much worse.

If the club wants a season of security and rebuilding then a point away from home is a decent outcome, but if promotion ambitions are still held then today represents yet more ground lost to the top six. The ingredients do all appear to be there for Kingstonian but they need to come together at the same time if an improved run of form is to be on the cards.
Sat 5th Nov 2005
Calthorpe Park
204
Isthmian League Division One

Fleet Town
3
Kingstonian
3
Reid, Sills, Ojukwa

1
Chuck Martini
2
Andrew Julius

12

3
Richard Taylor
4
Wayne Noad
5
Julian Sills
6
Stuart Reeks
7
Mazin Ahmad
8
Bashiru Alimi
9
Tony Reid
10
Kenny Ojukwa
11
Martyn Lee
12
Jonathan Coke

2

14
Ryan Bradley
15
Ryan Adams
16
Paul Wetherall
17
Paul Brady
Simon Grier