Fleet Town 0-1 Kingstonian
FLEET-FOOTED K'S MARCH ON
Kingstonian's long-suffering supporters have been dragged to the depths of frustration by their side's recent poor form, but for the first time in some weeks they witnessed K's turn in a performance to be proud of by efficiently despatching Fleet Town from the FA Trophy with a 1-0 victory.

For the second consecutive week The Blues hosted K's and once again they enjoyed their highest attendance of the season; a mighty 257 which caused considerable delays in getting into a venue used to hosting less than half of that number. The big news on the teamsheet was a debut in goal for Richard Martin, just eighteen years old, on loan from Brighton & Hove Albion. Jon Coke took on a holding midfield role and with Stuart Reeks facing a couple of months on the sidelines, Bashiru Alimi moved to left-back in a reorganised defence.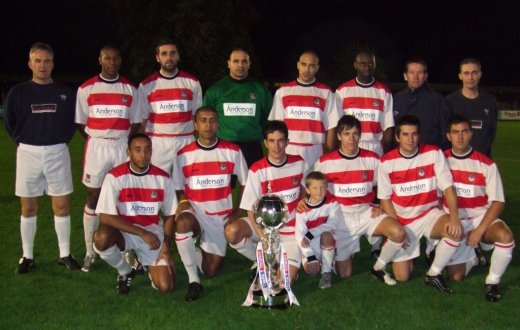 Photo: kingstonian.net
From the kick-off Kingstonian looked a far more impressive side than they had a week ago. They enjoyed more possession and more chances than their opponents throughout the game and were rarely troubled defensively. Blues goalkeeper Justin Gray was called into action early on when a Mazin Ahmad corner was only cleared as far as Martyn Lee. The creative midfielder volleyed goalwards but would have liked to get more power behind his shot and Gray claimed it with relative ease.

Three minutes later Julian Sills was on the end of a ball from Kenny Ojukwa but could only head wide for a goal kick. Fleet's first chance fell to ex-K James Rose but his header gave Martin an easy first save for the club. K's maintained the pressure as a Lee corner was met on the volley by Ahmad but he was unable to keep his effort down.

The game quietened down in the middle of the half as for all of Kingstonian's possession they struggled to create clear-cut chances - a recurring theme for the season. K's had a penalty shout on thirty-five minutes when William Salmon and Tony Reid tussled in the box, but as is so often the case in such fifty-fifty situations, the decision went in favour of the defender.

K's increased the tempo before the break through and created a fantastic chance in unusual circumstances. Richard Taylor's long ball was more of an accurate daisycutter than the sort of cloud-reaching hoof one normally associates with centre-halves and it set Reid through perfectly on goal. He looked to blast the ball first time past Gray but the Fleet stopper came off his line and was able to parry Reid's low shot away.

Just before the break, K's finally got the goal they deserved. Ojukwa, under a lot of pressure from Paul George, fired a low shot across the face of Gray's goal that agonisingly hit the inside of the post. It fell back to Reid though, who slotted it home from near the penalty spot to the delight of the hundred-plus visiting fans.

Early in the second half, K's had a great chance to double their advantage. An Ahmad corner found the head of Taylor on the edge of the box, he nodded it forward to Ojukwa but with a clear sight of goal six yards out he swiped at the ball and just barely made contact. At the other end, a rare chance for the home side saw James Field head comfortably wide.

Just before the hour mark, K's cut Fleet's defence apart with a series of headers; Taylor found Lee, Lee found Reid, Reid set Ojukwa free on goal, but K's top scorer fired high and wide. Next it was Paul Wetherall causing trouble for Fleet when George headed his cross directly upwards and Gray did well to claim the ball before Ojukwa could head home.

Ten minutes from time Reid and Ahmad, who have had a history of squabbling somewhat in recent weeks, linked up very well when the former's left foot cross was headed narrowly wide by the latter at the far post. K's were ultimately unable to add to their lead, but it mattered not because at the other end they remained in total control of the game. Substitute Jermaine Hamilton flashed a couple of late shots wide of the target but ultimately Martin was given little to trouble him and K's recorded a well deserved single-goal victory.

K's are still not taking chances as well as they might, but today signified a return to the excellent defensive form that was a feature of K's strong run of results through late August and early September. Taylor and Sills both had excellent games, Alimi fitted in well at left-back and right-back Wayne Noad had easily his best game for the club. The young goalkeeper Martin did not have a difficult save to make but nobody can ask for more than a clean sheet.

The win in a competition in which Kingstonian holds so much prestige gives the club much needed money, and much needed confidence. The players looked delighted, with Noad and Reid celebrating particularly hard at the final whistle, and evidence was there that the somewhat fractured team spirit is picking up again. K's will be lucky if in the next round they are not playing a team from a higher level, but if they defend as well as they did today then there are many non-league teams who will struggle to break them down.
Sat 12th Nov 2005
Calthorpe Park
257
FA Trophy 2nd qualifying round

Fleet Town
0
Kingstonian
1
Reid

1
Richard Martin
2
Jonathan Coke
3
Richard Taylor
4
Wayne Noad
5
Julian Sills
6
Paul Wetherall
7
Mazin Ahmad
8
Bashiru Alimi
9
Tony Reid
10
Kenny Ojukwa
11
Martyn Lee
12
Christian Gonzalez
14
Ryan Bradley
15
Ryan Adams
16
Nicholas Fogden
17
Paul Brady
Simon Grier