Kingstonian 1-3 Fleet Town
FLEET-FOOTED TOWN
The road to promotion is by no means a straight one and nobody can expect Kingstonian to navigate it without a few hiccups; nonetheless, they did nothing to help themselves today with a performance that was more A1 than Formula 1 and once again exposed their dismal home form.

Kingstonian did not seem switched on throughout the game, struggling to find the impetus to attack and having a Moorhouse-sized hole in the centre of the pitch (the midfielder was injured) which Fleet Town exploited with alarming regularity. Martyn Lee and Mazin Ahmad returned to the side but their creativity could not rescue K's from the doldrums.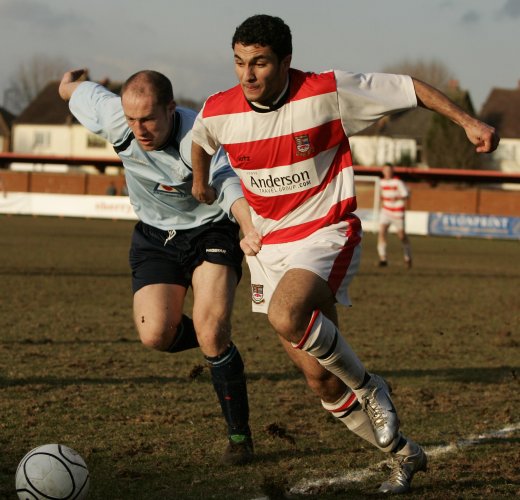 Photo: Tom Dulat
With Jonty Venter still returning from South Africa and Alan Hughes playing for Combined Counties outfit Farnham Town, Aldershot reserve Andy Glasspool was drafted into goal on a one match loan. He was tested early on by a visiting side who started very brightly, was only able to parry a Martin Girling shot out and must was relieved to see Matty Lewis blaze the rebound over the bar.

On twelve minutes Fleet took a not undeserved lead, as Terry Davies hit a twenty-five yard volley that swerved late away from Glasspool and flew into the top corner of the net. K's home form may be bad but they have not been helped by the fact that two consecutive games at Kingsmeadow have now seen the opposition score amazing long range strikes.

Fleet defended deep, rarely letting K's get behind them, and looked to hit on the counter-attack. Two such moves could have doubled their advantage before twenty minutes but Nathan Smart fired over the top and a Steve Symes foul ended another good move before Davies fired the free kick straight at Glasspool.

K's equalised with their first decent attempt on goal though, to get back into the game against the run of play. The ever-working James Rose was fouled in the middle of the Fleet half, Lee chipped a free kick into the box and Scott Corbett sent a looping header over goalkeeper Justin Gray. This saw K's have a brief period of momentum but they only time they came close to scoring was when Steve Noakes headed an inswinging Ahmad corner off the line (below).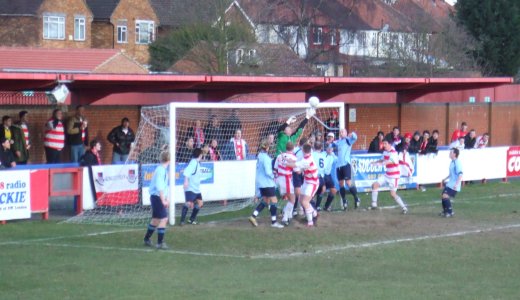 Photo: kingstonian.net
Girling missed a good headed chance for Fleet but made amends five minutes later. Having far too much space in the middle he hit a great ball for Smart who held off Julian Sills and slotted the ball past Glasspool to give Fleet the lead once more. The home cause was then not helped when Martyn Lee was booked for an aggressive challenge and then immediately withdrawn by Ian McDonald in favour of Paul Wetherall.

K's problems got even worse in injury time. A dubious free kick was given against Rose and a Fleet pumped the ball into the box from the set piece. It was headed across the box before Glasspool could get to it and Noakes slammed it on the volley to put The Blues 3-1 up at the interval.

K's fans may have hoped for a now traditional second half recovery but nothing of the sort came. Corbett had a great chance early on after a Richard Taylor throw-in caused chaos in the box, but Gray athletically tipped his point-blank volley onto the crossbar.

Fleet should have gone 4-1 ahead on 64 minutes when Davies' 30 yard shot floated past Glasspool onto the post, but Smart fired the rebound well over. Glasspool did well four minutes later when he tipped a Noakes hook-shot over the bar. Even the introduction of Reid and Ojukwa made little difference to K's, who continued to struggle.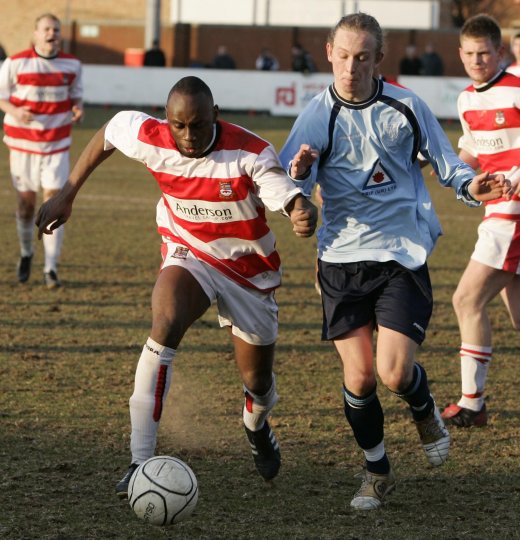 Photo: Tom Dulat
K's best chance of the half came on eighty minutes when Gray got poor distance on a punch after an excellent run and cross by Symes, but Sills blazed the follow-up into the stands. Rose pulled a volley agonisingly wide after a Sills long ball and Reid had a fierce shot well saved after an Alimi corner but no breakthrough came. Fleet hit the post once more near the end but could not quite put the finishing gloss on a game that they could easily have won by more than two goals.

There is little point speculating on the reasons for K's awful home form - they have lost more than they have won - as even Ian McDonald is at a loss to explain it. The pitch was in poor condition today but this should in no way excuse K's performance. Fleet deserve credit for playing extremely well, they are a side in good form and certainly earned the points. K's now need to bounce back from this blip ahead of some very important games against their fellow promotion challengers or the hard work of the last few months could be easily undone.
Sat 4th Mar 2006
Kingsmeadow Stadium
344
Isthmian League Division One

Kingstonian
1
Corbett
Fleet Town
3

1
Andy Glasspool
2
Steve Potterill
3
Steve Symes
4
Scott Corbett
5
Julian Sills
6
Richard Taylor
7
Mazin Ahmad

14

8
Bashiru Alimi
9
James Rose
10
Charley Side

16

11
Martyn Lee

15

12
Jon Coke
14
Tony Reid

7

15
Paul Wetherall

11

16
Kenny Ojukwa

10

17
Paul Brady
Simon Grier