Horsham 2-2 Kingstonian
CROSSING THE LINE
With only ten senior outfield players fit and available, on the face of it Kingstonian's achievement in getting a point at second-placed Horsham was quite a remarkable one. However, having led 2-0 with nine minutes to play there was bitter disappointment among K's fans that the archetypal six-pointer had finished two apiece.

McDonald's selection decisions were a world away from the recent Banstead game where competition for places was so stiff that Tony Reid and Paul Wetherall did not even make the matchday squad. Lee and Brady remained suspended, Moorhouse has left the club, Ahmad was absent for reasons unknown, Symes ill, Potterill injured and Booth away for family reasons. All this meant that the only decision the manager had to make was the selection of Alan Hughes ahead of Jonty Venter in goal; four strikers in the team was a result of necessity rather than attacking intent.

Despite the unusual look of the side though, K's were rarely troubled by Horsham for the first eighty minutes. The visitors might have scored just before the break when Hughes made a flying save from a Gary Charman drive, while Andy Howard came close just after the break. Beyond that though, it was difficult to sense much danger to Hughes' goal.

K's themselves had not created a lot more during the first hour. The most notable moments came when the tireless James Rose headed a Bashiru Alimi free kick over and Rob Frankland acrobatically tipped a Kenny Ojukwa free kick away from danger, also over the crossbar (below).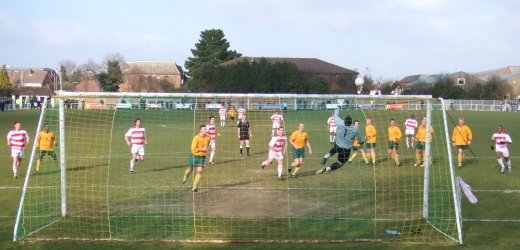 Photo: kingstonian.net
As K's have often done away from home this year though, they had kept their discipline and persevered, before producing a goal quite out of the blue. Ojukwa's cross from deep picked out Rose, who sent a looping header over Frankland to put the visitors ahead (below). K's might have had a second when Alimi broke in behind the defence and his low cross deflected off the heel of Tom Graves before hitting the post and being cleared by Howard.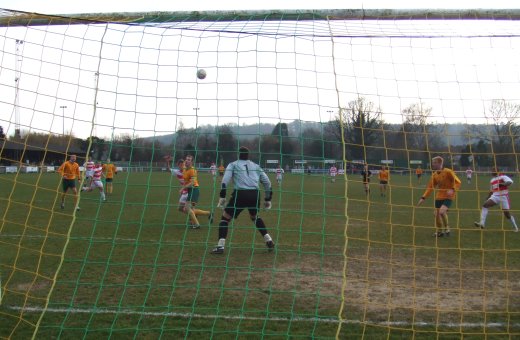 Photo: kingstonian.net
The Hornets did not look like getting back into the game at this stage and when K's doubled their advantage four minutes later the game should have been put to bed. Alimi hit a fierce 25-yard drive that Frankland got a hand to but was unable to prevent going into the net (below). For both K's goals, it could be argued that the home goalkeeper had not helped himself by being too far off his goal line.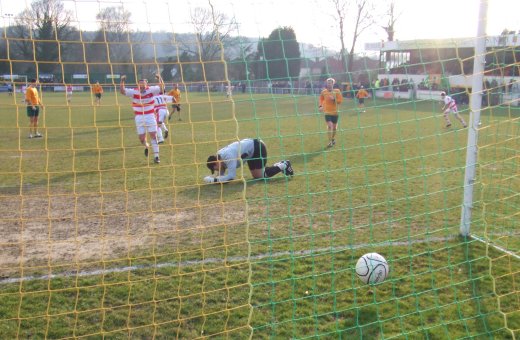 Photo: kingstonian.net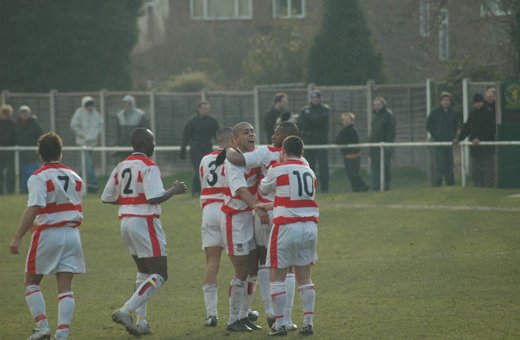 Photo: Robert Blevin
K's perhaps thought the game was in the bag but two minutes later reality hit them with what was to be the major talking point of the game. A Horsham break put substitute Dominic Hudak in on goal and he unselfishly squared for Nigel Brake. Brake hit the ball goalwards where Julian Sills, holding on to the post, appeared to clear the ball off the line.

The linesman disagreed though, awarding a goal to the home side much to the chagrin of Sills. The K's captain, certain that the ball had not crossed the line, angrily remonstrated with the officials but to no avail. That video evidence would later appear to back up Sills' claim will be of little consolation to K's, though photos prove less conclusive (below).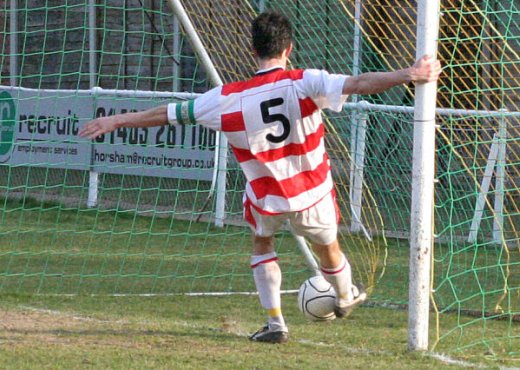 Photo: John Lines / Hornets Review
Mentally K's seemed to fall apart at this point and they were certainly not aided by having at least two too many strikers on the field while trying to defend a lead. A rejuvenated Horsham peppered the K's goal for the remaining nine minutes, plus a large amount of time added by Kingstonian nemesis of previous games Andy Legg, and in the end the visitors were lucky to escape with a draw rather than a defeat.

The equalising goal came on 86 minutes when a ball was pumped into the box and Graves lobbed it back across and Hudak rose unmarked to head past Hughes from close range.

Overall K's did well in difficult circumstances but in terms of automatic promotion if it was not a must-win game then it was certainly a very important one; the gap to Horsham remains eight points, with only eight games left to close it down. However, as much as K's can feel justified in their anger at the officials, it was still disappointing that they allowed Horsham back into the game.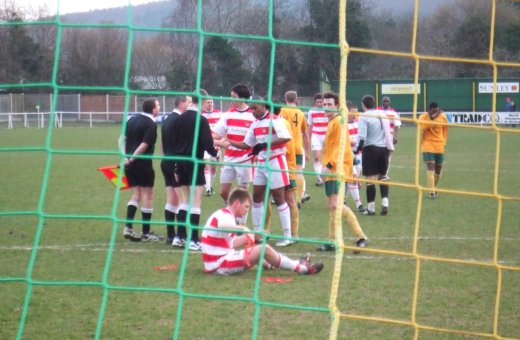 Photo: kingstonian.net
Whether the ball had crossed the line or not for the first goal, K's should have defended better, closed the game out and not put Sills in a position where the ball had to be cleared off the line at all. And feelings of grievance notwithstanding, K's seemed to lose their heads after the goal and in the end Hudak's equaliser came as little surprise. Bearing in mind the heroic defensive efforts from victories such as that at Tooting, it was a major disappointment for K's.

Nonetheless they have to look to the positives - two draws away from home against tough teams with a depleted squad and they will hopefully have more players available next weekend. Automatic promotion remains possible, a playoff place is certainly there for the taking and they have a side that has proven that on their day they can beat anybody in the league.
Sat 18th Mar 2006
Queen Street
502
Isthmian League Division One

Horsham
2
Kingstonian
2
Rose, Alimi

1
Alan Hughes
2
Kenny Ojukwa
3
Jon Coke
4
Scott Corbett
5
Julian Sills
6
Richard Taylor
7
Paul Wetherall
8
Bashiru Alimi
9
James Rose
10
Charley Side
11
Tony Reid
12
Steve Symes
14
Stuart Booth
15
Mark Jarman
16
Stuart McIntyre
17
Jonty Venter
Simon Grier