Kingstonian 1-2 Horsham
K'S STUNG BY THE HORNETS
As in both of their two previous league defeats this year, K's created more chances than their opponents - but once again they managed to convert less of them and sank to another disappointing defeat, this time to league leaders Horsham. Having taken the lead through a Kenny Ojukwa header, K's had every opportunity to win the game but missed a large number of chances and eventually finished on the receiving end of a 2-1 defeat.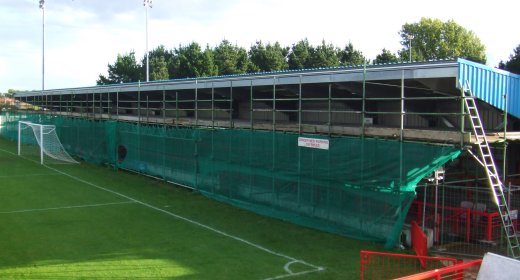 Photo: kingstonian.net
Martyn Lee and Kenny Ojukwa returned in place of Ian Dickens and Paul Vines while the suspended Mazin Ahmad was replaced by Brahim Eloumani, making a timely return from injury. Also back off the sick list were Tony Reid and Jon Coke who were named on the bench.

K's, this week playing in a wing-back formation, looked to take the game to the Hornets early on. Martyn Lee crossed a fourth minute free kick into goalkeeper Gary Elliot's penalty box and Julian Sills forced him into a save with a fine header. Then in the eighth minute Bashiru Alimi squared the ball for Ojukwa who forced Elliot to tip his twenty-yard effort over the bar.

Horsham did little to worry K's early on, with Nigel Brake's twenty-five yarder being the only threat to Chuck Martini's goal in the first twenty minutes. On the quarter-hour mark K's took a well-deserved lead with Lee confidently taking the ball down the left flank and beating James Cant to get a pinpoint cross into the box. Ojukwa met it with a forceful header and although Elliot managed to get a touch to the ball he could not keep it out of the net.

Elliot almost gifted K's a second four minutes later when his clearance from a back pass went straight into Ojukwa's backside. Agonisingly for K's the ball trickled just inches wide of the post. Elliot, still struggling with a recently obtained knee injury, struggled throughout the game to get adequate distance on his kicks and eventually bleach-haired centre-back Tom Graves relieved him of his kicking duties.

Following this let-off Horsham began to show the sort of form that has taken them to the top of the division. A corner fell to John Westcott at the far corner of the penalty box. He cracked the ball powerfully towards goal and Eloumani was forced to clear it at the near post. A minute later he had the ball again in a similar position and chipped it towards the far post where it only narrowly evaded ex-AFC Wimbledon striker Jamie Taylor. The Hornets' pressure continued as a Brake cross almost found Westcott in an even more dangerous position but Eloumani did well to clear the ball for a corner.

Eventually K's got the ball down the other end and created a good chance for themselves. Richard Taylor, benefiting from a new and more aerodynamic haircut, hurled one of his trademark long throws into the six yard box and Elliot did well to save Ojukwa's downward header. On the half-hour mark though, Horsham got themselves an equaliser that was somewhat lucky in terms of its execution although it was certainly not against the run of play. An Elliot goal kick was headed up to Westcott who picked out Matt Geard. His twenty-five yard drive would probably have been covered by Martini but took a wild deflection off the unfortunate Scott Corbett and left the Moroccan stopper with no chance.

K's looked to immediately recapture the lead and Sills met a Lee free kick at the far post but could not quite find the target with his header. Next, Lee played Eloumani in behind Cant with a fine ball but the wing-back's shot cannoned out of play off the face of Horsham skipper Andy Walker.

Martini, usually reliable with his kicking, failed to get enough height on a fortieth minute clearance and Lee Carney intercepted it. Martini was able to atone for the error though by making a comfortable save from Carney's low shot. The last good chance of the half fell to K's but once more went begging. A splendid direct pass from Stuart Reeks was met with an equally impressive turn from Ojukwa. He crossed low for Mark Watson but the striker was unable to get a foot to the ball and mark his home debut with a goal.

Early in the second half Sills again got his head to a Taylor throw-in but Elliot was once more equal to it despite the fact that by this point in the game he was visibly suffering with his leg injury. A minute later K's were denied a penalty when Geard handballed a Bennetts cross well inside the penalty area. However the referee, who had already earned the ire of the Two Maccas for his first half performance, controversially decided to award only a free kick on the very edge of the box. Lee cracked the set piece hard into the crowd of players around the penalty spot where Sills stooped to get a head to the ball but it flew well over the target.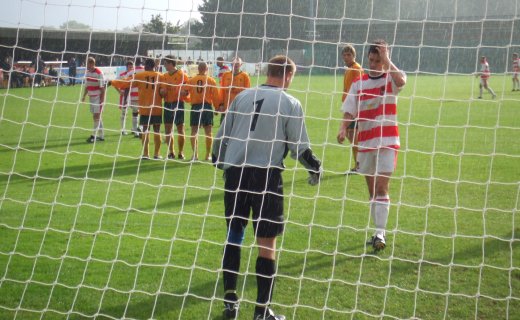 Photo: kingstonian.net
K's were unable to convert a chance though and by the middle of the half the pendulum had swung in the other direction as the visitors began to take control. An excellent free kick from Carney curled round the wall and brought out the best in Martini on the hour mark and then two minutes later Taylor had to make an impressive block from a Westcott drive.

A Dominic Hudak shot was deflected over via the top of the crossbar - shortly afterwards he headed narrowly wide before Taylor also used his head to produce a save from Martini. K's survived this spell of pressure though and created themselves another good chance on seventy minutes. Unfortunately both Taylor and Scott Corbett went for Alimi's cross with the result being a wasted chance that ballooned harmlessly over.

K's were disappointing in their inability to test the injured goalkeeper but did not help themselves in the seventy-fourth minute when their biggest attacking threat, Kenny Ojukwa, was substituted for Tony Reid. While the power of Reid was always going to be a useful asset there were numerous less-contributing candidates than Ojukwa who could have been sacrificed.

Lee and Reid picked up yellow cards as the home side became frustrated and after Reid and Watson had combined nicely to tee up Alimi the captain got underneath his twenty-yard effort and sent it sailing over the bar. Nine minutes from time K's fell asleep and were punished with the crucial goal. A throw-in went to Carney on the corner of the penalty box where he was unmarked and had far too much time and space to fire an unstoppable shot across Martini and into the bottom corner.

Paul Vines replaced Eloumani as K's sought to get back into the game but were still unable to take their chances. A Reid volley after a Lee cross was deflected over and K's did not even win the corner the move should have earned thanks to a bizarre offside call. The best chance of an equaliser fell to Vines after a strong, driving run from Corbett but he took too long to control the ball - by the time he shot, his clear sight of goal was blocked and Nigel Brake deflected his effort away for a corner. The last chance fell to Corbett after another Taylor throw but he headed over and K's were left to contemplate the fact that once again they picked up no points where three were clearly possible.

Horsham played some good football and they were by far K's most impressive opponents of the season. There is little doubt that they will be promotion contenders yet for much of the game K's were the better side. Once again though, the side was unable to take their chances and against a side of Horsham's ability that will always be costly. K's can take heart from the fact that they kept the prolific Hornets strike duo of Taylor and Huvak quiet but on the other hand Horsham's midfield had far too many opportunities throughout the game.

Once again though, K's will know that finishing is the main area of concern before their next game, which is just two days away. Off-the-field things are still coming together for K's - today's crowd, an impressive if currently unfashionable 442, was with the exception of the final game of last season (which had a big K's Youth ticket promotion) Kingstonian's highest league crowd since the Sutton derby two years ago. K's will be hoping that the next home game on Monday night gives these returning fans something to really sing about.
Sat 1st Oct 2005
Kingsmeadow Stadium
442
Isthmian League Division One

Kingstonian
1
Ojukwa
Horsham
2

1
Chuck Martini
2
Scott Bennetts
3
Richard Taylor
4
Scott Corbett
5
Julian Sills
6
Stuart Reeks
7
Brahim Eloumani

14

8
Bashiru Alimi
9
Kenny Ojukwa

12

10
Mark Watson
11
Martyn Lee
12
Tony Reid

9

14
Paul Vines

7

15
Ian Dickens
16
Jonathan Coke
17
Jon Ashwood
Simon Grier