Kingstonian 2-1 Leatherhead
TANNERS DEFEATED
A lot has happened since Kingstonian last won five consecutive league games in the middle of their Ryman League-winning 1997/8 season. With the team finding some long-awaited form though, there is a buzz around Kingsmeadow that has been missing for far too long and a healthy crowd of 419 enjoyed another fine K's performance. Leatherhead were the victims, going down 2-1 as K's recorded a fifth consecutive league win for the first time in eight years.

Kingstonian looked dangerous from the very first minute, as a Kenny Ojukwa header was tipped onto the bar by Tanners 'keeper Tommy Dunn following a whipped cross by Mazin Ahmad. K's were enjoying plenty of possession and already looked the more likely side to score when in the fifteenth minute the visitors gave themselves an even harder task.

Warren Waugh, in chasing a ball that was a lost cause anyway, lunged nastily and unnecessarily at the back of Julian Sills' legs. The K's defender was lucky to escape with his health intact and Waugh could have few complaints about his dismissal.

Two minutes later came K's best chance of the first half, with Tony Reid the source as he made a strong run down the left and cut into the box. He took the ball round Dunn only to be blocked by Lynval Duncan, who had already frustrated K's this season with a strong performance in the colours of Ashford Town, and teed up Ahmad. With the goal at his mercy from ten yards out, the silver-booted midfielder should have scored but instead fired wide.

Marc Charles-Smith always looked threatening for Leatherhead and he produced their best chance of the half, breaking through the K's backline to force a good save from Richard Martin at his near post. K's continued to have the best of the game but found themselves frustratingly denied on more than one occasion.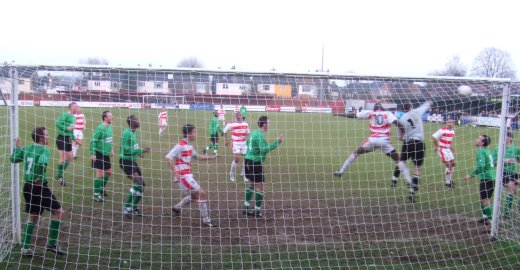 Photo: kingstonian.net
A cross from the impressive Steve Symes found Kenny Ojukwa (whose inclusion in place of James Rose was the only change to the K's side) but Duncan blocked his shot. The subsequent corner was cleared but Tommy Moorhouse soon got a cross back in, which Dante Aligheri cleared with tremendous bravery before collapsing in a heap after banging heads with Ojukwa. Thankfully both players recovered from the potentially dangerous incident and a saved header from Sills was the only other chance before the interval.

True to form, K's came out after the break with attacking intent and within twelve minutes had a two goal lead. Dunn saved well from Reid after Paul 'Chico' Wetherall and Bashiru Alimi had combined to tee him up but on 51 minutes the first K's goal came. Ahmad crossed high and deep, where Ojukwa met it at the far post. His header was blocked on the line by Dunn but rebounded to Reid. Reid's header hit the underside of the crossbar and neither Dunn nor Lee Doherty on the line was able to keep it out of the net.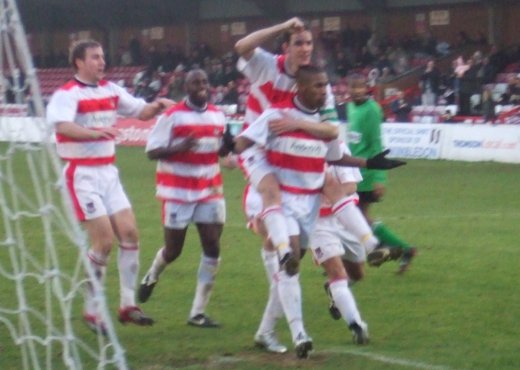 Photo: kingstonian.net
The Tanners almost equalised immediately but Martin made an excellent save from a Mark Harper header. Martyn Lee then dispossessed Duncan in a dangerous position but Dunn stood up well to him and saved with his leg in a one-on-one situation as the game developed an end-to-end character.

K's managed to double their advantage on 57 minutes though, thanks largely to Ahmad. He beat Adam Gray and put in an inch perfect low cross that left Dunn in two minds. He failed to claim it as it swung agonisingly away from him and Ojukwa met it with a diving header at the far post to secure his twelfth goal of the season.

The home side had a chance to wrap the game up after some superb skill from Symes had allowed him to get a good cross into the box. Reid got his header on target but the height was comfortable for Dunn and he saved easily. A minute later his side was right back in the game as K's failed to deal with a set piece. A corner was allowed to bounce through to Aligheri at the far post and despite a heroic dive from Martin the score was pulled back to 2-1.

Ian McDonald would undoubtedly be disappointed that from such a dominant position, K's let their opponents back into the game but to their credit they held on against the ten men and indeed had chances of their own. Reid headed an Ahmad cross over and Moorhouse had a twenty-yarder saved.

Nonetheless, the majority of the chances came for the Tanners in the final twenty minutes. Steve Sargeant fired a free kick over the bar and Sills was forced to clear off the line after a goalmouth scramble. Debutant defender Steve Potterill came off the bench for Lee as K's looked to shore the defence up but Leatherhead continued to threaten.

Deep into injury-time, Dunn went up for a free kick and indeed got his head to the ball. Again, the ball was cleared off the line for K's, this time by former Tanner Moorhouse, and Gray fired the follow-up over the bar. K's played some effective keep-ball and eventually the final whistle signalled a confidence-boosting victory. Over the last few weeks K's have proven just what they are capable of - if they can keep performing at this level then there is no reason that promotion should be out of their reach.
Sat 7th Jan 2006
Kingsmeadow Stadium
419
Isthmian League Division One

Kingstonian
2
Reid, Ojukwa
Leatherhead
1

1
Richard Martin
2
Paul Wetherall
3
Steve Symes
4
Tommy Moorhouse
5
Julian Sills
6
Richard Taylor
7
Mazin Ahmad
8
Bashiru Alimi
9
Tony Reid
10
Kenny Ojukwa
11
Martyn Lee

16

12
Stuart Booth
14
Michael Brady
15
James Rose
16
Steve Potterill

11

17
Mark Torcaso
Simon Grier