Lymington NM 2-0 Kingstonian
WEST-VIEW GOOD FOR LYMINGTON
Like renewing your road tax, The Eurovision Song Contest and Christmas, the Isthmian League Cup is a tedious event to be tolerated at best with the only redeeming feature being the fact that all occur only once a year. Certainly the latter does for K's, as for the third year in a row they sent an experimental side to a far corner of the Ryman League's territory to be dispatched from the competition at the first hurdle by average opposition.

This time the beneficiaries of a well-understrength visiting K's side were league newcomers Lymington & New Milton. They won 2-0 thanks to a pair of Darren Powell headers from poorly defended set pieces. The New Forest outfit should not expect such an easy ride in their league encounters with K's though - the team they beat included just two starters from Saturday's win over Molesey.

The lucky said duo of Stuart Reeks and Richard Taylor were joined by a mish-mash of fringe players, youngsters and those working their way back to full fitness (some even fell into all three categories) in front of a sparse crowd at Lymington's small but neat Fawcett's Field. The most interesting names on the teamsheet were newly-signed striker Paul Vines, nephew of K's legend Francis, and Jon Coke who made his first appearance of the season following a back injury. In addition, Jon Ashwood and Shane Franklin made their competitive debuts for the club having previously featured in pre-season.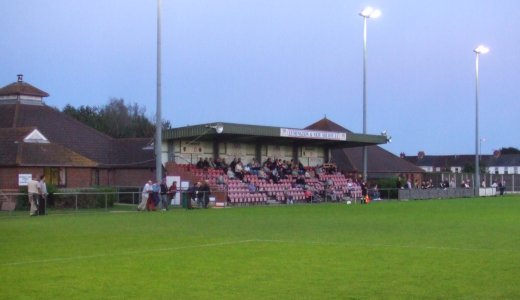 Photo: kingstonian.net
Lymington were a quick and skilful side with the ability to cause many problems but their performance was also blighted by defensive errors. Early on Paul Towler carelessly hooked a rather aimless K's long ball into his own area, Tony Reid challenged goalkeeper Michael Hookway and the ball almost broke for Ian Dickens in front of goal.

On eight minutes though the home side took a lead which they rarely looked like relinquishing thereafter. After Michael Brady had brought down Peter "PeeWee" Smith a free kick was pumped into the box. No-one in a hooped shirt picked up Powell and with Ashwood caught in no-man's land he was left with an easy headed finish.

Two minutes later Lymington might have doubled their advantage but Ashwood made an impressive reaction save from Stuart Hussey's close range effort after a teasing cross from the right. K's best chances continued to come from Lymington mistakes and two bad clearances by Powell allowed first Reid and then Vines to try their luck from distance. The former fired over however, while the latter had his effort well saved by Hookway.

A Kevin James cross teed up Ben Thomson to head over on thirty-five minutes and in first-half injury time James himself shot from twenty yards after a good run but Ashwood saved easily. K's made few inroads toward to the end of the half but after the interval they showed more purpose with Bashiru Alimi and Tommy Cass coming off the bench. Cass, starting a second spell at Kingsmeadow after an excellent year with Corinthian Casuals, immediately asked Lymington questions. After latching onto a long ball from Taylor he turned Kevin Reacord and it took a well-timed interception from Powell to stop him from teeing up Vines.

Taylor came close with a header from a Rhodes corner but as the experimentation continued he was soon replaced by Mark Cioni and K's strongest aerial threat was lost. Cass blasted narrowly wide from outside the box after intercepting a Reacord pass as K's built up some pressure but on 71 minutes poor defending of another set piece saw Lymington wrap the tie up.

Ashwood tipped a tricky inswinging corner from John Mulhern over his bar but from the follow-up set piece Powell was again unmarked and he doubled Lymington's advantage with a powerful downward header. K's attacking momentum was lost and they never looked like getting back into the game. It almost became 3-0 fifteen minutes from time but fortunately for the visitors Richard Gregory's effort hit the upright.

K's did have a fair shout for a penalty when Vines was tripped twice in a row but the referee waved play-on. Alimi had a long-range shot deflected narrowly wide and from the resulting corner a good header by Reeks was flicked off the line by Smith's heel but K's were unable to score and ultimately were unable to complain when the final whistle ended another brief League Cup campaign.

There were numerous positives to be drawn from the game. New signings Cass and Vines both looked good and both appear to have the potential to be the goalscorer K's so desperately require. Coke played ninety minutes and had a good game while Reid looked good before being replaced at half-time and seems to be over the injury he picked up against Newport. As individuals, Reeks and Brady played well but overall the defence lacked the organisation it usually has when marshalled by Julian Sills and Chuck Martini. McDonald had the chance to assess many other players in a match situation and will have a better idea of who he can and cannot trust in bigger matches.

When nine of the first team are omitted though, a defeat is always the most probable result. For the club this is probably no bad thing - this year's league campaign features more games in a shorter space of time than last year and by winning an FA Cup game the club has already superseded last year's achievements in knock-out competitions. Avoiding fixture congestion is therefore paramount if K's are to launch a serious promotion bid and elimination from this competition will certainly limit the number of midweek games faced by K's.
Tue 6th Sep 2005
Fawcett's Field
90
Isthmian League Cup 1st round

Lymington NM
2
Kingstonian
0

1
Jon Ashwood
2
Shane Franklin
3
Richard Taylor

15

4
Mark Rhodes
5
Michael Brady
6
Stuart Reeks
7
Ian Dickens
8
Jonathan Coke
9
Tony Reid

14

10
Paul Vines
11
Brahim Eloumani

12

12
Bashiru Alimi

11

14
Tommy Cass

9

15
Mark Cioni

3

16
Christian Gonzalez
17
Stuart McIntyre
Simon Grier