Newport IoW 1-3 Kingstonian
K'S UNCORK THE 'PORT
It is no exaggeration to suggest that K's may never have such unequivocal favourites to win a league game since their Championship season of 1997/98 - and as expected, they recorded a win over crisis club Newport, Isle of Wight. Having lost just once in their last thirteen games and scored in their last seventeen, Kingstonian are the form team in the Ryman League.

In contrast, Newport sit bottom of the table and just this week lost a handful of players. Even the fact they managed a 1-0 win over a very different K's side back in August can have given their fans little hope in the circumstances. In reality, the home side were better than the league table and the week's news would suggest but they were still unable to match the men from Surrey.

The visitors brought a remarkable 150 fans across the Solent to see a side that featured just one change - James Rose replaced Kenny Ojukwa after the latter failed a late fitness test on his ankle. They saw a side that from the opening exchanges looked full of confidence and immediately put goalkeeper Alex Hards under pressure.

Hards made an early save from a Julian Sills header after a Mazin Ahmad free kick as K's looked determined not to wait until the second half to score. Nonetheless, Newport played a smart game and having beaten K's with a goal from a counter-attack already this season they employed similar tactics again. When Ashley Wright broke through the K's lines Richard Martin had an early scare but fortunately the home player lobbed wide.

Ahmad soon had them on the back foot though and in the tenth minute provided an inch-perfect cross from which K's should probably have scored. Having made a good run down the right he squared the ball low to Tony Reid at the far post but Hards got down impressively to save his side-footed finish from six yards out. Martyn Lee cracked the follow-up towards goal but it went wide - after a deflection which the referee surprisingly failed to spot.

Wright fired wide for the home side before the referee once more managed to irritate the travelling masses. A great long ball sent Ahmad free on goal but the official blew for a foul on a K's defender, neglecting to allow a clear advantage. At this point it would have been easy for K's to become frustrated which is why their opening goal, on twenty minutes, was extremely well-timed.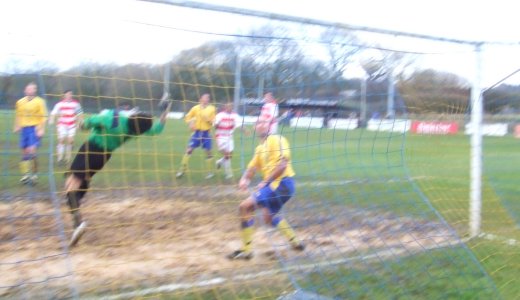 Photo: kingstonian.net
Stephen Leigh brought Reid down on the right flank and Lee curled the subsequent free kick into the six yard box. The towering Paul Jones headed away but only as far as Tommy Moorhouse - who volleyed home from the edge of the area to chalk up his first goal in a hooped shirt.

Hards had no chance of saving the well-placed volley but he could not say the same about Kingstonian's second eight minutes later. Reid crossed low after good work down the left and Hards seemed to misjudge it, ending up out of position. Rose was unmarked coming in from deep at the near post and despite a first touch that took the ball a little further than he would have liked, slid in before Hards could recover to double the visitors' advantage.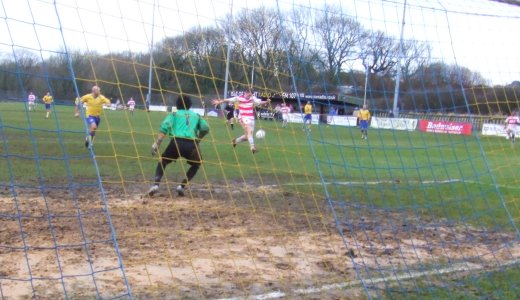 Photo: kingstonian.net
The celebrations were considerably more muted that they have been in recent weeks, which perhaps indicated an element of complacency in K's game as for the next half hour, either side of half-time, their game become somewhat poor.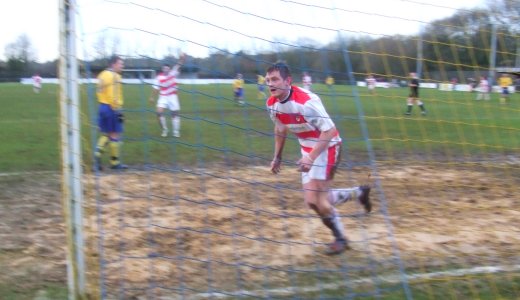 Photo: kingstonian.net
They were not helped by Moorhouse limping off with an injury. Steve Potterill replaced him but K's struggled to settle and four minutes later the home side were back in the game. Gavin Keogh played Olamide Dedegbe in behind a K's defence that seemed to fall asleep and he beat Martin from close range to pull back a goal.

A clever lob by Ahmad gave Alimi a great chance to restore the advantage to two goals but Hards saved well in a one-on-one situation. The islanders almost made Alimi pay by equalising in injury time but Wright's shot was deflected over the bar.

Ian McDonald re-jigged his team at half-time, replacing Ahmad with Stuart Booth and going for the wing-back formation that has not been seen for some weeks. It did little to help early on but as the game progressed K's became more dominant and began to pepper Hards with chances.

A Lee cross came to Rose at a height where it was difficult for him to decide whether to header or volley - he chose the latter and controlled his effort well only to see hit rebound off the post from six yards out. It almost hit him in the face before flying over the crossbar. Paul Wetherall played Lee through only a fine challenge from Jones to deny him a shooting chance. Reid picked up the pieces though and Ritchie Way did superbly to put the ball out before his low cross could reach Rose at the far post.

Lee found Rose totally unmarked at the near post from the subsequent corner but he headed wide of Hards' post. It was not until the 74th minute that the game was made safe, in somewhat scrappy circumstances. A Richard Taylor long throw was too close to goal for a K's player to reach but the defence left it for each other and it skidded through before bouncing off Leigh on the line. Reid picked the ball up and pulled it through the melee of players in the box. With a defender still on each post Sills remained on-side and turned the ball in from five yards out

Newport did create some pressure but always looked unlikely to overhaul the two-goal margin. Wetherall cleared off the line after a goalmouth scramble and Martin made a fine save with his foot but K's held on for a well-deserved win.

Newport were actually not the poor team the league table might suggest - they were dangerous on the break creating some good chances and Jones and Johnny Holmes had an impressive centre-back pairing. However, there were too many mistakes and too often they allowed K's players too much time and space in front of goal. Kingstonian were not at their best and their finishing was less impressive than it has been in recent weeks. Nonetheless, three points away from home is an impressive result regardless of the performance.

Wetherall had probably his best game for the club in midfield, Reid and Lee were a continual handful and Rose constantly got into dangerous positions. With Kenny Ojukwa and Scott Corbett set to return from injury soon as well and Booth returning to fitness after a nasty bout with 'flu, it is clear that Kingstonian have the depth and the talent in their squad to continue this fine run of form.
Sat 14th Jan 2006
St George's Park
296
Isthmian League Division One

Newport IoW
1
Kingstonian
3
Moorhouse, Rose, Sills

1
Richard Martin
2
Paul Wetherall
3
Steve Symes
4
Tommy Moorhouse

16

5
Julian Sills
6
Richard Taylor
7
Mazin Ahmad

12

8
Bashiru Alimi
9
Tony Reid
10
James Rose
11
Martyn Lee

14

12
Stuart Booth

7

14
Michael Brady

11

15
Tommy Cass
16
Steve Potterill

4

17
Paul Brady
Simon Grier