Kingstonian 2-1 Ringmer
THE BLUES RING TRUE
The FA Cup may not be traditionally associated with August but with every relegation suffered under the Khosla regime, K's entry to the Cup gets slightly earlier and so they found themselves today in the unusual position of having to qualify for the qualifying rounds of the tournament.

The opposition, Sussex League side Ringmer, may have been unfamiliar to K's fans but in recent years the World's Oldest Cup Competition has brought out both the best and the worst in Kingstonian and any complacency fans may have held would surely have been quickly eradicated with a mention of the names Brockenhurst or Ramsgate. Added to the fact that Ringmer had made a good start to the season while K's were yet to score this term and had not won at home for ten months, the game would have presented any potential pundits with the perfect opportunity to roll through their tired cliches about underdogs in the FA Cup.

Off the field the rebuilding process continued for K's. Mark Anderson of new sponsors Anderson Travel was introduced, K's new kit was unveiled and a healthy crowd of 327 attended despite there being very few away fans and the distraction of the best Ashes series for at least 24 years. With Ian McDonald unwell though, his assistant Stuart McIntyre took charge of the team.

Mark Rhodes, Mark Cioni and Mazin Ahmad all came into the side beaten by Newport earlier in the week with Damian Panter on his own up front. The first half saw a display that could at best be described as mediocre though as K's rarely looked like breaking down their well-organised opponents.

Bashiru Alimi won the ball from Joe Clark and teed up Panter but his eighteen-yarder was comfortably saved by Ross Standen. A minute later Martyn Lee tried his luck but again Standen did not look troubled. On fifteen minutes Lee presented a great chance to Panter with a fine through ball but again he was unable to beat the big goalkeeper.

Ringmer were not going to be content with just soaking up pressure from their more illustrious opponents though and created a number of chances of their own. Chuck Martini had to fly to his right to tip a Gareth Green volley round the post. On twenty-six minutes Darren Tidy crossed and the ball fell to Clinton Moore after Julian Sills had done superbly to block Dominic Shepherd's effort but the midfielder fired wide of the near post.

On the half-hour mark McIntyre withdrew Cioni from the game in favour of Richard Taylor - who had to play out of position at left-back. Clark and Ahmad came close with free kicks for Ringmer and K's respectively and Standen saved a Rhodes drive. The last chance of the half fell to Ringmer when Darren Tidy crossed, Clay Lamont had his shot blocked but again Sills was there to deflect Moore's shot over.

Seven minutes into the second half and it looked like Cup disaster was going to strike again for Kingstonian. Tidy had the ball out on the right flank - whether he intended to cross or shoot was unclear but the ball went over Martini's head and straight into the far corner of the goal to give Ringmer the lead.

Taylor almost equalised in similar fashion but on the whole K's struggled to find any attacking impetus. Rhodes was withdrawn in favour of Kenny Ojukwa but the main causes of excitement on the terraces were not the action on the pitch as much as news of two quick wickets for England at Trent Bridge. As K's realised the desperation of their position though the tempo began to pick up. Lee played Scott Corbett in on goal with a neat lob but Standen charged off his line and saved well.

On 68 minutes some neat skill from Panter set up Scott Bennetts but an excellent reaction save from Standen denied the midfielder his first goal for K's. Eventually the breakthrough came and K's equalised in the 72nd minute - Sills pumped a ball into the box where Panter controlled it well and took a pot-shot. The ball deflected off a defender and was cruelly diverted into the net past the already committed Standen.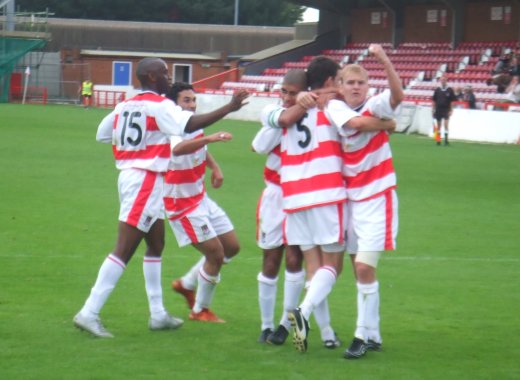 Photo: kingstonian.net
K's failed to continue the pressure though, with players seeming to lack the confidence to shoot and too many moves breaking down in the final third. Ahmad had a good opportunity after being played in by Corbett but his powerful left-foot volley easily cleared the crossbar. Five minutes from time Ringmer might have wrapped the game up. Andy Agutter almost got on the end of Green's cross then Bartosz Kedzior pumped the ball back into the danger-area where Green drove the ball towards the near post. Fortunately for K's it was blocked by a combination of Agutter and Stuart Reeks and the danger passed.

Deep into injury-time K's finally managed to snatch a winning goal after a chaotic goalmouth scene. A long Taylor throw-in was left to go out of play by Ringmer but Sills somehow hooked it into the six-yard box. Corbett headed it into the air and Ojukwa scuffed a close-range shot which Standen kept out. The rebound fell back to Sills who bundled it in from three yards to cruelly end Ringmer's participation in the cup. After the restart the devastated Sussex side had no time to even launch an attack before the final whistle blew and K's celebrated their advance to the next round.

It was hardly a pretty display but when you have been ten months without a home win you will take one however you can get it. K's will hope this proves a springboard for improved league form. As for Ringmer, K's fans had much sympathy for their unfortunate opponents - after all, Kingstonian know the pain of conceding a goal in FA Cup injury-time as well as anybody.

The victory also gave K's £1,000 prize money and now just twelve teams stand in their way in the quest to win the FA Cup and that elusive UEFA Cup place that has somehow eluded them in their 117 year history. The next opponents, Cray Wanderers, will be tougher than Ringmer - they are a strong Ryman 1 side who hammered Steyning Town 6-0 and have the distinction of being the team to end AFC Wimbledon's long unbeaten league streak. It will not be an easy game and the thought that K's have to beat four more teams to even reach the First Round proper may be a sobering one but today they did the job they had to do - just.
Sat 27th Aug 2005
Kingsmeadow Stadium
324
FA Cup Preliminary round

Kingstonian
2
Panter, Sills
Ringmer
1

1
Chuck Martini
2
Mark Rhodes

15

3
Mark Cioni

14

4
Scott Corbett
5
Julian Sills
6
Stuart Reeks
7
Scott Bennetts
8
Bashiru Alimi
9
Mazin Ahmad
10
Damian Panter
11
Martyn Lee
12
Tony Reid
14
Richard Taylor

3

15
Kenny Ojukwa

2

16
Ian Dickens
17
Jon Ashwood
Simon Grier