Tooting & Mitcham 0-1 Kingstonian
ROSE STRIKES TERROR
Kingstonian's first ever visit to Tooting and Mitcham's impressive Imperial Fields ground saw them sneak away with all three points thanks to a goal from their only shot on target of the ninety minutes.

The visitors' starting eleven was somewhat depleted, with Kenny Ojukwa absent with an ankle injury and Martyn Lee complaining of gastroenteritis. Or more likely "a bad stomach".

Jonty Venter started his third match in a row for K's, but this time was on familiar territory having only left Tooting fifteen days previously. And it was he who had the best view of two early efforts for the home side.

In fact there was no excuse for Tooting to not take an early lead. Twice they crafted fine chances, only for wasteful finishing to let them down. A poor back-header from Julian Sills after just five minutes allowed Paul Scott to nip in, flick the ball over Venter but then flick the ball over the bar when under little pressure.

The same player was involved just a few minutes later when a good move down the left allowed Scott to play in Jason Pinnock. His finish from just inside the box was as poor as the one before, with the ball flying well over when Venter should really have been tested.

The goalkeeper was called into action following a brief K's foray into the Tooting half. A long throw from Richard Taylor was cleared up the right wing and a quick switch to the left saw Ryan Gray with the ball at his feet on the edge of the box. His left-footed shot was on target, but Venter stood firm and the ball was parried away for a corner.

That it was K's who then scored was a surprise to all of the 502 present. A free-kick was awarded on the right, but Mazin Ahmad's delivery was poor. A defensive header dropped to Stuart Booth though, just outside the area. His shot was half blocked, but it ran through for James Rose, whose toe-poke from twelve yards out beat David Scarcella to give K's an unlikely lead.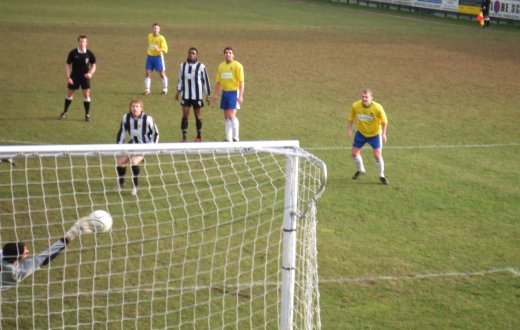 Photo: kingstonian.net
That was really the last involvement for the Terrors' keeper in the match. Not so for Jonty Venter at the other end. Just before the break he was twice called into action, and actually did well to still be able to walk after the first.

Another good move from the home side saw Scott played through for a run on goal, but a poor touch allowed Venter to sprint off his line and intercept just inside the area. But Scott didn't care that the keeper had the ball - he stamped all over his ex-team-mate in an effort to make him drop the ball. Julian Sills took exception to this behaviour and swung a fist in the direction of the offender. Both players were cautioned by a referee who was extremely lenient throughout.

Scott had another chance just before the break, but this time his shot from the left was saved by Venter's knee. Quite possibly the same knee that he had just stamped on, so maybe there is some justice after all.

The second period saw a game that was certainly end-to-end, but one that created no real chances of note. Ahmad was played into a good attacking position for K's, but a head injury to Scott Kinch saw play halted, and the re-start saw Tooting give the ball back to Venter. Another success for FIFA's new rules.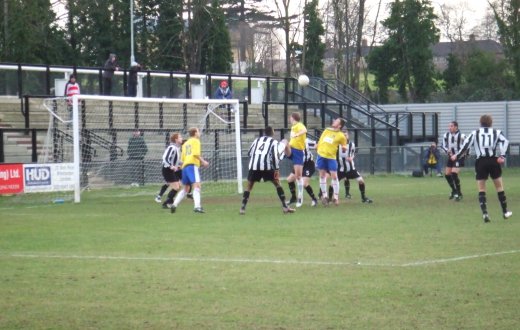 Photo: kingstonian.net
Danny Twin sent a free-kick just over for the home side, but in truth neither goalkeeper was extended after the break. Things became a little more difficult for K's when Steve Symes was shown his second yellow card of the afternoon for pulling back substitute Danny Platel. There can be no question that he deserved his punishment, but it was well worth the effort as Tooting were in a good position until the tug back. The resultant free-kick came to nothing.

The reaction of the players at the final whistle showed how much this result meant to them. After Monday night's disappointing defeat it was good to get such a positive result, particularly against a side with such an impressive recent run of form.

With five sides now within three points of each other in the league table, the difference between one and three points is huge, and this was the perfect response to the defeat by lowly Ashford. Tooting may well count themselves unlucky, but they never really did enough to break through a stubborn K's defence.
Sat 11th Feb 2006
Imperial Fields
552
Isthmian League Division One

Tooting & Mitcham
0
Kingstonian
1
Rose

1
Jonty Venter
2
Steve Potterill
3
Steve Symes
4
Tommy Moorhouse
5
Julian Sills
6
Richard Taylor
7
Mazin Ahmad

15

8
Bashiru Alimi
9
James Rose

14

10
Scott Corbett
11
Stuart Booth
12
Paul Wetherall
14
Jon Coke

9

15
Tony Reid

7

16
Michael Brady
17
Paul Brady
Gary Ekins