Walton Casuals 0-1 Kingstonian
GOOD MORNING
It could be argued that Walton Casuals manager Kim Harris' troubled reign at Kingstonian was characterised by 1-0 defeats - he suffered from no less than fourteen of them in his year-and-a-half tenure - and once again, his bogey scoreline came back to haunt him as a Mazin Ahmad strike saw his former club beat his recently promoted current side by a single goal to nil.

Ahmad, who Harris brought to Kingsmeadow shortly before his own departure, proved the difference between the sides with a fiery performance in a game that was otherwise lukewarm. The kick-off time of 11:00am, a time of day so preposterously early on a Bank Holiday that even Sky TV have never had the cheek to use it, perhaps made it unsurprising that players and fans alike seemed lacking in energy at Franklyn Road.

The only change to the K's line-up saw injured Scott Corbett replaced by Richard Taylor, with Tommy Moorhouse accommodating this switch by moving from centre-half to midfield. Kenny Ojukwa was suspended while Martyn Lee and Stuart Reeks remained injured, giving the K's side a rather depleted look. Casuals' top scorer Greg Ball, a man very familiar to K's fans, was also out injured leaving the home side somewhat lacking in firepower up front.

The game got underway ten minutes late thanks to a delayed referee; when it did kick-off though, most of the early action revolved around Casuals right-back James Crowe. A good run from him in the sixth minute allowed him to fire off a powerful shot from the corner of the box but Richard Martin tipped it safely over. Three minutes later Crowe caused problems at his own end though. He miscontrolled a long ball and Ahmad immediately picked it up. He beat three Casuals defenders with a typically aggressive run but was unable to finish the move, offering a tame shot which goalkeeper Danny Andrews gathered comfortably.

Andrews did well a minute later after Paul Wetherall and James Rose combined smartly to tee up Tony Reid, but Walton's number 1 sprinted off his line to get to the ball before K's number 9. The same three players were involved for K's four minutes later and Andrews was far more fortunate to see his sheet remain clean. Rose slipped in the box after receiving a through ball from Wetherall, but he flicked the ball back to Reid. Reid went for power rather than placement and Andrews somehow got a foot to the ball to deflect it narrowly over the bar.

Casuals had some good chances of their own; Craig Carley, whose brief spell at AFC Wimbledon early in the season caused some acrimony between Harris and The Dons, outpaced Taylor before firing across Martin's goal. Michael Carpenter had two good chances, first hitting a close range volley into the ground that bounced over and then hooking another volley wide. Nonetheless, the half was played at a slow tempo and it was little surprise to see the two sides go in at the break goalless.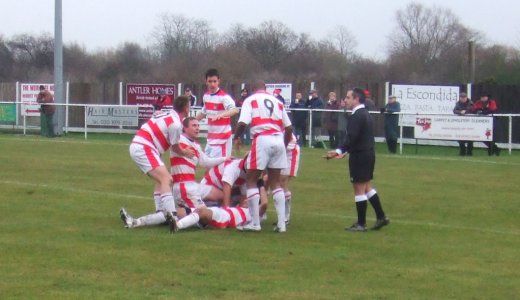 Photo: kingstonian.net
Seven minutes after the interval came the clear cut chance that K's were waiting for. Tony Reid chased down a long ball that looked like it was going out of play down the right flank and somehow hooked it into the box from the by-line. The cross found James Rose unmarked at the far post but from six yards out with half the goal at his mercy, Rose somehow headed wide. It took him just three minutes to redeem himself though. He picked up the ball in the penalty area but heading away from goal he had few options. However, he showed great strength to hold off Steve Sutherland while arguably being fouled, turned cleverly and teed the ball up perfectly for Ahmad to slam it first time into the far corner from around twelve yards out.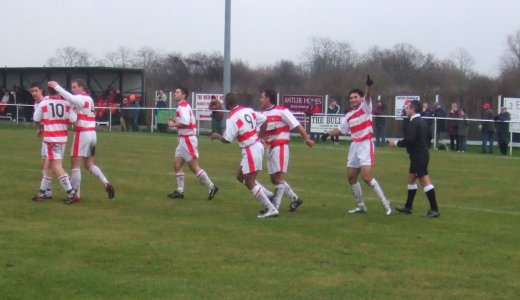 Photo: kingstonian.net
Casuals had chances to get back into the game but they were somewhat sparse. Carley hit a fierce thirty-yarder narrowly wide, Micheal Cobden hit the top of the crossbar with an overhead hook shot and Carley missed the target in stoppage time from a tough angle. For their part, K's kept the pressure up with Ahmad having a free kick saved and Sills being robbed by a fine challenge from James Pearson when through on goal.

The game held only moderate entertainment value but the result was an important one for K's who continue their good form. This was the fourteenth consecutive game in which the Kingsmeadow outfit have scored, the sort of run fans could only have dreamed of this time last year. K's form will need to be transferred back to Kingsmeadow and continued for some months though if they are going to clamber back into the promotion hunt after their miserable autumn.
Mon 26th Dec 2005
Franklyn Road
241
Isthmian League Division One

Walton Casuals
0
Kingstonian
1
Ahmad

1
Richard Martin
2
Wayne Noad
3
Steve Symes
4
Tommy Moorhouse
5
Julian Sills
6
Richard Taylor
7
Mazin Ahmad
8
Bashiru Alimi
9
Tony Reid
10
James Rose

16

11
Paul Wetherall
12
Ryan Adams
14
Michael Brady
15
Jonathan Coke
16
Tommy Cass

10

17
Mark Torcaso
Simon Grier