Kingstonian 0-0 AFC Wimbledon
K'S WIN FROM THE SPOT
Kingstonian regained the Trevor Jones Memorial Trophy following a penalty shootout victory against AFC Wimbledon.

Julian Sills went closest for the K's with a header that clipped the top of the crossbar, whilst the Dons went close with a handful of chances in the closing stages. The game was ultimately one of few chances and moved straight to penalties following a goal-less ninety minutes.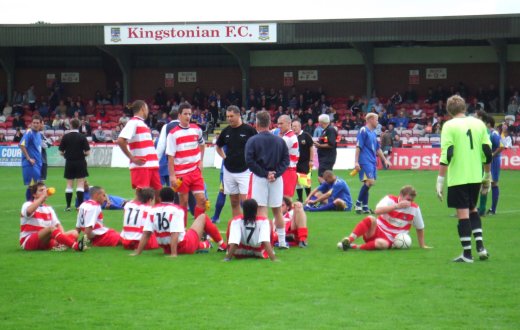 Photo: kingstonian.net
Martyn Lee, Dean Lodge, Tommy Moorhouse, Richard Taylor and Jon Coke all converted their penalties whilst substitute goalkeeper Stephen Windegard made the decisive save to deny Wes Daly.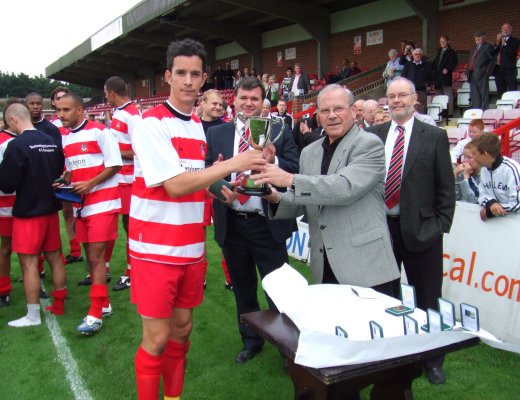 Photo: kingstonian.net
Sat 12th Aug 2006
Kingsmeadow Stadium
596
Friendly

Kingstonian
0
AFC Wimbledon
0
Kingstonian win 5-4 on penalties

1
Luke Garrard

17

2
Paul Wetherall
3
Steve Symes

14

4
Scott Corbett

18

5
Julian Sills
6
Richard Taylor
7
Dean Lodge
8
Aliy Kyezu

15

9
James Rose

16

10
Tony Reid

12

11
Martyn Lee
12
Pablo Jenkins

10

14
Steve Potterill

3

15
Tommy Moorhouse

8

16
Wes Harrison

9

17
Stephen Windegaard

1

18
Jon Coke

4

Ali Kazemi