Chatham Town 1-1 Kingstonian
DRAWN INTO THE QUAGMIRE
Just as in their Ryman Premier days Essex was a perennial bogey land for K's, since relegation Kent has taken over its mantle. A 1-1 draw at Chatham Town marked nine consecutive failures to win for K's in England's Garden over this season and last.

The team has changed thoroughly in that time of course - not a single one of today's starters even started the Surrey Cup Final last May, let alone the last K's win in Kent back in 2004.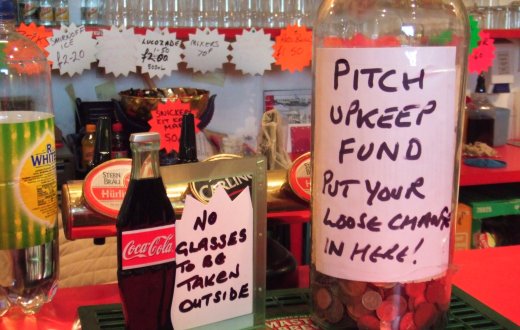 Photo: kingstonian.net
The K's defence appeared more solid than in the thrashings against the in-form Whyteleafe and rampant Dulwich, but Chatham offered far less going forward than either. After the hosts had taken an early lead K's had the best of the game. They lacked creativity and penetration though and a huge advantage in territory and possession rarely manifested itself in shots on goal.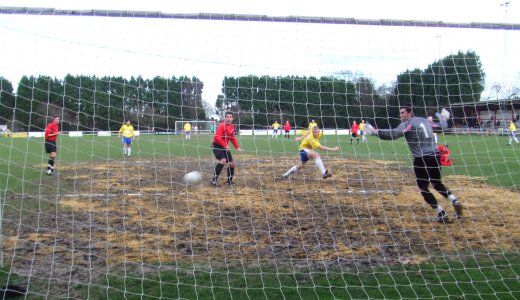 Photo: kingstonian.net
Alan Dowson is clearly a man who values workrate but to what extent this has come over raw ability in the new look K's side remains to be seen. The likes of substitute Martyn Lee and departed favourites Mazin Ahmad and Dean Lodge might not be known for tracking back for ninety minutes, but they may well have fashioned a way through the home defence more often than the current crop managed in a dour encounter.

It was not until the 80th minute that K's wiped out Chatham's 14th minute goal. Makeshift striker Simon Huckle was brought down as he turned through on goal and Bobby Traynor expertly converted the penalty.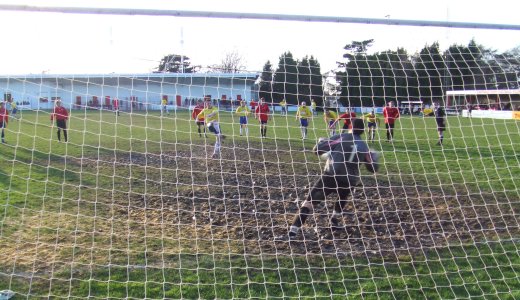 Photo: kingstonian.net
The hosts had taken the lead on 14 minutes when Rob Denness and Gavin Schulz combined with Denness beating Luke Garrard at the near post.

K's might have equalised when goalkeeper John Whitehouse was unable to hold on to a Chris Sharpling drive but Whitehouse did well to react and block Huckle's attempt at scoring on the rebound.

The second half saw K's increasingly in control but up to the penalty they were unable to truly test Whitehouse, the best chances coming through Wes Goggin and a fine volley by teenage debutant David Shin.

Even after the equaliser K's were unable to create any good chances. A number of corners came as well as long throws from Wayne Finnie and Richard Taylor but there was no cutting edge to the K's attack.

K's fans will hope they now have a side good enough to stay up but it is clear they are a long way from having a team capable of vying for promotion next year - for that they'll need more confidence, more creativity and to somehow get over the jinx that strikes them down every time they pass Clackett Lane services.