Kingstonian 1-0 Chatham Town
K'S LARKIN LOVE IT
There very much remains an air of discontent around Kingsmeadow that belies the fact that Kingstonian have now won four of their last five games. K's may have laboured to a 1-0 victory thanks largely to the defensive efforts of Julian Sills and Luke Garrard, but they did little to convince fans they are set for a promotion push.

Kingstonian have often been called a second-half team but the opposite was true today. Uncharacteristically they came flying out of the blocks today until going ahead through a 21st minute goal, at which point the game virtually died.

In the sixth minute James Rose volleyed wide after a goalmouth scramble and then Mark Brooks cleared a Scott Corbett header off the line four minutes later. Tommy Moorhouse came close twice in a minute, first heading a Martyn Lee corner over and then winning the ball in midfield and sending a fizzing 25-yard drive just above the bar.

A Steve Symes cross set up fellow full-back Asher Hudson in the sixteenth minute but he could not quite get a full connection on the shot. With such pressure a goal looked inevitable and it duly came five minutes later. A Moorhouse free kick picked up Danny Morris who sent the ball wide to Dean Lodge. Lodge crossed low and hard towards Lee who pressured Danny Larkin into deflecting the ball into his own goal off the far post.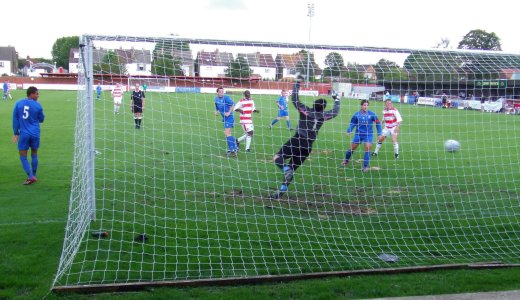 Photo: kingstonian.net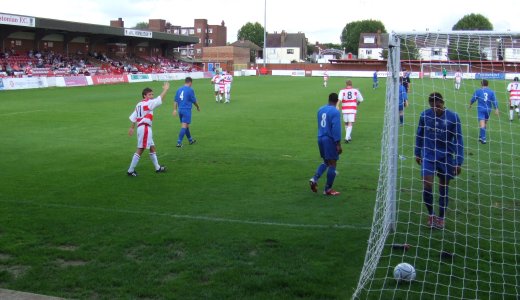 Photo: kingstonian.net
K's would not threaten again before half-time though and on occasion the visitors looked dangerous - an excellent volley from Darren Smith came close. Skilful substitute Rob Denness forced Symes to make an excellent block and then Town came close again from the resulting corner.

K's came out from the interval asleep and Luke Harvey almost took advantage. A through ball set him free on goal with plenty of time but Garrard made an excellent reaction save with his legs. The visitors were also finding Sills in excellent form as he made a number of important tackles and interceptions to protect his goalkeeper.

K's had few chances themselves though until the seventieth minute, when Lodge and debutant Yinka Salaam linked up nicely. Morris got to Salaam's cross just in front of goalkeeper John Whitehouse but was unable to get his shot on target. Shortly afterwards Morris led a counter-attack and teed up Tony Reid, whose chip on his (weaker) right foot evaded Whitehouse but rebounded off the bar. Morris had the ball in the net five minutes later after a quick free kick from Lee but was offside.

The last ten minutes proved hairy for K's though as Chatham twice came close to salvaging a point. A fine free kick from Smith produced an acrobatic save from Garrard seven minutes from time. A minute later Garrard parried clear a James Lyons shot and then bravely blocked the follow-up from Denness. Even then, K's were lucky that Richard Taylor was aware enough to clear for a corner and the home side held on for the three points.

K's are clambering back in to contention after a poor start to the season but they are still not looking potent enough up front nor solid at the back. With some tough tests coming up in the league, Stuart McIntyre will still be hoping for improved form from his team.
Sat 23rd Sep 2006
Kingsmeadow Stadium
264
Isthmian League Division One South

Kingstonian
1
OG
Chatham Town
0

1
Luke Garrard
2
Steve Symes
3
Asher Hudson

16

4
Tommy Moorhouse
5
Julian Sills
6
Richard Taylor
7
Daniel Morris
8
Scott Corbett
9
James Rose

14

10
Dean Lodge
11
Martyn Lee

17

12
Mazin Ahmad
14
Tony Reid

9

15
Jon Coke
16
Yinka Salaam

3

17
Glenn Boosey

11

Simon Grier