Kingstonian 1-3 Croydon Athletic
CROYDON RAMS HOME K'S WOES
Kingstonian are firmly in the mire after a hat-trick of defeats in which each time they have conceded three times. It was not the mud nor the rain that undid them in this game against Croydon Athletic, but poor defending and missed chances. And at the end the team were booed off by a vocal section of the small crowd. Certainly no claque here.

In the first half the team were steam-rolled over at a Kingsmeadow pitch that began to look like a flandrian field rather the well-kept turf it had before kick off after a sustained attack by the visitors and the rain.

Fortunately both relented after the half-time visit to the tea bar and Kingstonian began to play with a two-goal deficit to overcome.

Initial pressure from the home team sunk in the mud as Gareth Graham crossed to Moses Ademola, who fired a curling effort into the top corner past Luke Garrard.

This became two when Simon Moore charged past Richard Taylor only to be upended by Garrard in the penalty box. Referee Alison Chapman decided that a quick chat with the 'keeper would suffice and refused to brandish a card of any colour. Rams midfielder Graham dished out his own punishment by placing his spot kick low into the bottom corner.

Chances began to come K's way again with Adolph Amoako not able to score until he was pulled down from behind after a mistake by the visitor's defence. He duly scored, sending Sam Moore the wrong way as his shot went right - a well-taken penalty from a team about to concede a third goal.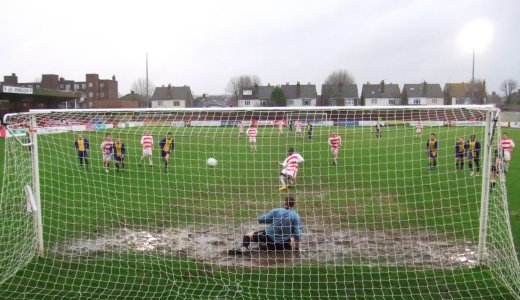 Photo: kingstonian.net
Within five minutes the Rams' Adam Waldren was lining up to the left of the penalty area 25 yards out when his shot hit the far end of the wall low and deflected cruelly to the left, past the helpless Garrard.

And that was it with both the rain stopping and the visitors coming off the gas in the second half. The home side had a hatful [or umbrella-full] of chances.

Both Martyn Lee and Amoako had chances to claw back the goals, but they and others in the red and white hoops were unable to make the breakthrough.

And then as the end beckoned Croydon hit back with a couple of fruitless chances themselves.

Incidentally the woman in the middle did show one yellow card and that was to the ever-influential Graham for a robust challenge, but throughout the match kept the players informed of all decisions.

Kingstonian now have a fortnight before their next game - former Conference rivals Dover Athletic, knowing that a sharp turnaround is needed if they are to maintain the club's fine record against the Whites.
Sat 6th Jan 2007
Kingsmeadow Stadium
248
Isthmian League Division One South

Kingstonian
1
Amoako (pen)
Croydon Athletic
3

1
Luke Garrard
2
Jon Coke

16

3
Steve Symes
4
Craig Lewington

12

5
Julian Sills
6
Richard Taylor
7
Scott Corbett
8
Gary Drewett
9
Niall Connery
10
Adolph Amoako
11
Martyn Lee
12
Asher Hudson

4

14
Glenn Boosey
15
Stuart Reeks
16
Tony Reid

2

17
Steve Potterill
Michael Underwood