Dover Athletic 2-2 Kingstonian
CRABBLE FIGHT CLUB
Having plummeted down the leagues together in recent years, Dover and K's have become rather familiar to each other. This familiarity seems to have produced a degree of contempt however, as the sides played out a 2-2 draw that started off fractious and became downright nasty.

The key figure in the match was referee J Rowbury, who struggled to control the players. He eventually sent three players off and could easily have dismissed more. His performance had fans from both sides relentlessly criticising him for most of the game - although at least they seemed to be criticising him in equal measure.

The game actually started quite slowly but as Rowbury let some early offences go unpunished, a number of players on both sides began to get wound up. Two late tackles on Tommy Moorhouse from Byron Walker produced only a single yellow card while the K's midfielder, deputising in defence for the injured Julian Sills, was also looking like he could enter the referee's notebook at any moment.

The scrappy opening was interspersed by a superb piece of play from Mazin Ahmad, whose fine performance regularly lit up an otherwise ugly encounter. After a great run down the right the midfielder put in a perfect cross for Tony Reid, but four yards out at the far post the striker somehow managed to head wide.

K's frustrations grew and Ahmad picked up a booking for hammering a ball into the grandstand after conceding a throw-in. Luke Garrard saved well from Dryden and then Steve Symes picked up an overdue booking for a foul from behind just a minute after being lucky to get away with clattering goalkeeper Darren Smith.

Scott Corbett also picked up a booking before the break and this time the consequences were more severe for K's. After a poor effort from those in the defensive wall, Dryden's free kick went straight into the bottom corner of Garrard's goal to put The Whites into the break a goal to the good.

K's came out fired up though and Dover were finding Ahmad harder and harder to deal with. After being felled on the left on 54 minutes, the creative midfielder sent in a perfect inswinging free kick which Corbett forcefully headed past Smith to level the match.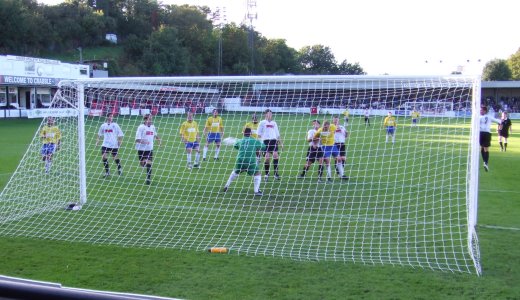 Photo: kingstonian.net
This did little to stem the games roughhouse nature and five minutes later Rowbury should have reduced Dover to ten men. Craig Cloke's dangerous challenge on Symes may not have been quite on the level of Ben Thatcher's from a few weeks ago, but he certainly led with his arm into the left-back's face and there could be little excuse for allowing him to stay on the field.

This led to most of the players on the pitch becoming entangled in a brawl. When Rowbury eventually managed to calm things down, he decided that Moorhouse and Jon Coke were the main protagonists and produced yellow cards for them as well as Cloke.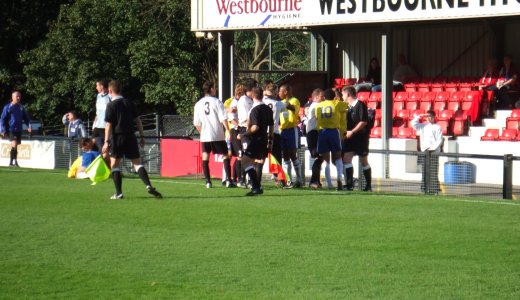 Photo: kingstonian.net
Cloke did not appear to have heeded his warning, as a few minutes later he cynically ended an Ahmad run with a foul from behind. The official inexplicably failed to show a second yellow card before eventually bizarrely dismissing him a few minutes later for a challenge that appeared more innocuous.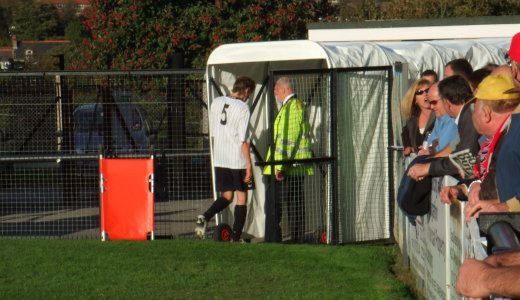 Photo: kingstonian.net
The temper of the game improved little, with Stuart McIntyre dismissed from the dugout and tackles flying in from both sides.

K's looked to push forward with a man advantage but a sucker-punch on the counter-attack saw Dover take the lead for the second time in the game on 75 minutes. Bradley Spice outpaced substitute Stephen Broad after a giant kick from Smith and squared the ball for an unmarked Dryden to slot the ball past Garrard.

Another massive goal kick shortly afterwards saw Dryden get the better of Steve Potterill but this time Garrard made an excellent save and K's were in no mood to roll over after all the efforts they had gone to. Corbett hurled himself at a Moorhouse long ball to force Smith into a save and then two minutes from the end K's eventually found a breakthrough.

Corbett, who had once again had an exceptional game, teed up Dean Lodge inside the box. One on one with the keeper at a tough angle, he unselfishly squared for Reid who saw his close-range shot blocked on the line by the arm of Tony Browne. The referee let the game continue and Reid's follow-up shot was also blocked, before eventually the linesman's flag was spotted and K's were awarded a penalty.

Browne became the second home player to receive his marching orders, before Ahmad expertly blasted the spotkick into the bottom corner to level the scores. Much badge-kissing followed, with the influential midfielder clearly delighted to be back at K's and scoring again.

The drama was not quite over yet, as a Lee Spiller cross hit the hand of Symes. The referee produced a yellow card which equalled the third red of the match. It seemed to be an unfortunate decision for Symes, who could have done little to get his hand out of the way, but little could cause the fans any surprise by this point.

The danger was cleared and eventually the referee put himself out of his misery by calling time on the game. The draw was a fair result for two teams who were nothing if not combative but it is difficult to know what may have happened with a different official. The game descended further and further into chaos as the players got angry and frustrated and it was a shame that only nineteen players remained at full time.

At least by the end of the game the two sets of fans could laugh about it. It was certainly an entertaining match, albeit entertaining in the way of laughing at proceedings - think Sam Fox presenting the Brit Awards rather than a highbrow opera performance. Whether the players, particularly those who now face suspensions, found it so funny is another matter but K's certainly fought hard for a result against the favourites to win the league and it was an effort they could be proud of.

More performances with this sort of fire should see K's finish in a strong league position, or at least die trying, but now it will be up to Stuart McIntyre to motivate the players into displaying this sort of passion against every team K's come across.
Sat 7th Oct 2006
Crabble
855
Isthmian League Division One South

Dover Athletic
2
Kingstonian
2
Corbett, Ahmad (pen)

1
Luke Garrard
2
Steve Potterill
3
Steve Symes
4
Jon Coke

17

5
Tommy Moorhouse

14

6
Richard Taylor
7
Scott Corbett
8
Asher Hudson
9
Tony Reid
10
Mazin Ahmad
11
Martyn Lee

15

12
James Rose
14
Dean Lodge

5

15
Daniel Morris

11

16
Wes Harrison
17
Stephen Broad

4

Simon Grier