Farnham Town 1-2 Kingstonian
DEAN LODGES HIS CASE
Second half goals from Richard Taylor and Dean Lodge secured a two-one win for Kingstonian away at Farnham Town in a somewhat entertaining game.

The hosts took an early lead in the fifth minute when Steve Symes was dispossessed for Alan Green to strike past Stephen Windegard. Tony Reid had K's best chance of the half just a minute later, but was denied by a flying save by Glenn Lynch.

Following a steady first half in which Scott Smith and James Rose made their first outings of the summer, both sides came out with attacking intent in the second period.

With ten minutes gone in the half, Dean Lodge crossed from the right for Richard Taylor to deftly flick across goal for the equaliser. Minutes late, K's took the lead when Tommy Moorhouse passed to Lodge who rounded to goalkeeper to score a fine goal.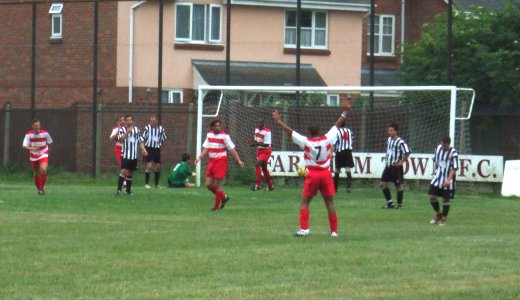 Photo: kingstonian.net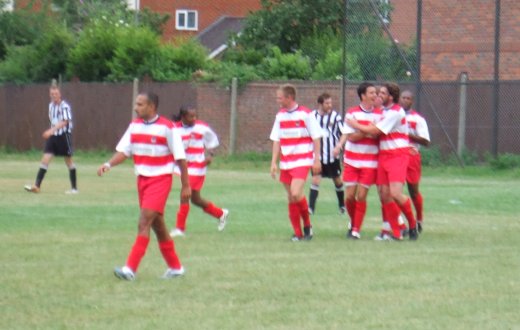 Photo: kingstonian.net
The Kingstonian substitutes came close to adding further goals in the closing stages. Husani Thomas' floated shot clipped the crossbar, Danny Smart saw a header cleared off the line, Wes Harrison broke free before striking just over and Pablo Jenkins shaved the post with a low strike.
Sat 29th Jul 2006
The Memorial Ground
Not available
Friendly

Farnham Town
1
Kingstonian
2
Taylor, Lodge

1
Stephen Windegard
2
Julian Sills

19

3
Steve Symes

21

4
Scott Corbett

17

5
Scott Smith

20

6
Richard Taylor
7
Jon Coke

18

8
Tommy Moorhouse

16

9
James Rose

14

10
Tony Reid

12

11
Dean Lodge

15

12
Aliy Kyezu

10

14
Pablo Jenkins

9

15
Wes Harrison

11

16
Paul Wetherall

8

17
Paul Read

4

18
Steve Potterill

7

19
Michael Brady

2

20
Danny Smart

5

21
Husani Thomas

3

Ali Kazemi