Hastings United 3-1 Kingstonian
RAY OF SUNSHINE AT HASTINGS
A second half comeback by the Ks was dashed as home side Hastings took full advantage of a weak defence.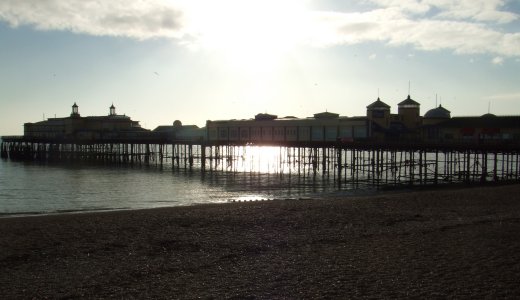 Photo: kingstonian.net
Trailing by two goals, on-loan Saheed Sankoh started the fightback within 10 minutes of half time as new manager Alan Dowson sought to alter the line up and claw back the two-goal deficit.

A long shot from Jon Coke found Simon Sobihy whose header found Sankoh's foot into the back of the net.

More chances followed, notably from Sankoh, but a classic counter punch from Ale Olorunda finished the game seven minutes from time.

Kingstonian started this second half two goals down courtesy of a brace from Hastings skipper Sean Ray, though the opening minute saw a penalty claim turned down as Sankoh was felled as he strode into the box.

Photo: kingstonian.net
First an early free kick from Sam Adams found Ray, who headed into an almost empty goal.

Then Ray bundled both ball and Luke Garrard into the goal almost 30 minutes later. Referee Frank Meliack - in charge of the same fixture last season which boasted two red card and a retaken penalty - decided that the goal stood in spite of protests led by Garrard and the Ks travelling fans.

Play had stopped as both sets of players waited for the inevitable free kick to Garrard though the controversial goal stood.

The second half saw Ks bring on Martyn Lee, going for a more aggressive formation with Asher Hudson losing out.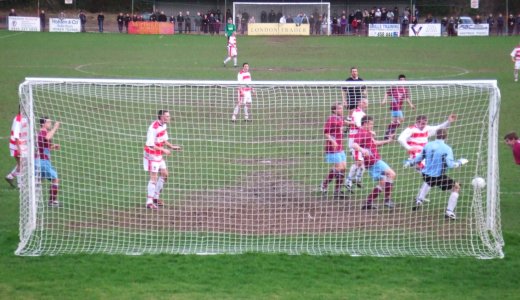 Photo: kingstonian.net
This began again to pay dividends culminating in the Sankoh goal within 10 minutes.

The second half saw a few timely challenges to deny an away victory against a team on the way up.

Alan Dowson can feel happy along with the travelling fans that Kingstonian will eventually win and more importantly escape the drop zone with matches to spare. Roll on mid-March.
Sat 27th Jan 2007
The Pilot Field
410
Isthmian League Division One South

Hastings United
3
Kingstonian
1
Sankoh

1
Luke Garrard
2
Asher Hudson

12

3
Simon Sobihy
4
Steve Potterill
5
Tommy Moorhouse
6
Jon Coke

16

7
Neil Lampton
8
Wes Goggin
9
Saheed Sankoh
10
Bobby Traynor
11
Liam Cockerill

15

12
Martyn Lee

2

14
Julian Sills
15
Steve Symes

11

16
Scott Corbett

6

17
Stephen Windegaard
Michael Underwood