Molesey 0-2 Kingstonian
MARTINI SHAKEN AND STIRRED
Boss Alan Dowson is targeting Fleet this weekend in the bid to rid Kingstonian of the last remaining relegation niggles.

After the Molesey victory he explained that "three points" would see the club safe after two more goals from super-striker Bobby Traynor sent the team up to the middle of the table. "Three points will do it for us. Hopefully it will be this Saturday."

Coming so soon after another brace on Saturday February's golden boot must be aiming to top the scoring charts again this month. So far this month he has equalled February's goals and the two on Tuesday were both in open play.

With only nine minutes on the clock a floated Neil Lampton free kick was met by Simon Huckle, who saw his header rebound back off the crossbar for Traynor to head home past former K's goalkeeper Chuck Martini.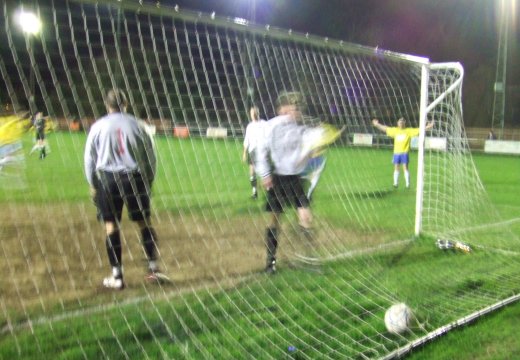 Photo: kingstonian.net
Then in the 71st minute Traynor picked up a ball from beyond the half-way line before running and dancing round two stretched defenders and shooting from 25 yards out.

While Saturday had been fast flowing football, this game was scrappy for long sections, which made the second Traynor goal that much more beautiful.

Indeed he could have scored before the break, minutes after James Rose had seen a goal disallowed for the home side.

Coming in from the right, Rose was immediately flagged for off-side by the linesman, but referee G Smith allowed play to carry on with the inevitable goal being scored. Then he went over to speak to the linesman for a minute before over-ruling himself.

No-one from the home side protested, apart from the ever-vociferous manager Steve Beeks.

The Moles did not have many chances after that, although enough to make the travelling fans, who made up more than half the crowd, jittery.

And in the 83rd minute Traynor lobbed Martini for what seemed destined to be his hat-trick goal, only to see Steve Gibson clear from underneath his crossbar.

Afterwards a happy Kingstonian manager said: "It is a great result, a proper result. We won. It was not the prettiest of football."

And that was the difference from Saturday. The panache of the sunny weekend became the grit of a cold spring evening. But the result was still the same.

In another positive for the team Luke Garrard was able to keep a clean sheet for the first time since early December, when the team won by the same score line against the same team.

Speaking from the touchline at the end of the game, team mate and new signing David Shin was happy to compare the form the team have suddenly hit since his arrival from Woking, "We played well today and the manager has taught us a lot. It is better at Kingsmeadow than when I was at Woking."
Tue 13th Mar 2007
Walton Road
245
Isthmian League Division One South

Molesey
0
Kingstonian
2
Traynor (2)

1
Luke Garrard
2
Jon Coke
3
Simon Sobihy
4
Wayne Finnie
5
Richard Taylor

14

6
Simon Huckle
7
Neil Lampton
8
Scott Corbett
9
Bobby Traynor
10
Chris Sharpling

16

11
David Shin
12
Glenn Boosey
14
Nick Rundell

5

15
Martyn Lee
16
Danny Summers

10

17
Stephen Windegaard
Michael Underwood