Kingstonian 2-0 Molesey
K'S WHACK THE MOLES
Given a reason, Kingstonian seem not to be short of motivation. The problem lies in them getting that motivation regularly, but a much-hyped clash with local rivals Molesey provided the inspiration as K's ended their run of listless performances with a 2-0 win.

As if Molesey having four ex-K's in Chuck Martini, Phil Ruggles, James Rose and Mazin Ahmad were not enough, as well as a controversial game last season, tensions were further inflamed before the game by Julian Sills, Jamie Jarvis and Molesey boss Steve Beeks all using the media to fan the flames between the sides.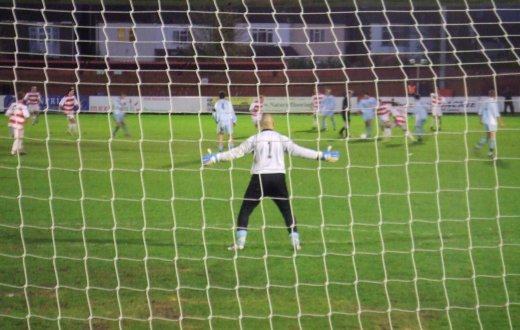 Photo: kingstonian.net
K's by no means had the best of the game but Luke Garrard was in excellent form while at the other end two of K's three shots on target in the match produced goals.

The first goal came from Gary Drewett on 66 minutes after a fine run and a twenty-yard shot that deflected over the head of Martini and K's secured the points eight minutes later when Glenn Boosey set up debutant Niall Connery to curl home from twenty yards.

K's could easily have been out of the match by then though after another awful first half performance in which they had just two shots - long range efforts from Martyn Lee and Steve Potterill that easily cleared the crossbar.

Garrard was kept very busy however. Early on he did well to parry away a Jay Richardson drive and then saved well again from Richardson's follow-up to a Youssef Metwali header. Ruggles was soon menacing his former club as well, producing a trifecta of saves from Garrard while Ahmad reminded his former club of his prowess with a great run that ended in a shot wide.

Garrard had kept K's in the game though and after the break Molesey failed to continue their momentum against the fired-up home side. Connery shot over early on after a Scott Corbett header and Adolph Amoako fired wide before the breakthrough eventually came through Drewett.

This silenced Martini who until that had been involved in increasingly verbose banter with the home fans, but he had little to interest him in a second half that became tight and physical until Connery struck the second sixteen minutes from time.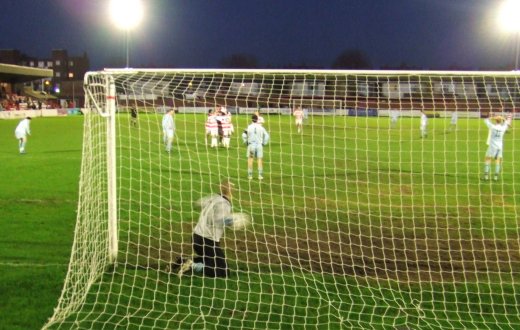 Photo: kingstonian.net
A penalty shout against Lee was turned down late on and another exemplary run from Ahmad produced another Garrard save from Paul Cross' header but Molesey came up short in the face of K's third clean sheet of the season.

Like against Dover and Sudbury, with a noisy crowd and the motivation of a (relatively) big game, K's found the motivation to turn in the level of performance they are capable of. This is not happening enough though and if a similar effort is not produced against Burgess Hill at the weekend, then the pressure will remain.
Sat 9th Dec 2006
Kingsmeadow Stadium
289
Isthmian League Division One South

Kingstonian
2
Drewett, Connery
Molesey
0

1
Luke Garrard
2
Asher Hudson
3
Steve Potterill

14

4
Jamie Jarvis
5
Julian Sills
6
Craig Lewington
7
Scott Corbett

15

8
Gary Drewett
9
Niall Connery
10
Adolph Amoako
11
Martyn Lee
12
Jon Coke
14
Steve Symes

3

15
Glenn Boosey

7

16
David Leworthy
17
Stephen Windegaard
Simon Grier