Kingstonian 3-1 Pagham
CORBETT'S BACK IN THE GOALS
Mazin Ahmad has always been something on an enigma, capable of the sublime and the ridiculous in equal measure. His return to Kingsmeadow brought delight to the faces of nearly every K's fan but on this occasion it was another creative midfielder, Martyn Lee, who pulled the strings as K's proved too good for Sussex League Pagham.

It took Ahmad just three minutes to remind the home fans what they had been missing. A fine run and a one-two with Dean Lodge allowed him to tee up Tony Reid but the popular striker was unable to bundle the ball home and give K's what would have been a dream start.

K's were passing the ball well and on sixteen minutes the breakthrough came. An under hit clearance went only as far as Lee and his inch-perfect through ball set Reid through on goal. He made no mistake, beating Ron McClelland with a clinical finish.

K's had chances aplenty through the game but it was not until the 67th minute that they doubled their lead. Lee was again the architect, beating Billy Chatfield with a fine dummy on the left wing and angling a perfect finish across McClelland into the far corner.

Complacency struck a minute later however and for a brief period an upset threatened to be on the cards. For the third game in a row the K's defence let in a goal through marking that would have embarrassed a Sunday team. Michael Frangou was unmarked at the far post and Rob Wimble's cross was all too easy to convert.

K's soon found comfort however through the unlikely source of Scott Corbett's backside. Having had a goal bounce in off his shin on the opening day of the season, the midfielder scored an even more ridiculous goal in this match. Jumping with James Rose to head a Richard Taylor throw-in, he somehow ended up facing the wrong way. Nonetheless, the ball came off Rose and with the 'keeper off balance, it hit Corbett's posterior and trickled over the line.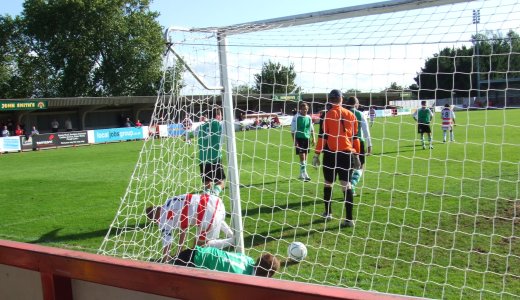 Photo: kingstonian.net
The 3-1 victory gave K's a boost in confidence and saw them safely advance to the qualifying rounds of the FA Cup. There could have been many more goals though with better finishing and a touch of luck.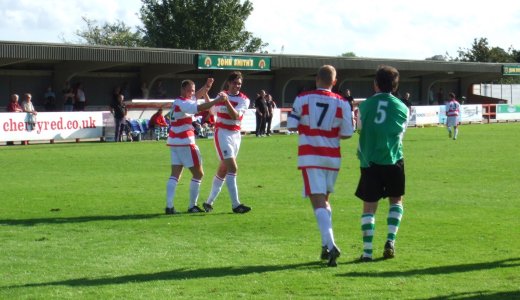 Photo: kingstonian.net
The game could have been over by half time - an electrifying run from Ahmad saw him shoot narrowly wide from twenty yards and a brilliant Paul Wetherall ball was headed narrowly over by Reid. Keiron Urquhart cleared a Corbett header off the line and McClelland made a good low save from an Ahmad free kick.

The second half saw more of the same. A fine low cross from Corbett almost teed up Ahmad for a first goal since his return but the ball seemed to get caught under his feet in the bumpy goalmouth. Lee came close with a free kick after being cynically tripped by Sean Dobbs. Dobbs did very well three minutes later though to deflect a vicious Ahmad set piece onto the bar after Lodge had been brought down on the right flank. Steve Symes, Ahmad and Corbett all also came close late in the game as K's produced the sort of performance their fans have been waiting to see. Back in the Ryman League however, the chances will not flow so freely and without improved finishing, K's could be in danger of more frustration when their league campaign continues at Godalming.
Sun 3rd Sep 2006
Kingsmeadow Stadium
301
FA Cup Preliminary round

Kingstonian
3
Reid, Lee, Corbett
Pagham
1

1
Stephen Windegaard
2
Scott Smith

16

3
Paul Wetherall
4
Tommy Moorhouse
5
Steve Potterill
6
Richard Taylor
7
Scott Corbett
8
Dean Lodge
9
Tony Reid

12

10
Mazin Ahmad
11
Martyn Lee

14

12
James Rose

9

14
Steve Symes

11

15
Aliy Kyezu
16
Asher Hudson

2

17
George Ellis
Simon Grier