Selsey 0-1 Kingstonian
"...OH I DO LIKE TO BE BESIDE THE SEL-SEY..."
It was a beautiful summers day and, barring a bit of pre kick off rain, the weather provided all that you would hope for with a pre season friendly by the sea. K's fans travelled down to Selsey for the second year running and watched their side pick up a second friendly win over Sussex county side. The flair and dominance of K's 4-1 victory last year was not repeated, and the 1-0 result was a fair reflection of a slower-paced match.

Suart McIntyre started with 6 of last seasons returners with the addition of Dean Lodge and the returning Damian Panter up front, Paul Read and Wes Harrison in midfield, and Stephen Windegard between the sticks.

The match opened with a few promising chances for K's, with Martyn Lee sending a free kick over the bar, and a couple of chances for Dean Lodge. Selsey held in the game though and had a couple of chances of their own as K's continued to pressurise. Windegard was confident though, and managed to pick off the occasional threatening ball.

Five minutes from the break Steve Symes pushed forward to lay a long cross on to Wes Harrison. Harrison's shot took a deflection and looped past the keeper into the top corner.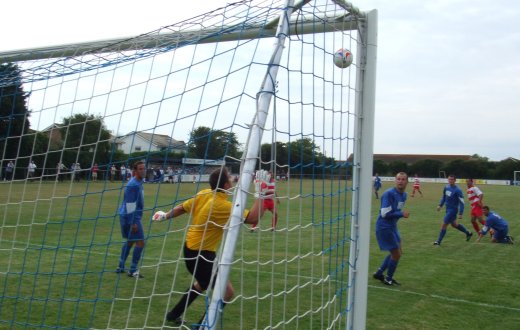 Photo: kingstonian.net
The second half was a goal-less affair, thanks to a combination of the increasing heat and the inevitable string of substitutions. There were a number of chances of early chances for Selsey, as they broke through the K's defence to force a couple of shots, which both went wide.

Indeed, Selsey arguably had the better of the second half, with K's spending a fair amount of it on the back foot, with Windegard forced to make several saves. These included a scramble back for a loose cross, which very nearly cost him his clean sheet.

Then there was the sort of sight you don't want to see in a pre-season friendly when a booking for Selsey's More lead to a fair amount of pushing and shoving and general shenanigans from both sides, needing all three officials to break it up.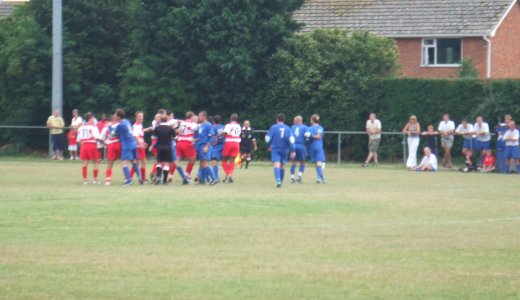 Photo: kingstonian.net
K's had a couple of chances, including a shot from substitute Husani Thomas, but none of them could be converted, and the match fizzled gently towards full time.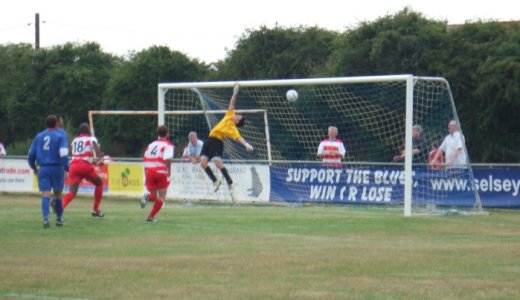 Photo: kingstonian.net
Whilst this performance was unspectacular, there were promising performances from a number of trialists, including the goal from Harrison and a number of good chances for Lodge. Last year's returners all played well, especially Tony Reid, Steve Symes, Martyn Lee and the Surrey Cup captain Mick Brady.

With a few players still away due to injuries or holidays and several friendlies still to go, there is scope for McIntyre to put together a very strong squad for the season proper.
Sat 22nd Jul 2006
The High Street Ground
Not available
Friendly

Selsey
0
Kingstonian
1
Harrison

1
Stephen Windegard
2
Michael Brady

18

3
Steve Symes

20

4
Paul Read

19

5
Julian Sills
6
Jon Coke
7
Wes Harrison

16

8
Danny Ward

17

9
Dean Lodge

14

10
Damian Panter

15

11
Martyn Lee

12

12
Danny Smart

11

14
Daniel Morris

9

15
Tony Reid

10

16
Paul Wetherall

7

17
Tommy Moorhouse

8

18
John Butler

2

19
Sol Patterson

4

20
Husani Thomas

3

21
Pablo Jenkins
Kevin O'Connor