Kingstonian 1-1 Sittingbourne
MARK LOVELL'S THE SCORE
Kingstonian once again threw away victory as they conceded a late goal at home with the visitors down to 10 men.

With the game meandering to a no-score bore draw Bobby Traynor's penalty to the left of Steve Williams ought to have secured all three points.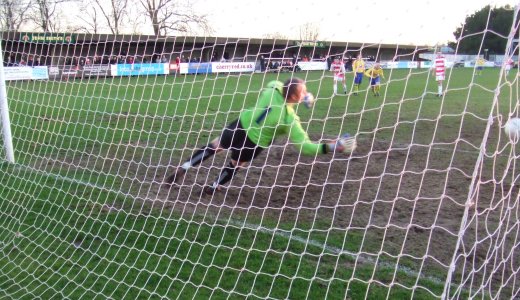 Photo: kingstonian.net
Gary Drewett had been upended in the penalty box in a rare promising attack towards the Kingston Road end and referee Ashleigh Potter showed no hesitation in pointing to the spot before harshly sending off Paul Ainsworth, one of many defenders surrounding Drewett.

And that should have been it as both sides were meeting off the back of a poor run, with the home side at least recording a victory in the last 10 games.

But a late goal from the left by Mark Lovell, the Sittingbourne's manager's son, bought the game level with three minutes left.

Minutes earlier ex-Tunisian international Sabeur Trabelsi was bought on and this gave the visitors the necessary lift. And the visitors could have gone on to win the game.

The earlier penalty had finally woken the game up however a Traynor shot could have easily doubled the lead three minutes after his penalty when Drewett opened up the defence with a short pass from the right and less than 10 yards out Traynor's shot skied up into the evening.

Before then only Traynor's 51st minute long shot came near scoring and the left outstretched leg of Williams had prevented a goal.

Minutes later Anthony Hogg had rattled the crossbar with Luke Garrard following the ball before the game settled down into the style of the first half.

The first half had promised so much but delivered very little as the first forays into the Athletic Ground end by the Ks ended in nothing and soon the game settled into poor passing and little attacks.

Sittingbourne having weathered these first minutes hit back with skipper Keiron Marsh and Lovell coming close but other than that both sides looked distinctly off colour.

Alan Dowson debuted Friday's signing Simon Huckle from the start, although he was replaced by Martyn Lee early in the second half. He looks promising.

With only 274 people watching Kingstonian will have to look more lively if they are to find mid-division safety and better crowds.

On the positive side they are no longer shipping goals and are not looking like they will lose either so the portents for both the above are there.
Sat 3rd Feb 2007
Kingsmeadow Stadium
274
Isthmian League Division One South

Kingstonian
1
Traynor (pen)
Sittingbourne
1

1
Luke Garrard
2
Tommy Moorhouse
3
Simon Sobihy
4
Julian Sills
5
Jon Coke

14

6
Wes Goggin
7
Neil Lampton
8
Simon Huckle

12

9
Bobby Traynor
10
Gary Drewett

15

11
Liam Cockerill
12
Martyn Lee

8

14
Lee Riddell

5

15
Glenn Boosey

10

16
Steve Symes
17
Stephen Windegaard
Michael Underwood