Kingstonian 1-2 Ashford Town

Under the eras of the two Maccas, Ashford Town and Corinthian Casuals both proved to be continual bogey sides for K's, despite regularly fighting relegation. Alan Dowson had established a strong record in overcoming these two thorns in Kingstonian's side, until today, as the Kent side punished K's once more by recording a fourth win in six meetings.

Dowson has regularly professed the importance of clean sheets, yet his defence has kept just four in the last eighteen games. Had their finishing been better then it might not have mattered but too many chances were missed. The much acclaimed strikeforce of Bobby Traynor and Saheed Sankoh have now netted just a goal each since the start of November, leaving goals hard to come by.

The Kent side started the brighter by far and from early on an upset had looked possible. Luke Garrard had to bravely rush out to deny one-on-ones twice in the opening minutes, first giving away a free kick and then getting clattered in the face as he bravely claimed the ball.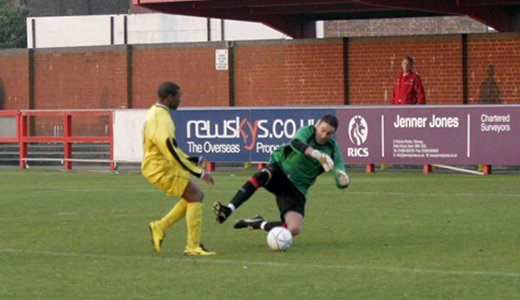 Photo: Stephen Baird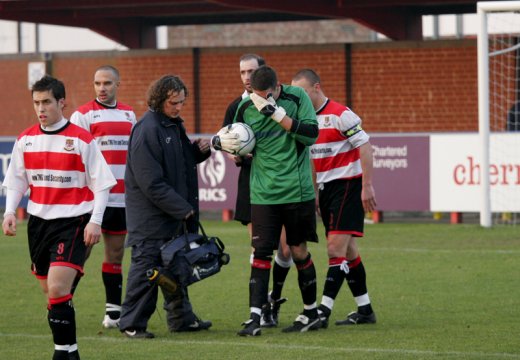 Photo: Stephen Baird
A last ditch NJ Lampton tackle denied teenager Jimmy Bottle and then Mark Lovell put a header over the bar before the visitors took a deserved lead. A free kick from the right was headed back across goal by Lovell and Paul Jones was left with an easy finish from six yards out.

Kingstonian earned themselves a fresh start for the second half though with a large slice of good fortune. Wayne Finnie's header from a corner went straight up in the air but it was poorly cleared and Nick Rundell's 25-yarder took a deflection past Jamie Riley.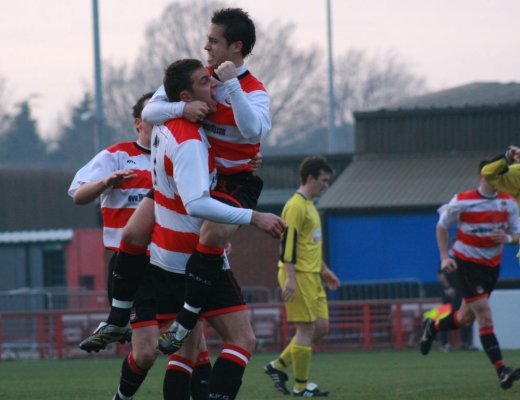 Photo: Chris Hatton - Kingstonian FC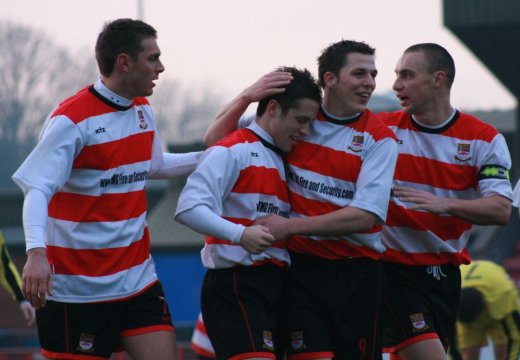 Photo: Chris Hatton - Kingstonian FC
K's best period of the game came after the break but their finishing let them down and would eventually cost them. Finnie headed a Lampton free kick wide and then Traynor missed a glorious to put K's ahead. Dean Lodge led a counter attack and played K's top scorer in on the left-hand side of the box. It needed either a left-foot shot or a touch but Traynor hit it first time on his right, making the chance much harder to take. Riley was relieved to see it miss his near post by a couple of feet.

Lodge broke again but this time Steve Goddard fired wide while Turley and Lodge both failed to score from twenty yards as K's let themselves down in front of goal. Goddard was replaced by Saheed Sankoh but the strategy had little effect as the chances dried up. K's were increasingly resorting to hoofing the ball upfield, with diminutive winger Dean Lodge having particular problems getting a head on the ball.

Fifteen minutes from time K's thought they had the lead with what would prove to be their last decent chance of the match. Lampton, who can be unfairly maligned and had, not meaning to damn him with feint praise, been one of K's better players in the game got into an excellent position to cross following a mazy run down the right.

His low cross behind the defence forced Mitchell Sherwood to slide in to deny Lodge and Sankoh who were queuing at the far post, but he could only slide the ball straight through Riley for an apparent own goal. K's jubilation at their fortune was quickly eradicated though by the linesman's flag - Lodge and/or Sankoh were deemed to be offside, and as Sherwood's own goal came denying them a tap-in, they were adjudged to have been interfering with play.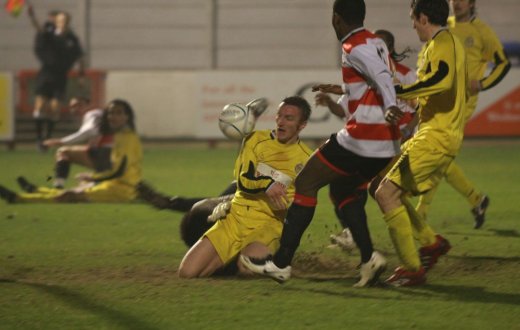 Photo: Chris Hatton - Kingstonian FC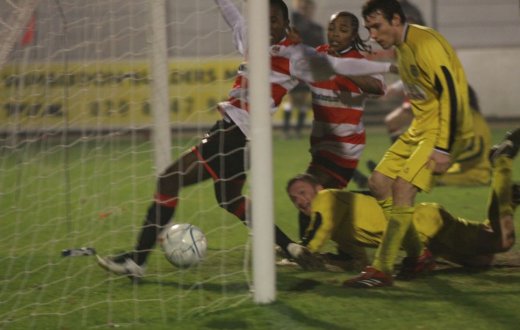 Photo: Chris Hatton - Kingstonian FC
In typical fashion of the way Ashford have had K's number over the last few years, the sucker-punch came almost immediately. The visitors broke down the left and Lovell rammed the cross home at the far post with the sort of confidence K's have been crying out for. Ashford took all three points, with only a wide shot on the turn by Danny Summers even threatening to wipe out their lead for a second time.

With Tooting and Cray both beaten by the weather, K's have missed a golden chance to go second and instead their playoff berth once again looks far more precarious. The arrival of midfielder Matt York may well help matters - then again, if the ball is continually played long and the strikers miss chances, he may not have the same effect he has at other clubs.