Burgess Hill Town 0-1 Kingstonian
K'S CONQUER THE HILL
Kingstonian's three-match travels ended with another win as they came back from Sussex with a single-goal victory. Continuing their recent good form away that has seen them with two wins and a draw - at Eastbourne - Saheed Sankoh slotted away a thrilling series of passes out of the reach of Burgess Hill's 'keeper Chris Winterton.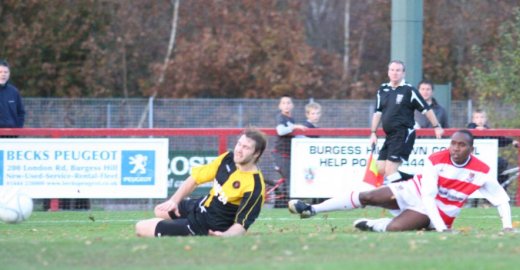 Photo: Chris Hatton - Kingstonian FC
NJ Lampton's corner from the left found Sankoh's foot and the ball hit the back of the net almost immediately. Winterton had seconds earlier, in the 59th minute, parried away Wes Goggin's shot after he picked up a cross from Bobby Traynor, himself fed the ball by Sankoh, on the left.

The first half once again started brightly with skipper Steve Harper first to test Luke Garrard in the visitors' goal. A cross from the left was saved by Garrard after the defence was rounded.

Jamie Beer then replied at the other end, after five minutes, with Goggin picking up his cross, but his shot skied over the crossbar.

Aaron Goode followed this up with Kingstonian pressing for an early goal, only to find Sankoh lacking in front of the goal.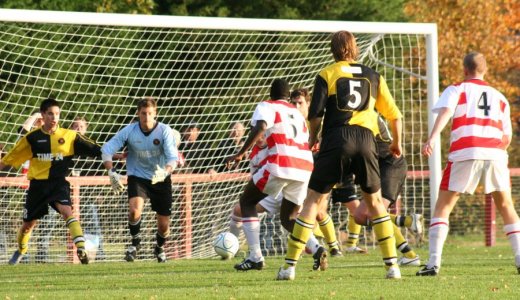 Photo: Chris Hatton - Kingstonian FC
Simon Sobihy nearly altered this with a close shot from Lampton's corner but Winterton put the ball over the cross bar. Winterton followed this up with another stop from Sobihy.

Burgess Hill finally got their act together with first Harper seeing his cross blocked by Garrard again and then Harper again skewing wide several minutes later.

And then with half time beckoning Goggin was denied after a cross from Traynor, and then Sankoh forced a great save from Winterton after Lampton's corner.

Lampton once again ensured another nail-biting finish to the first half with a floating free kick to Dean Lodge. But Lodge failed to convert from 20 yards.

Harper then penetrated the Kingstonian defence four times with Garrard denying him a certain goal on the third attempt when Matt Geard, on at half time for a quiet debutante Pani Ortis, but Harper could only see the ball put away by Garrard. Then Sankoh finally broke the deadlock with his match-winning shot just before the hour mark.

The home side then counter-attacked but never seemed likely to equalise, with shots from Tom Edmonds and Harper once again denied by Garrard.

The game ended with Sankoh being denied twice in succession and then once again when the ball fell just in front of him. With seven points from three away days Kingstonian are once more sending out the right signals to other rivals in the division and while a single-goal margin does not replicate the five-goal thrashing this Spring at Kingsmeadow, both gained a welcome three points.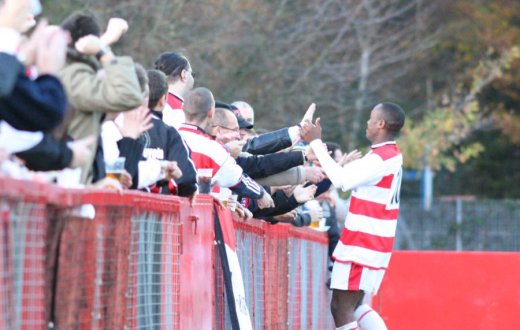 Photo: Chris Hatton - Kingstonian FC
Kingstonian now have a three-game home run, starting off with the cup distraction on Monday against leaders Tooting & Mitcham. Which way Alan Dowson plays his team only he knows. In the previous round he put out a full-strength squad against Cray, but then turned in other teams for the next two cup matches in succession.