Kingstonian 2-3 Burgess Hill Town
POINTS GO OVER THE HILLS AND FAR AWAY
Burgess Hill gained revenge from last season's 5-0 defeat at Kingsmeadow with a last minute winner.

First they came back and then took the lead before taking the victory with a close header as Kingstonian's season continues to stutter along.

It had started brightly for Kingstonian with an early goal by Tommy Williams after only the eighth minute and then an equaliser nine minutes from time by Bobby Traynor but this was then cancelled out by defender Stuart Tuck's header in injury time saw the visitors secure their first win ever in the six games they have faced Ks.

Williams opened the scoring with a low shot on the right from 25 yards out that seemed to be going to hit the near post; but rather than bounce back it struck just enough to the left of the upright and went in, leaving 'keeper Chris May well beaten.

Traynor's goal came when he managed to raise his foot to poke in the ball from just six inches after Simon Huckle headed on a loose ball in the middle of a tight goal mouth scramble.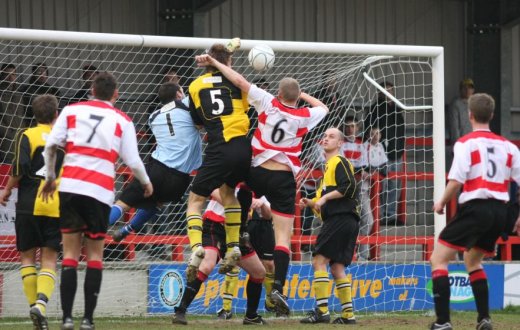 Photo: Chris Hatton - Kingstonian FC
And he nearly added to it, in what would have been the winner, when his header three minutes later went back to NJ Lampton but the subsequent shot was blocked by a defender close to the goal. That ultimately what went wrong on Saturday was a repeat of previous games where Kingstonian set up scoring chances but misses and goal keeping conspired to deny them the win.

Indeed Kingstonian dominated the early exchanges, with perhaps the Hillians still contemplative mood after the minute's silence at the start to former player Herve King, who had collapsed and died the previous Saturday in a Sussex County League match near Eastbourne.

In the 6th minute Traynor picked up the ball from a header back, from the throw in he had just taken on the left, and crossed to Dean Lodge. Lodge's shot rising high was tipped over by a full stretch May.

Then came the goal by Williams, followed by a long speculative shot in the ninth minute by Huckle, before Hill launched their first attack when Simon Sobihy misjudged a tackle 40 yards out on the left, leaving Shaheen Sadough, who had just been re-signed from Worthing the week before, to run with the ball but his shot was stopped by Gavin Cartwright in the last line of defence.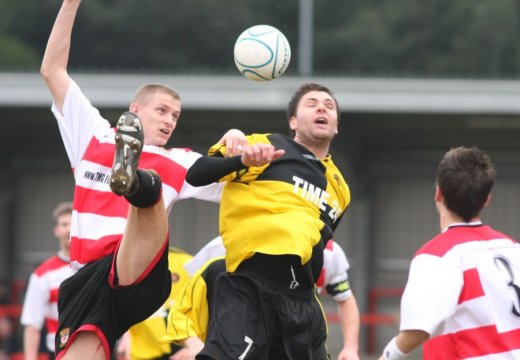 Photo: Chris Hatton - Kingstonian FC
Immediately Luke Garrard launched a counter-attack and Lodge's final cross to an unmarked Traynor was visible enough to May for him to pick the ball out. Minutes later in the 16th minute he was forced again into action when K's debutant Shawn Beveney was unable to connect properly with a cross and allowed the keeper enough space to snatch the ball away.

Cartwright then saw his header go just wide after he picked up a long throw in from Wayne Finnie.

The visitors equalised with the Ks all at sea in their goal area. Striker James Howell's through ball to Sadough, was then crossed in but could only hit players in a packed area before James Harper slotted the ball in from five yards in the 27th minute.

Kingstonian were then gifted a chance to pull ahead once again when poor defending allowed Cartwright to latch onto another Finnie throw in but the former's low shot could only bounce back off a defender before Beveney tried to follow up with the loose ball.

Instead it was Dave Piper who scored at the other end in the 34th minute when Harper's cross on the right wrong-footed a flat defence and Piper found the back of the net in off the far post.

The first half then wound down with Kingstonian once again creating chances. A Lodge cross was taken by May with Traynor coming in from the right to score, and then a solo effort by Lodge in the 40th minute went just wide, also on the right, with only the keeper to beat. Beveney then saw his right-footed shot go wide.

But it was injury time that Kingstonian came closest to going in at half time on equal footing. Traynor was denied by a point blank save 15 yards out with the advancing May feet away and with the ball bouncing loose Danny Gainsford headed the ball out over the back of his own goal. From Williams' corner on the left Traynor could only head over.

The second half began with Jon Coke coming on to replace injured skipper Sobihy in defence and he was almost immediately called into action when Garrard saved Harper's shot in the 48th minute. A minute later Garrard cut out Harper's shot again.

With the game beginning to drift Kingstonian finally won a corner on the right in the 68th minute. Cartwright's head latched onto Williams' ball but this was tipped over again by May. Then from the ensuing corner Lodge's shot curled away beyond the far post.

Minutes later Sadough hit the ball on the half volley from 40 yards out, only to see his shot go over the cross bar by five yards. David Suchy then was bought on to replace Beveney.

With the clock starting to tick down Lodge picked up a loose ball before crossing to Lampton on the left but this broke down amongst the defence.

However Traynor's 81st minute equaliser then set up an exciting finale - for the neutral. Within minutes Lampton had seen a shot go wide and then in the 90th minute the visitors had their backs to the wall with Lodge and Traynor harrying them but Traynor's final shot from five yards out somehow found a defender and not open space. Meanwhile, Lodge broke through to lift the ball past the advancing May only to see a recovering defender clear off the line.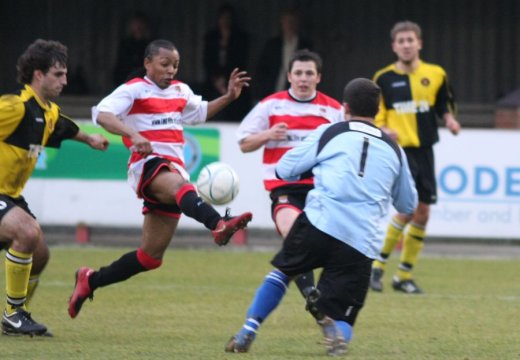 Photo: Chris Hatton - Kingstonian FC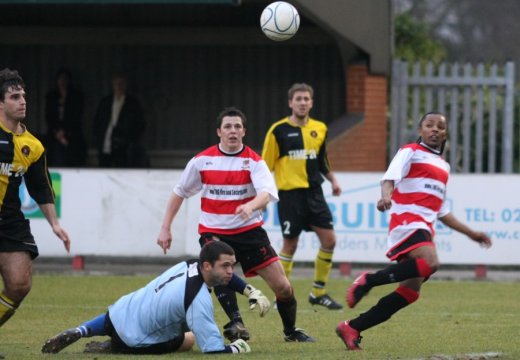 Photo: Chris Hatton - Kingstonian FC
As is often the case Ks then saw their work come to nothing with Tuck heading in from Nick Fogden's throw in that had found the head of Gainsford before Tuck's contribution.

Still it was not over and Traynor missed a chance when goal scorer Tuck got in the way of his shot.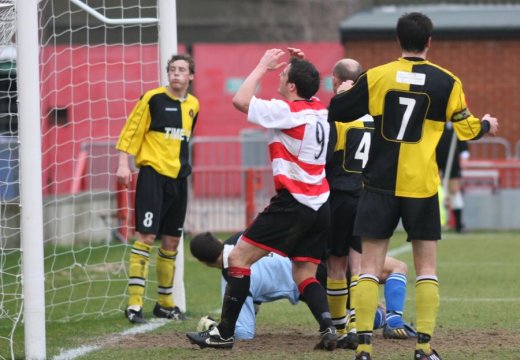 Photo: Chris Hatton - Kingstonian FC
And as if that was not enough referee Ian Regan found time to issue a straight red card to Sadough for an off-the-ball incident by the half way line in front of the main stand.

Again Kingstonian were made to pay for their missed chances, but more so defensive lapses. The season is far from over, but the team needs to get back into winning ways quick.