Chatham Town 3-1 Kingstonian
K'S HOPES CHATTERED
Not for the first time this season, Alan Dowson seemed to take a K's defeat very personally. This might seem unnecessary - after all, as the cliche goes, once the players cross the white line it is down to them - but with all but two of the matchday squad brought to Kingsmeadow by Dowson, a terrible display at Chatham finally represented the failure of his team to achieve their stated goal of promotion.

Yes, mathematically, Kingstonian can still go up. But the fact that promotion is now out of their hands in itself represents failure. Making the playoffs now should Worthing fail to win two of their last three will not vindicate this side - and even if K's do get there, it is hard to see them winning two straight away games when they have now won just one in ten on the road and taken a single point away to the top five this season.

A disgusted Dowson more or less told his whole team they were free to look for clubs and did not deserve a contract for next season. Patently, this was said in anger and will only apply to some of them - but those who are to be shown the door will be more worried about being unwanted by Dowson than by K's. He inspires personal loyalty but if he does not want them then they will easily find a home elsewhere on the local non-league treadmill. Romantic K's fans might feel that the players love the club but it was in little evidence yesterday and the manager was first to question their passion.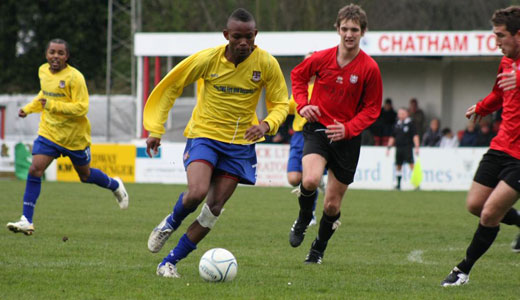 Photo: Chris Hatton - Kingstonian FC
Just as K's needed a big performance, they turned in their worst effort of the season. They were not outplayed as heavily as they were at Dover or against Tooting but outplayed they most certainly were, and by a side far inferior to either. Chatham are nothing if not an enigma though - the side third from bottom of the league will no doubt be delighted to have recorded two wins over Dover and a trifecta three over K's this year.

But they are not 20th in the league for no reason and it was particularly galling that K's not only lost but deserved to lose. Goalkeeper Miroslav Oravec had the stereotypically continental tendency to punch rather than catch but K's never did enough to pressure him and were woefully exposed at the back with alarming regularity.

The first half was just appalling from K's. It is hard to remember a worse 45 minutes of football since the debacle that saw them 4-0 down at Eastleigh within 20 minutes three seasons ago. K's could not do anything right be it mark, pass, tackle or shoot and while Dowson chose to pull Jamie Beer and Steve Goddard off at the break there could have been numerous other candidates.

It was 2-0 after just 18 minutes and would remain so until the break. A Darren Smith free kick easily beat Luke Garrard and then Tyran James set up Tom Davey to score from close range. The second came on the counter-attack after Oravec beat out a Huckle header but it was hardly the first time K's have conceded on the counter-attack this year. Phil Williams might have got a tackle in on the edge of the Chatham box to nip the break in the bud but when he didn't, it seemed there was no stopping the home side, especially not K's flat-footed defence.

Smith missed a good headed chance to make it three while all K's could do was miss the target with half-chances, from Bobby Traynor, Williams and Goddard.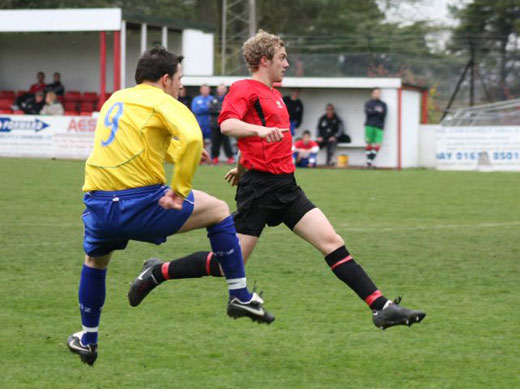 Photo: Chris Hatton - Kingstonian FC
K's could hardly have got any worse and they did at least come out with a degree of purpose. Lodge shot wide early on and then headed a rebound over after Oravec had denied him from close range with his legs. Oravec made a meal of a Tommy Williams free kick but Simon Huckle put the follow-up over and then Danny Summers tried a ridiculous long-range effort when Traynor was much better placed.

Eventually the breakthrough came as Huckle squeezed a header under Oravec from a Tommy Williams corner. He spurned celebration to grab the ball from the net for an immediate restart, but sadly too few of his colleagues matched his motivation in this game.

With ten minutes to go, Dowson rolled the dice by sending Huckle up front and bringing Rob Sheridan in to the defence. Sadly, Sheridan's first contribution was to trip Darren Smith in the penalty box after a period of Chatham knocking the ball around at will and K's becoming increasingly desperate to win it back. Garrard did not get enough of a hand on Smith's spotkick to keep it out.

It was surely the moment that condemned K's to another year in this division, with the opportunity to renew acquaintance with Sutton United was missed. There was some bluster in the dying moments - the Simon Sobihy china shop was open for business, but his most notable contribution was throwing himself at a ball he had no chance of winning and making sure Huckle did not win it either.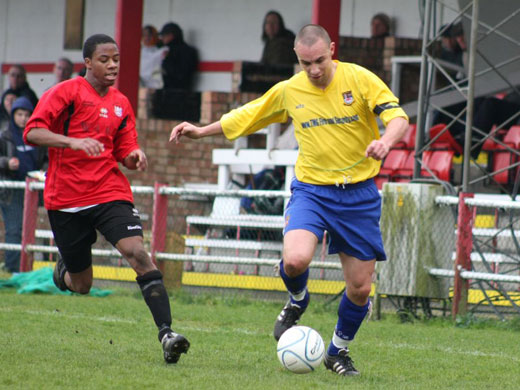 Photo: Chris Hatton - Kingstonian FC
K's can hope and prey for results to go their way but their chance of promotion now can surely rest at no more than 1%. Dowson unequivocally has the backing of the fans but his side has been shown not to be good enough. He now has four months to get things right for next season.
Sat 5th Apr 2008
Maidstone Road Sports Ground
211
Isthmian League Division One South

Chatham Town
3
Kingstonian
1
Huckle

1
Luke Garrard
2
Jamie Beer

16

3
Jon Coke
4
Simon Huckle
5
Wayne Finnie
6
Tommy Williams
7
Phil Williams

15

8
Neil Lampton
9
Bobby Traynor
10
Steve Goddard

12

11
Dean Lodge
12
Danny Summers

10

14
David Suchy
15
Rob Sheridan

7

16
Simon Sobihy

2

17
Luke Naughton
Simon Grier