Chatham Town 3-1 Kingstonian
K'S ARE TWO GOOD TO CHAT
Kingstonian suffered a first-match exit in the FA Trophy for the first time in 25 years as they went down to underdogs Chatham Town.

Leading from a Dean Lodge goal and running the match with 14 minutes to go, K's hit a self-destruct button with two own-goals in two minutes and then conceded a third in injury time.

Lodge set the up an ideal start for the visiting fans when NJ Lampton's free kick found him running down the left before firing across goal and in past a diving John Whitehouse in only the third minute.

K's looked for a second goal and were unlucky when Wes Goggin mistimed a volley and it went wide - once again Lampton the instigator in this the 12th minute.

Lodge tried a lone effort as he looked once again to run at defences but he was bought to halt clattering into the home side's defence. Aaron Goode then saw his shot pushed out at the last minute by Whitehouse with Chatham under severe pressure at the back.

Lampton once again set up a chance - his corner from the left was brought under control by Tommy Moorhouse and Bobby Traynor headed the ball onto the cross-bar and rebounded out to Moorhouse. His shot was well held by Whitehouse.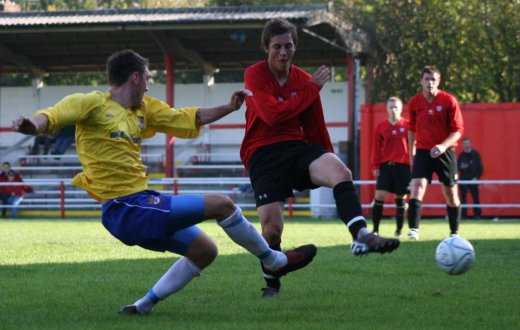 Photo: Chris Hatton - Kingstonian FC
Just after the half-hour Whitehouse denied Kingstonian a deserved victory when Lodge's quick-thinking with a free kick found Traynor just inside the penalty area but his shot was saved once again by the keeper.

With the first half looking towards closure Chatham finally mounted an attack with Luke Garrard denying Steve Best with a finger tip save.

Once again Kingstonian struck back with first Lodge, from a Traynor header, chipping onto the bar, and then Lodge again, from Lampton's run, striking the ball straight to Whitehouse.

The second half looked to be a re-run of the first with the K's fans waiting for the inevitable second goal from Kingstonian. It did.

In-between Traynor shot over the bar after latching onto a Goode cross in the 46th minute. Goode also tried to lob Whitehouse again but this went over and Lodge also had two chances at the second goal.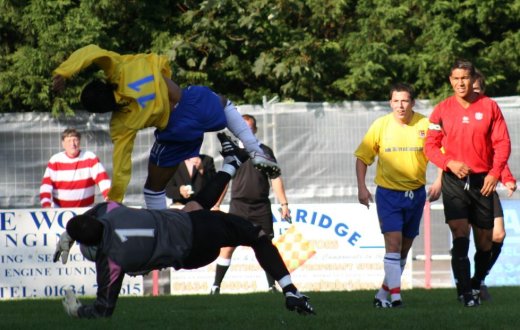 Photo: Chris Hatton - Kingstonian FC
First a cross from Lampton was headed straight to Whitehouse and then minutes later a Lampton free kick found him again and this time the keeper could only push the ball into Traynor's path who followed up and found the back of the net. Unfortunately it was ruled out for offside.

And that was as good as it got for Kingstonian.

Chatham once again found their place in attack. Garrard denied Best's long range shot with his finger tips. In the 77th minute Goode finally found the back of the net and Kingstonian had their second goal they sought. However it was a disastrous own-goal.

Under pressure from Gavin Schulz, after a cross by Tom Davey, Goode could only push the ball past Garrard.

Then Moorhouse wrong-footed Garrard less than a minute later Domonic Elmes pumped in a cross and Moorhouse could only divert it into the net, despite the 'keeper's desperate efforts to stop it.

Twice then Chatham tried to add to the scoreline with only Garrard denying them. Elme's shot and Smith's free-kick were pushed out.

Kingstonian tried to restore order and began to attack with Liam Cockerill's shot being well held by Whitehouse and then Lampton's cross to Lodge being blocked at the last minute.

With injury-time almost up when Elmes once again pumped a cross into attack and Shane Suter, only just on, shot past Garrard.

So after three cup matches against Kentish teams in six days, Kingstonian find themselves only in one now and that is the Isthmian - beating Cray in the process. Hopefully a return to the league, once again against another Kentish side, will see a victory.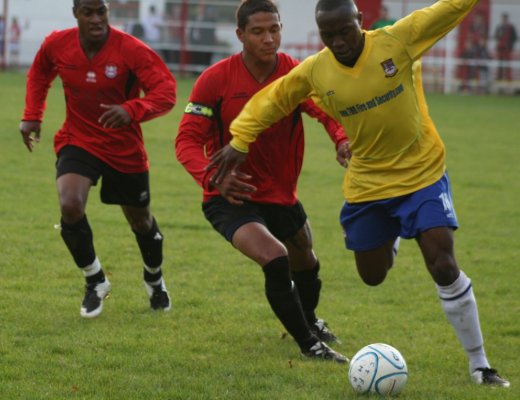 Photo: Chris Hatton - Kingstonian FC
Certainly on the basis of this match - or most of it - Kingstonian look good. It was unfortunate that two goals in a minute and none of them by the winning side, set up their undeserved victory and the eventual margin would have been a far reflection if Kingstonian had come away with the win.