Chipstead 2-2 Kingstonian
K'S CHIP AWAY A POINT
Kingstonian's struggles away from Kingsmeadow continued as they recorded a sixth consecutive failure to win on the road. The opposition, Chipstead, could count themselves unlucky not to win three points after K's grabbed a late equaliser having slept through most of the game.

K's made a bright start, with an NJ Lampton header forcing Andy Parkinson to save and the keeper also being equal to Jason Turley's effort.

It did not take long for this early endeavour to be wiped out by a mistake though. Lee Sidwell caught an indecisive K's defence in possession and comfortably beat Luke Garrard one-on-one.

K's, to their credit, fought straight back. Bobby Traynor fired over but in the twentieth minute the equaliser came. A Turley cross picked out Lampton, whose volley across goal was bundled in by Saheed Sankoh. Sankoh's first goal since November was much needed and K's will be hoping it kick-starts a return to form.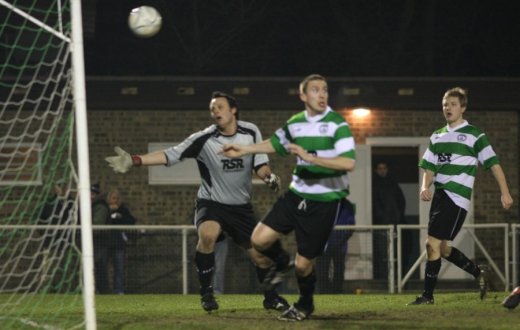 Photo: Chris Hatton - Kingstonian FC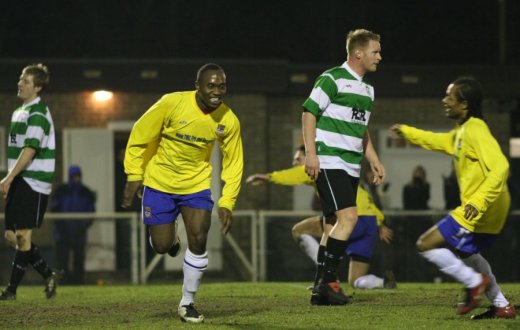 Photo: Chris Hatton - Kingstonian FC
The parity lasted just two minutes though, as Jon Coke felled a Chipstead player on the edge of the box. Former AFC Wimbledon man Danny Oakins smashed the penalty under Garrard and this time there would be no quick reply.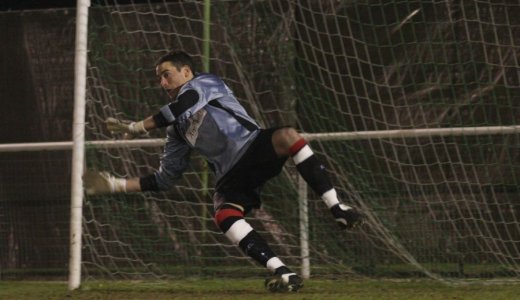 Photo: Chris Hatton - Kingstonian FC
The game went very quiet until ten minutes after half-time, when Aaron Cole-Bolt beat three K's player to narrowly fire over from twenty yards. Dean Lodge managed to get round Parkinson on the hour mark but left himself too tight an angle, while substitute Steve Goddard had a shot easily saved as the fans struggled to stay awake.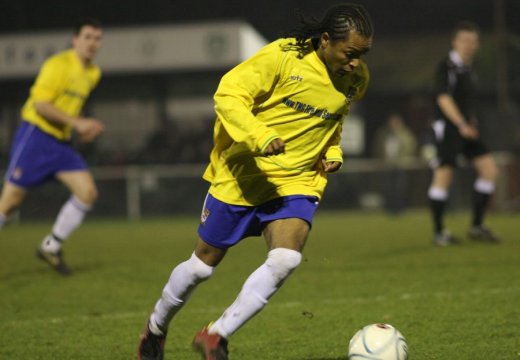 Photo: Chris Hatton - Kingstonian FC
Traynor for K's and Scott Simpson for The Chips had wide efforts before the game finally came into life three minutes from time. Poor defending of set pieces led Chipstead to a 4-0 defeat at Kingsmeadow and cost them another two points tonight, as Lampton rose highest to a corner and his header looped into the net.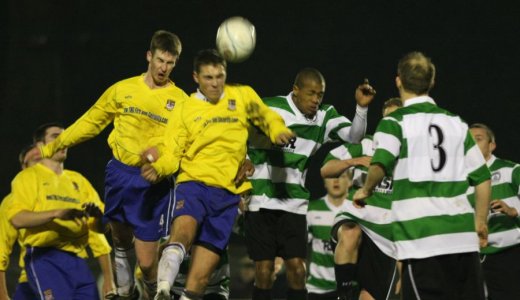 Photo: Chris Hatton - Kingstonian FC
Suddenly, K's had a sniff of victory and decided to start playing but it was too little too late. There was a flurry of possession and intent though there was too little time for it to manifest itself in a shot on target. Simon Sobihy in particular was charging round like a bull in a china shop - had he heard Traynor's call to leave a David Suchy cross, then the striker might have volleyed the winner instead of watching his captain head tamely into Parkinson's arms. A victory would have flattered K's though and they are starting to look less and less worthy of a playoff place.