Corinthian-Casuals 0-1 Kingstonian

Steve Goddard marked his full Kingstonian debut with the only goal in a pre-Christmas derby victory against Corinthian Casuals.

Having been so long a bogey side for K's they also racked up their first double of this season after Goddard outflanked the defence in the second half and shot low from 25 yards with his left foot.

He picked up a pass from NJ Lampton, who was running down the centre, 35 yards out, and passed the static defence on the right side. He then curled the ball low past an equally static keeper Colin Harris.

And with Luke Garrard forced into a series of saves later, Kingstonian held on to the one goal advantage in front of the division's highest crowd of the day.

The action began even before the game started as the referee was forced to pull out minutes before kick off and was replaced by one of his assistants. K's Web's own Gary Ekins was able to step up to the task and run the line in front of the main stand.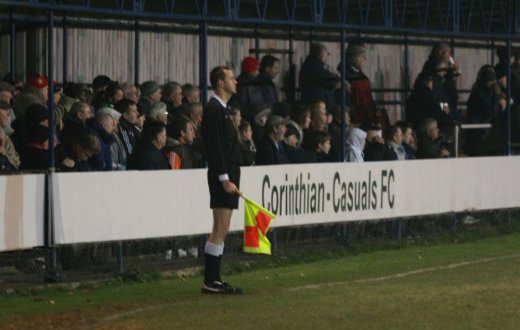 Photo: Chris Hatton - Kingstonian FC
Once the game started, 10 minutes late, K's put in some early pressure with Dean Lodge taking an early free kick in the second minute from the left. His shot went straight into the wall and bounced back.

Two minutes later Goddard was bought down 35 yards out and Lodge once again took the kick. A series of passes through a tight defence eventually found Nick Rundell but his cross along the line strayed behind for a goal kick.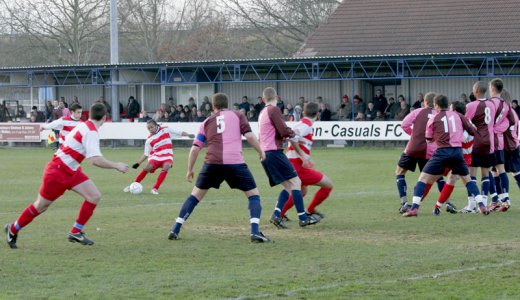 Photo: Stephen Baird
Then Lodge combined with Lampton after the latter passed up field and with the ball just too long Harris, out of his goal, took the ball. Minutes later Goddard combined with Bobby Traynor, but once again Harris was equal to the task. This was followed up by another shot from him, 25 yards out, but this went over the crossbar.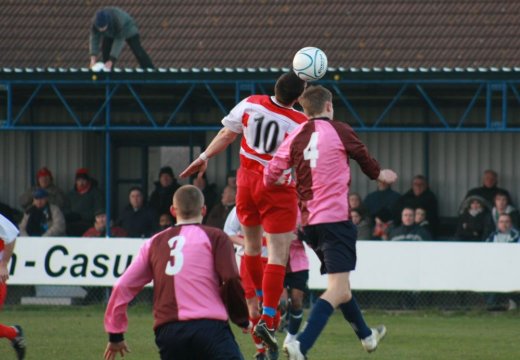 Photo: Chris Hatton - Kingstonian FC
And then the game began to drift into high balls and a midfield battle, with no side able to impose themselves, until in the 26th minute Danny Green finally gave the home side their first chance anywhere near the goal mouth with a rugby-style conversion that went well over Garrard's crossbar after going from player to player in a crowded area.

On the half-hour mark Lee Smith followed this up with another shot over the crossbar, albeit not so high. Then three minutes later Garrard finally got to touch the ball in anger when Russell Banyard's free kick from out on the right shot across the goalmouth and Garrard launched himself to tip it away.

Traynor followed this up with a free kick that was tipped out to the right by Harris at the other end to concede a corner. Rundell's corner found Lodge who blasted the ball over from 25 yards out.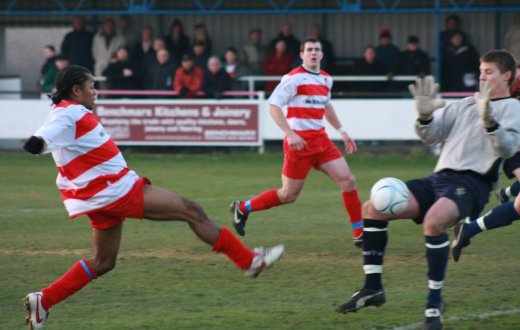 Photo: Chris Hatton - Kingstonian FC
Hinga Amara then forced Garrard to tip the ball out as the game began to liven up. And then it was back to Traynor who looked to be about to beat the static defence until Dale Hennessey stuck in a foot.

Finally with seconds to go in the first half a speculative shot from the left forced Garrard once again to tip the ball over, only for it to hit the crossbar and land in front of him. Both Amara and Green sliced the ball from five yards out as K's hung on for half time.

The second half began with Jon Coke being replaced by Wes Goggin before Traynor forced Harris to stretch long and tip the ball round the far post after Lodge came in from the right and slotted through the defence to Traynor. However minutes later, the rampant K's were not to be denied when once again the static defence was beaten and this time Goddard found the back of the net.

Minutes later Lodge could have doubled the score as he ran down the right but he was stopped in his tracks and came down in the penalty area. The substitute referee pointed to a free kick the other way.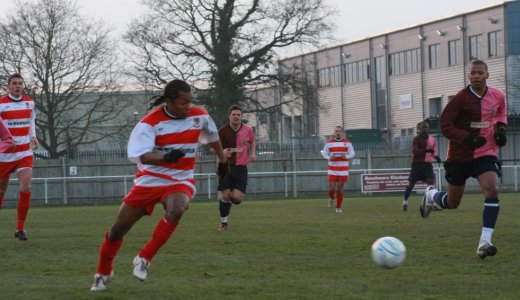 Photo: Chris Hatton - Kingstonian FC
Out of defence from the kick Byron Brown then kicked to the left of Garrard but he left it alone as it went low past the post. Still Kingstonian pressed forward with Goddard passing long and well towards Goggin but Harris intercepted the ball again from his goal.

And for Goddard that was it as five minutes later he found himself being swapped with Saheed Sankoh. Lampton however continued and a minute later he picked up a Finnie throw-in and his 10-yard shot went over. He then took a corner minutes later which this time sailed past Brown, but a free kick was given with someone adjudged to have pushed Brown.

Sankoh then began to attack in the 71st minute, when he went for Goggin's long shot but the shot went straight to the keeper. Goggin followed this up by latching onto a Lodge pass in his own half and then rather passing it out of mid-field began to run. Approaching a scoring position he showed too much of the ball to Brown, who took it off him.

A rare attack by the home side saw with Brown forcing a full stretch save from Garrard in the 66th minute and then both Murray-Price and Amara missing from yards out. Minutes later Huckle saved another goalward bound with Garrard hemmed in by a crowd of players but it rebounded off and then out.

Lodge then saw his header tipped over at the other end after Sankoh's cross to Traynor was then flicked up for Lodge on the left.

Twice Brown had half-hearted tries at goal but they went over but by then Casuals were a spent force and not surprisingly the last attack, in injury time, went to K's who saw Sankoh go over after a pass from Traynor. The referee ignored calls for a penalty.

Once again K's faced a team they could beat and, while Casuals were very much not up for the derby for once, Kingstonian did enough to win the match and probably ought to have doled out more punishment. Either way it was a welcome start to the Christmas schedule and with most of the fans coming from Kingsmeadow almost a home match. In fact the attendance was the highest in the division and compared favourably with many in leagues above them.