Dover Athletic 3-0 Kingstonian
K'S ALL AT SEA
Kingstonian fans may have applauded their team off the pitch - sympathetically, perhaps even sycophantically - but their players could not even look them in the eye after being outclassed in every department at the Crabble. Luke Garrard was singled out for praise, undoubtedly K's man of the match despite being beaten three times, but as his name was sung even he could only manage the most half-hearted of applauses as he kept his eyes transfixed on the turf.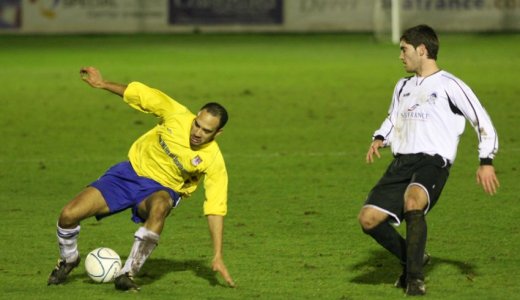 Photo: Chris Hatton - Kingstonian FC
The league table might still offer K's a glimmer of hope that they could win the league - when they were champions ten years ago, they were a long way behind at this stage of the season. The evidence on the pitch though shows that the task is beyond Herculean. Dover Athletic completely outclassed K's in absolutely every department except goalkeeping, where the result was inconclusive; Dover's Dean Ruddy could be the best or worst stopper in the world for all K's know, having tested him with just one shot on target which came in second half injury time.

Dover were in the midst of their worst run of form all year, a midwinter slip from early league dominance that is almost becoming customary for the Kent side. With K's coming off a 4-0 win an upset may have been on the cards but from the first few minutes it was clear that they were never going to have the firepower to trouble Dover.

Alan Dowson fielded a 4-5-1 formation with three naturally defensive midfielders, probably aiming to frustrate and counter-attack Dover as other sides have reportedly done to some degree of success. Having survived two early scares, when Jon Wallis hit the post and Lee Browning headed wide when offside anyway, 38 minutes in it looked as though K's might get to the break level, despite creating nothing better than a Dean Lodge corner which went straight into the side-netting themselves.

It was not to be however and Dover, who had enjoyed the bulk of the possession and territory, found the breakthrough they needed. Matt Fish got inside Nick Rundell and calmly passed across the K's box where Browning was left with a simple finish. The simplicity of the move was its beauty, leaving one to think that if the K's defence is that easy to breach, why had it taken 39 minutes to do so?

Dover did not wait so long for their second, two minutes later doubling their advantage and rendering the remaining 49 minutes an exercise in going through the motions for both sides. Garrard came out to beat Browning to another cross from the right but punched only as far as James Rogers who condemned the visitors to defeat with a well-taken finish.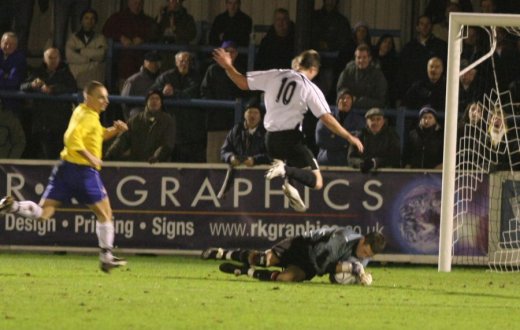 Photo: Chris Hatton - Kingstonian FC
K's replaced Jason Turley with Saheed Sankoh, a move which showed positive intent but did nothing to change the game's complexion. It was exhibition football for the Whites and on 56 minutes they made it three with a goal that should utterly shame Kingstonian.

Dowson counted 15 or 16 Dover passes - each one began to be cheered by the crowd, with K's unable to get near the ball until Fish put them out of their misery by blasting past Garrard at the near post. Dover had the air of sixth form bullies playing piggy-in-the-middle with the hapless Year 7s' ball. It was men against boys football that stunned the visiting fans into silence.

Garrard prevented the proverbial cricket score, saving from Frannie Collin, Craig Cloke, Rogers and Jimmy Dryden. Dover generally seemed happy to settle for three while K's grew more and more frustrated that absolutely nothing they tried, whatsoever, worked.

In injury time they won ironic applause for their first shot on target, having had their first shot off target just five minutes previously. Sankoh got behind the defence but his angled shot was parried clear by Ruddy. Lodge might have turned the rebound home but he was denied by Laurence Ball and frankly a mere 3-1 defeat would have flattered K's.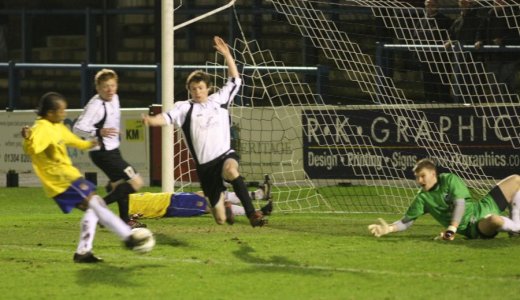 Photo: Chris Hatton - Kingstonian FC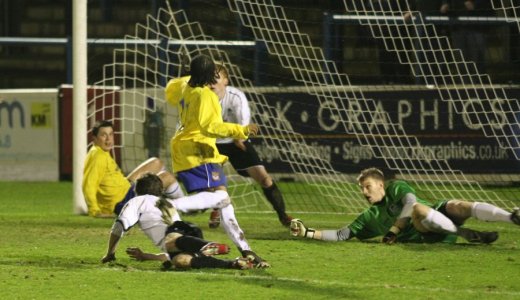 Photo: Chris Hatton - Kingstonian FC
Kingstonian may find it hard to take any positives from the game, except perhaps that they don't have to play Dover or Tooting again. The top two have heavily outclassed K's this year and if K's are to make the playoffs then they will have to find a way of dealing with at least one of them. On this evidence it is hard to believe that K's came within a whisker of beating Dover just a few weeks ago - today, they looked worlds apart.
Mon 21st Jan 2008
The Crabble
907
Isthmian League Division One South

Dover Athletic
3
Kingstonian
0

1
Luke Garrard
2
Jamie Beer
3
Nick Rundell
4
Wayne Finnie
5
Simon Sobihy
6
Simon Huckle

15

7
Neil Lampton
8
Jason Turley

12

9
Bobby Traynor
10
Jon Coke

16

11
Dean Lodge
12
Saheed Sankoh

8

14
Danny Summers
15
Gavin Cartwright

6

16
Matt York

10

17
Luke Naughton
Simon Grier