Kingstonian 2-2 Dover Athletic
CLOKE STRIKES A DAGGER INTO K'S HOPES
A last-gasp goal rescued Dover as both sets of players ran rampant during injury time at the end of both halves in possibly the games of the season so far.

First Kingstonian took the lead, after coming down from a goal behind, with a Dean Lodge shot with the referee ready to blow for half time and then even later into injury time at the end of the second half the visitors snatched an equaliser. In the 40th minute Dean Lodge was cynically bought down as he danced his way up the left. Nick Rundell fired in a free kick from the sidelines 35 yards out, heading for the goal. Up jumped Simon Huckle, 10 yards out, and carried the ball further on towards the back of the net with goalkeeper David Wilkinson beaten.

Then in injury time with Luke Garrard under pressure he released the ball up field, after a double dramatic save, and found Wes Goggin. His high ball found Saheed Sankoh who was able to turn the defence before releasing the ball to Lodge through the centre beating the offside trap. Controlling the ball with his left foot, he struck with his right foot to beat a diving Wilkinson towards the far post.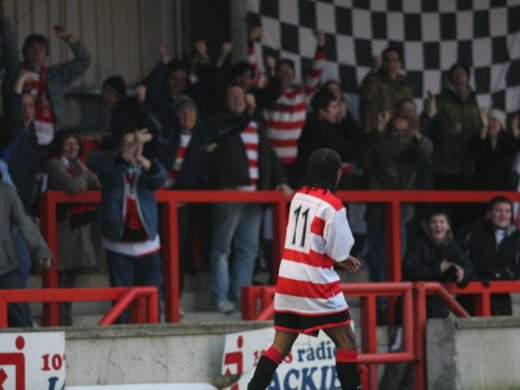 Photo: Chris Hatton - Kingstonian FC
And with Kingstonian preserving this lead throughout the second half, in spite of chances going both ways, it was another busy injury time that saw Craig Cloke pick up a long throw-in from John Pouton 35 yards from goal on the left. As the ball came in Cloke was out-jumped by Jon Coke before it rebounded off Huckle straight to Cloke, who shot through a crowded goal area and past an unsighted Garrard from less than 10 yards out.

The opening goal had come in the 18th minute as Frannie Collin crossed in from the right and with little pressure, in spite of Garrard missing the ball, Wayne Finnie put his right foot out to clear the ball, and facing goal he found the back of his own net for K's sixth own-goal this season.

Most of the first chances went to Kingstonian, a Lodge cross to Sankoh gathered up by the visitors' goalkeeper and then a Simon Sobihy header from an up-field free kick also taken by Wilkinson but then in the 12th minute Finnie cleared from an attack by Sam Gore whose pass found John Wallis.

Six minutes later Finnie found himself again clearing but could only net an own-goal and a minute later Kingstonian could have easily been two goals down when skipper John Keister crossed to Lee Browning but his shot along the ground went just wide of the right upright.

Twice Sankoh had the chance to equalise but having won a loose ball he was squeezed out by the defence and then a corner kick, won by another of Lodge's runs up the left, saw him head wide.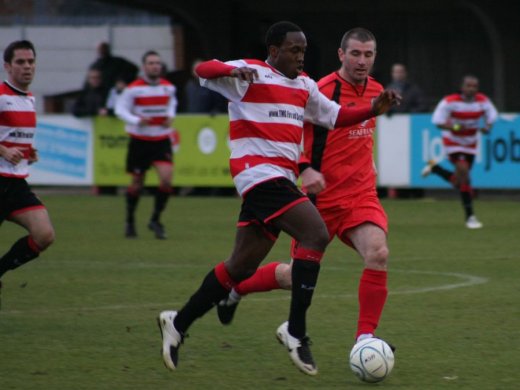 Photo: Chris Hatton - Kingstonian FC
Rundell then found Simon Huckle whose header was just too long for Bobby Traynor. Immediately Dover launched a counter-attack and a full-stretch dive by Garrard denied a Collin 20-yard shot from the left.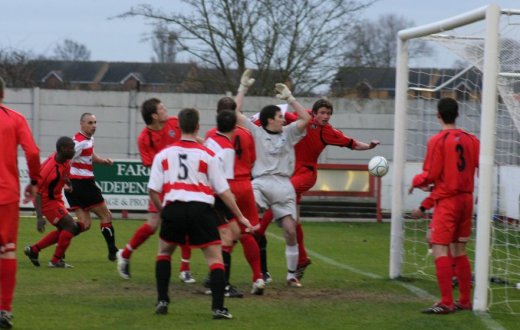 Photo: Chris Hatton - Kingstonian FC
Lodge then launched another run up the left and passed to Sankoh, whose shot forced Wilkinson into an equally-impressive save, albeit at his feet rather than out-stretched.

Thus it was no surprise when Dover once again targeted Lodge on another run up the left that won the free kick which saw Kingstonian equalise.

And in injury time Garrard gathered up another attack before Collin was released from a mid-field pass and his cross from the left found Browning 15 yards out. His shot was stopped point blank by Garrard and then gathered bravely up as Browning began to take a second shot.

Garrard threw the ball out and seconds later Lodge gave Kingstonian a half-time lead.

The second half saw Dover began another attack. Pouton on the left found Shaun Welford and his weak shot seemed to crawl to the far post before it was cleared away. K's launched a counter-attack with Goggin finding Lodge. His pass to Sankoh was slightly too strong.

Then a throw-in by Finnie went to Lodge who bought it to Sankoh but Sankoh was unable to bring it down under control and the chance was missed. A second throw-in to Sankoh from Finnie in the 72nd minute forced a saved from Wilkinson, then a clearance from a covering defender which rebounded cruelly off Bobby Traynor as it landed inches wide of the goal.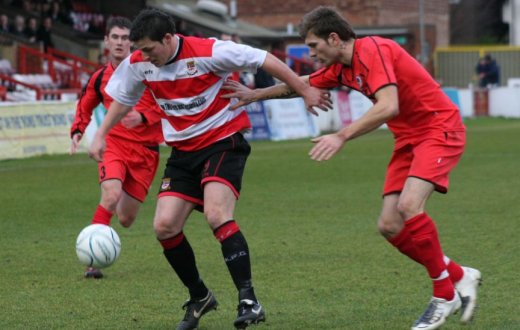 Photo: Chris Hatton - Kingstonian FC
Still Kingstonian pressed with Goggin and Jason Turley unable to convert chances and then with time running out Pouton was lucky to escape a straight red card after a high tackle on Lodge - a target throughout for Dover.

And in the 89th minute Traynor centred in from the left to Goggin but his snatched shot went wide. Dover launched an attack up field and Garrard once again denied them. But it was to naught as Cloke found the back of the net soon after. Another attack by Lodge - rightly voted man of the match by the sponsors - immediately from the restart only reiterated a rejuvenated and battling K's side.

For the biggest home crowd of the season K's put on their best show for some time and were unlucky in the end not to win. Both sides had chances and it was K's familiar tale of failing to convert more of them that denied them that win. To come battling back from an early goal showed spirit and if they continue in this vein then lesser sides should be despatched with some comfort.