Eastbourne Town 0-0 Kingstonian
K'S LEAVE WITH A DRAW FULL OF SAFFRON
No goals scored but this was not a no-score bore draw as Kingstonian pressed throughout the 90 minutes for a win by the sea at Eastbourne.

With the home side - Eastbourne Town - on the charge for a win to move them out of the lower reaches of the division, both 'keepers were kept busy and both forced to pull off a series of fine saves to keep honours even. In the end though it was the visitors who dropped the two points and the hosts who took the point.

Almost as soon as the referee had started the game Luke Garrard was forced into action. A 25-yard shot from defender Danny Simmonds was scrambled away.

Minutes later Simmonds was once again in action as he shot through a packed K's defence, after a throw-in from Andy Ballard. Fortunately Gavin Cartwright was on hand to clear the ball.

Then it was the turn of Greg Nessling, in the Eastbourne goal, to deny a goal. Dean Lodge fed Bobby Traynor but a rebounding ball was cleared by Ballard and Nessling.

Liam Baitup then failed to find Peter Featherstone's cross with only Garrard to beat at the away end.

Back at Nessling's end Traynor picked up a NJ Lampton long cross but this was tipped over. Then Simon Sobihy found Traynor again but this was snuffed out by the tight defence again. And with David Shin on from the start his cross was then wasted by Lampton, who could only find the air above the cross bar.

With the first half ending Lodge's free kick was punched out and away by Nessling on the near post.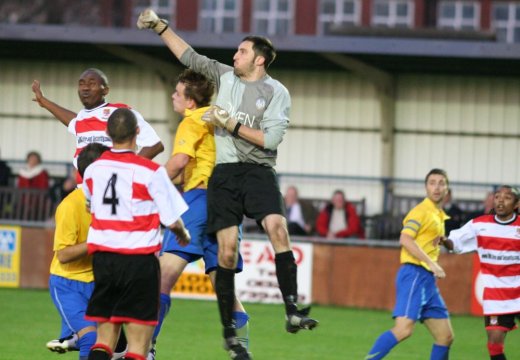 Photo: Chris Hatton - Kingstonian FC
If both sets of fans were hoping for a second half respite, this failed to materialise with Ballard slicing Kingstonian's defence wide open and finding Mark Goodwin. With Garrard beaten only a last minute run from Aaron Goode denied a certain goal as he shot away from the goal line.

Ben Putland then wasted the corner with a header straight to Garrard, after a fine corner from Simmonds.

At the other end Jamie Beer failed to find Lodge after a low considered pass was picked up by Nessling. This was soon followed up by a mad goal area scramble. Traynor pounced on a loose ball that was going nowhere in the packed area after a free kick from Lodge but the ball hit the wrong side of the post and went flying away.

Saheed Sankoh, bought on minutes earlier for Carl Gibbs, picked up Lodge's right cross - only to find Nessling again diving at the ball.

The hosts replied with Baitup shooting over the cross bar and then again heading over after a powerful run up the right by Goodwin.

Twice Lodge replied, with a Sankoh long low ball into the goal area stopped by Nessling again with Lodge ready to score, and then with seconds left Nessling denied Cartwright with a flying save that saw the ball tipped over.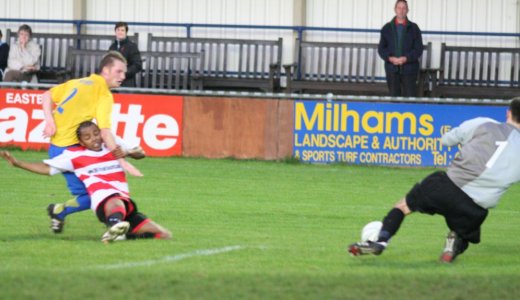 Photo: Chris Hatton - Kingstonian FC
Into injury time Simmonds was denied three times and so was Goodwin as Eastbourne went for the last-minute winner.

With both sides being denied the win by poor shooting and also two in-form 'keepers it is Kingstonian who must rue the dropped points as they had overall the edge on an entertaining match. Any thoughts of the previous visit in September were almost wiped off, save for the win they ought to have crafted for themselves.
Sat 3rd Nov 2007
The Saffrons
231
Isthmian League Division One South

Eastbourne Town
0
Kingstonian
0

1
Luke Garrard
2
Aaron Goode
3
Nick Rundell

12

4
Simon Sobihy
5
Gavin Cartwright
6
Jamie Beer
7
David Shin

15

8
Neil Lampton
9
Bobby Traynor
10
Carl Gibbs

14

11
Dean Lodge
12
Danny Summers

3

14
Saheed Sankoh

10

15
Jon Coke

7

16
Wayne Finnie
17
Luke Naughton
Michael Underwood