Eastbourne Town 2-1 Kingstonian
K'S RETIRE FROM FA CUP ON THE COAST
It is little surprise that Alan Dowson was keen to bring his former Walton centre-half Gavin Cartwright to K's over the summer, and the importance of the signing cannot be underestimated.

For the 79 minutes that Cartwright was at the heart of K's defence, they at no point looked liked conceding, even if, despite the lion's share of the territory and possession, they seemed unlikely to score themselves.

But almost as soon as Cartwright departed with a thigh strain, Kingstonian fell apart defensively with the sort of display that recalled the horrors of the 2004/5 season. Luke Naughton had to make two fine saves after his defence was breached, but Eastbourne Town kept up the pressure and on 87 minutes the Saffrons broke through.

Resiliently, K's almost immediately equalised, but with the defence having a complete breakdown of organisation, Liam Bailup in injury time restored the home side's lead with a fine glancing header.

That the scores were still level when Cartwright went off though was down to solid defending by the home team but also K's own lethargy. The first 80 minutes of the game featured plenty of neat and tidy passing from the visitors and plenty of possession in the opposition half, but no tangible chances were created.

After Saheed Sankoh's weak turning shot was easily saved in the seventh minute by Greg Nessling, all K's could muster were a plethora of long-distance efforts that either missed the target or gave Nessling catching practice.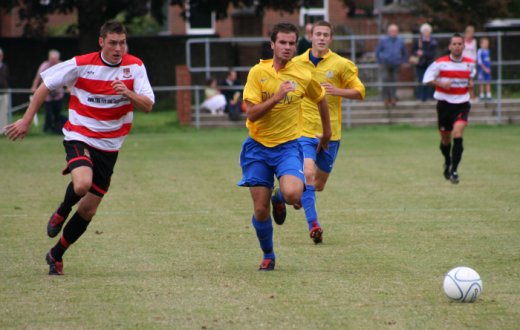 Photo: Chris Hatton - Kingstonian FC
Passes went astray, runs were missed, crosses failed to find a hooped shirt. Dowson can scapegoat his defence for the loss, and they were most certainly poor in the last ten minutes, but the root of K's woes was a total lack of imagination and ability in the final third of the pitch.

K's did put the ball in the net, after Nessling spilled a long punt forward to the feet of Bobby Traynor, but the striker was adjudged to have fouled the 'keeper and the goal was struck off.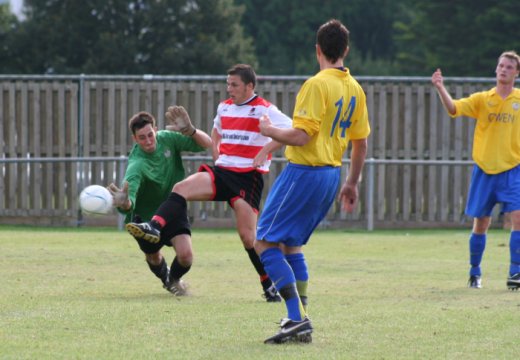 Photo: Chris Hatton - Kingstonian FC
It was when Cartwright went off that a game which had had 0-0 written all over it suddenly opened up. With Eastbourne splitting K's apart seemingly at will, Naughton had to twice dash off his line to bravely deny first Bailup and then Graham Holman.

Even these let-offs did not galvanise K's though, as three minutes from time Eastbourne took the lead. Holman picked up a neat through ball and lobbed it across the box, taking Naughton out of the equation, and Bailup outjumped his marker to nod into the unguarded net.

This did at least finally have the effect of kicking K's into some attacking action and to the surprise of most in the ground, they immediately equalised. A fierce volley from James Rose was well saved, but this only gave Eastbourne a brief respite in the form of a corner. The poorly cleared set piece fell to Bobby Traynor, whose hook into the box was flicked on by substitute Scott Corbett, allowing Simon Huckle to coolly side-foot past Nessling at the far post.

Injury-time would see K's collapse at the back again though, this time with more terminal consequences. Bailup got in front of Moorhouse to reach a cross from the right, and headed across Naughton into the far corner.

Kingstonian tried to make things even more dramatic by equalising for a second time and twice came close in injury time. Wes Goggin, cramped for space in the penalty box, chipped narrowly over and wide, before K's came even closer following an NJ Lampton free kick on the left.

The ball curled into the head of Huckle, whose firm downward header seemed goalbound before Nessling somehow flicked his foot out, while off-balance, to direct it the wrong side of the post.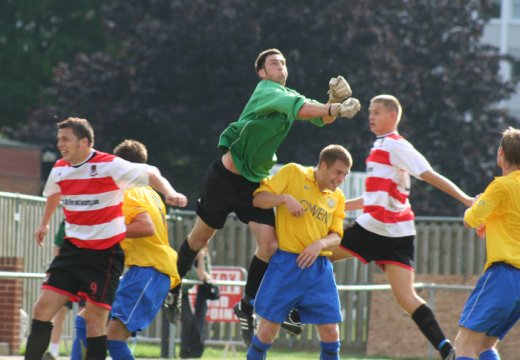 Photo: Chris Hatton - Kingstonian FC
Kingstonian did have a right to be angry in that Eastbourne should have been reduced ten men. Luke Denton picked up a first half booking for tripping K's skipper Jon Coke, yet a far worse challenge on Akwasi Edusei on seventy minutes did not result in the second. It was a very poor piece of officiating, yet K's should in no way use it as an excuse for a very poor performance.

Kingstonian put on eighty lethargic minutes followed by ten shambolic ones. When up against it in the dying minutes they had little trouble in creating themselves goalscoring chances - yet without the sense of urgency at 0-0, the game was allowed to drift horribly and they eventually got what they deserved.

Eastbourne were not a terribly impressive side but they were well-organised defensively, repelling K's half-hearted offence with ease, and certainly capable of taking advantage when the visitors fell apart defensively. For Kingstonian, the return to full fitness of Cartwright and some added impetus in midfield cannot come quickly enough.
Sat 1st Sep 2007
The Saffrons
368
FA Cup Preliminary round

Eastbourne Town
2
Kingstonian
1
Huckle

1
Luke Naughton
2
Jason Turley
3
Jon Coke
4
Tommy Moorhouse
5
Gavin Cartwright

16

6
Simon Huckle
7
Neil Lampton
8
Wes Goggin
9
Bobby Traynor
10
Saheed Sankoh

14

11
Liam Cockerill

17

12
Danny Summers
14
James Rose

10

15
Gareth Graham
16
Scott Corbett

5

17
Akwasi Edusei

11

Simon Grier