Egham Town 1-2 Kingstonian
JOB DUNNE
Picking a side for a cup trip to lower league opposition is never an easy task for a manager. A balance needs to be struck between giving fringe players, who suffer from Kingstonian's lack of a reserve side, much needed game time and actually ensuring progress into the next round.

Alan Dowson managed to walk the tightrope between success and failure as K's overcame Combined Counties mid-tablers Egham Town, albeit with a somewhat unconvincing performance. Defensive frailties reared their ugly head and a better side than Egham might have taken advantage more than just the once, but having wiped out Dean Lodge's opener the hosts were unable to reply again to Craig Dunne's free kick.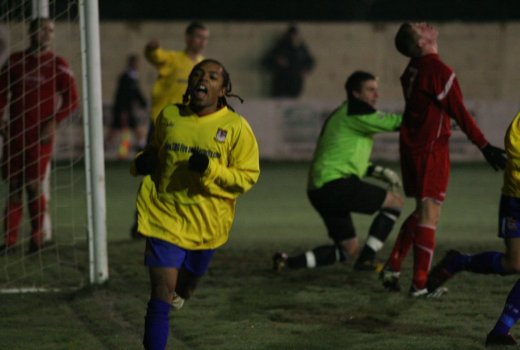 Photo: Chris Hatton - Kingstonian FC
On a cold, hard, pitch that was borderline playable at best, the first half was one to make fans wonder why they weren't sat at home with a cup of cocoa watching the Champions League. A miserable 45 minutes featured just a single shot on target, when Clark Gooding saved from Danny Summers in a one-on-one situation after a clever through ball from Dean Lodge, before everyone gladly retreated indoors.

If any game was the archetypal one that 'needed a goal' then this was surely it, and thankfully for the sparse crowd one came two minutes after the break. Gooding got a hand to Summers' twenty-yard drive, but only Lodge reacted to the rebound and he tapped in from an acute angle.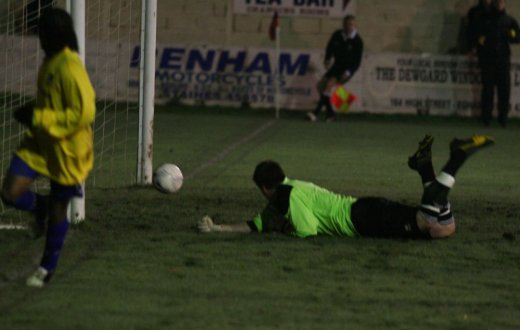 Photo: Chris Hatton - Kingstonian FC
That really should have been that, but as the half progressed Egham came back into the game and on 65 minutes the game was level. K's reserve 'keeper Luke Naughton made a reaction save from a free header at a corner, but Adam Foulser picked up the pieces to bundle the ball across the line.

For the next ten minutes Egham were the better side and an upset looked not just possible, but arguably probable. Naughton spilled an overhit through ball and after something of a scramble, Paul Bennett slotted it past him only for skipper Jon Coke to clear off the line. Naughton looked far more assured two minutes later though in making a low save from James Thornby.

K's were lacking the creativity to break Egham's organised defence down but a set piece provided them with the opportunity required to regain the lead. Dunne's inswinger from the left was horrendous for any defence to have to deal with, let alone a county league side. Gooding geared himself up to save from the ranks of K's players attacking the ball but when none made contact he could only watch, rooted to the spot, as the ball went straight in on the bounce at the far post.

Egham again threatened to equalise though and Naughton did well to keep his side on front. A free kick from little-remembered ex-K Mark Scotchford landed at the feet of Jack McKinley in the box, and from very close range Naughton did well to not just save his effort but hold on to the ball as well. Another good save from a Charlie Muldowney effort secured K's passage to the next round, and it mattered not that Summers put a good chance over the bar in injury time.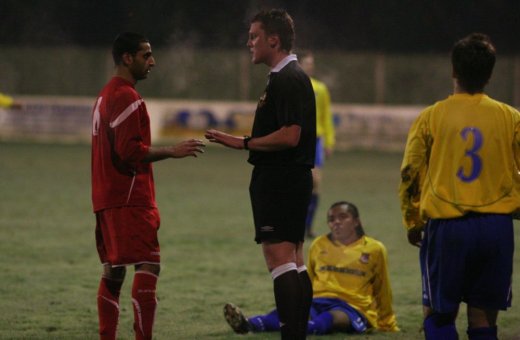 Photo: Chris Hatton - Kingstonian FC
The crowd was a desperately low 80, which is quite probably the lowest figure for any competitive K's first team game ever, anywhere, in any competition, in the entirety of time. Their efforts were hardly rewarded with a classic encounter, but more importantly K's are safely in the last 16. Opponents Ashford Town (Middlesex) and forthcoming league games will all provide a sterner test - if K's do not shore their defence up, then they can not expect to continue winning.
Tue 11th Dec 2007
Runnymeade Stadium
80
Surrey Senior Cup 2nd round

Egham Town
1
Kingstonian
2
Lodge, Dunne

1
Luke Naughton
2
Jon Coke
3
Nick Rundell

16

4
Andrew Wylde
5
Wayne Finnie
6
Jason Turley

15

7
Neil Lampton
8
Craig Dunne
9
Danny Summers
10
Wes Goggin
11
Dean Lodge
12
Ross Chalke
14
Simon Sobihy
15
Mark Watkins

6

16
Simon Huckle

3

17
Luke Garrard
Simon Grier