Horsham YMCA 2-3 Kingstonian
YMCA PAY THE PENALTY
If Kingstonian are to reach and then go up via the playoffs they will need a series of wins away from Kingsmeadow to do so. For Alan Dowson then, it's lucky that his side have got back into some semblance of form on their travels, scrambling a 3-2 win at Horsham YMCA to end a run of eight away league games without victory.

YMCA have the league's worst home record, so K's might have felt that if they could not win at Gorings Mead then they would not win anywhere. As with the win over Worthing a week ago, it was a game where Dowson will take more heart from the character of the side than the overall performance. At this stage of the season though, any victory is welcome.

The early minutes gave the impression of a pre-season friendly and not just because of a sparse, quiet crowd and a sunny, picturesque ground. The tempo was slow as both sides seemed to place a premium on avoiding early mistakes, then out of nothing at all, K's took the lead.

David Suchy crossed into the box and in the ensuing scramble, Steve Goddard was felled. There was such little reaction from the pitch and terrace alike that one would barely notice the referee had awarded a penalty. Of course, there can be few in non-league football with quite the nose for a spot-kick that Bobby Traynor has and he duly converted his sixth of the season.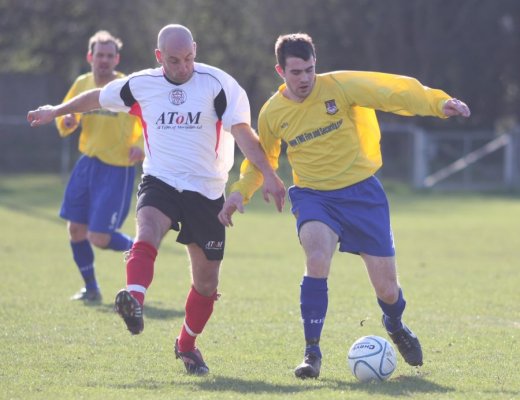 Photo: Chris Hatton - Kingstonian FC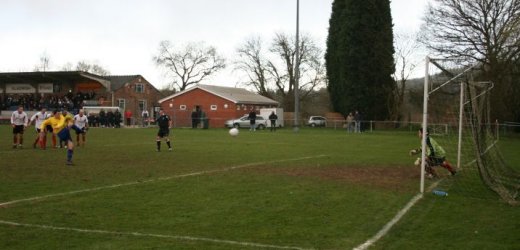 Photo: Chris Hatton - Kingstonian FC
If K's were going to make things easy for themselves, then they would have converted one of a hatful of chances over the next half hour. Suchy volleyed wide after a Wayne Finnie throw-in, Lodge overhead kicked past the post, Huckle should have done better with a free header and Lodge missed the target from the edge of the box.

Making things easy has rarely been the K's way of late though and Horsham duly came back into the game. Garrard did well to beat out a Glen Woodburn header but two minutes from the interval the equaliser came. The goalkeeper was only able to parry Darren Pearce's free kick back into the danger zone and Matt Russell neatly teed it up for Richard Greenfield to score.

Traynor missed a pair of one on-one chances just after half time and then terrible marking allowed Horsham to take the lead. A long ball was knocked down to Greg Palmer who had a ridiculous amount of space to emphatically blast past Garrard.

A month ago that might have been it for K's, but realising their playoff chances could be going up in smoke, they rallied their way back into the game. Gavin Cartwright was brought on to replace David Suchy and with his first touch rose highest to power a Tommy Williams corner past Ken Westby. Roy of the Rover stuff indeed.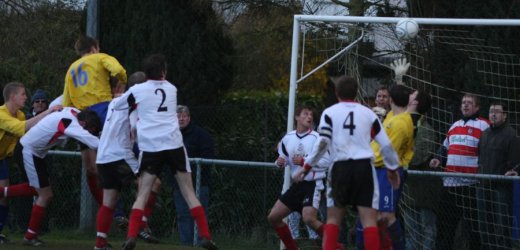 Photo: Chris Hatton - Kingstonian FC
Westby never looked comfortable facing corners and after a weak punch in the 65th minute was relieved to see Finnie head over the bar. The winner came on 73 minutes though, as Lodge beat Woodburn for pace and was brought down before he could get his shot in on goal. YMCA players surrounded the referee in protest but it was hard to see what exactly their complaint was about a blatant foul. No doubt Traynor will miss a penalty for K's one day, but it was not this day, and he secured a 3-2 win by sending Westby the wrong way.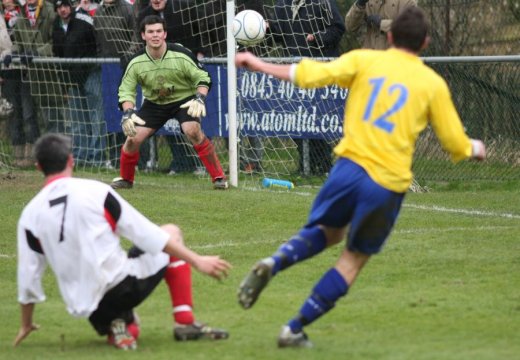 Photo: Chris Hatton - Kingstonian FC
Horsham did not really look like scoring again and K's, including young substitute Rob Sheridan, looked more than assured in defence. Danny Summers missed two chances to make it 4-2 but it was not to matter as K's picked up three vital points. K's are at the stage now where they just can't afford any slip-up at all, but at least they are back in the habit of winning away from home.
Sat 22nd Mar 2008
Gorings Mead
220
Isthmian League Division One South

Horsham YMCA
2
Kingstonian
3
Traynor (2 pen), Cartwright

1
Luke Garrard
2
Jamie Beer
3
Jon Coke
4
Simon Huckle

14

5
Wayne Finnie
6
Tommy Williams
7
David Suchy

16

8
Neil Lampton
9
Bobby Traynor
10
Steve Goddard

12

11
Dean Lodge
12
Danny Summers

10

14
Rob Sheridan

4

15
Jason Turley
16
Gavin Cartwright

7

17
Luke Naughton
Simon Grier