Metropolitan Police 2-1 Kingstonian
COPS TURN ROBBERS
Kingstonian might not be playing bad football at the moment but their consistency in hitting, as Mark Hams termed it, the 'panic button' in the last ten minutes of games means they may as well be. It is an alarming mental frailty that is rendering the side incapable of holding onto a lead: K's have now led in eight of their eleven league games during 2008, yet just two of those have produced wins.

Yet again it was late goals that were the undoing of Dowson's men in a 2-1 defeat at promotion rivals Met Police. K's, a goal up with ten minutes to go, turned from a reasonably organised defence into a shambles. The side is showing a lack of steel towards the end of close games which is turning them into also-rans rather than champions.

K's two recent league wins were by three and four to nil - any score closer than that late on has seen the defence fold under the pressure. Should K's actually make the playoffs, you have to wonder how they would cope with the tense situations that would inevitably be thrown up.

With nine minutes to go, K's fans had a right to be nervous about how their side would defend a Met Police corner, yet even the most pessimistic could not have predicted quite how spectacularly they would fail.

Luke Naughton, keeping his place after a good display in the Surrey Cup, failed to get hold of the set piece and after a brief scramble Tommy Moorhouse blasted it home from close range. It was another soft goal in a season where they have not been in short supply.

Moorhouse, for his part, was evidently delighted, goading the visiting fans with arms aloft after taking stick from some sections of the crowd against his former club. His skipper Scott Corbett calmed him down but he had more reason to celebrate in injury time, as Andy Ottley's powerful free kick caught a deflection past Naughton and K's capitulation was complete.

Until K's lost their heads in the last ten minutes, the game had been reasonably equal, with only a moment of magic ten minutes after half-time separating the teams. Dean Lodge cut in from the left flank and picked out Shawn Beveney. The Guyanese international completed the one-two with a deft back-heel and Lodge scored with a remarkable first-time chip from the corner of the penalty box. Undoubtedly, it was a contender for goal of the season and would have graced any level of football.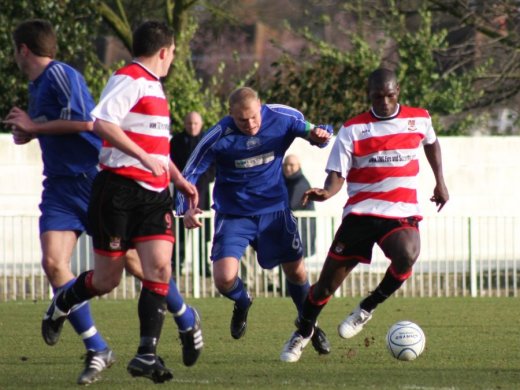 Photo: Chris Hatton - Kingstonian FC
The first half had been one to snooze through on the other hand. Gavin Cartwright for K's and James Greenway for the Police both should have done better with free headers but the best chance came for the home side just before the break. Naughton did well to come out and deny Greenway who had been set up after a fine run by Craig Browne.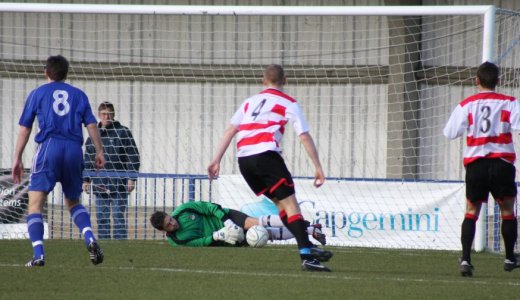 Photo: Chris Hatton - Kingstonian FC
After taking the lead early in the second though, K's should have pushed on from that moment and had two good chances to double their lead. Bobby Traynor broke through on goal only to be denied by Steve Sutherland, whose last ditch tackle showed commitment as if he were defending the Alamo rather than the Met Police goal. Five minutes later NJ Lampton missed the target with a free header after a Tommy Williams free kick and K's never threatened again.

In fact, they looked happy to settle for a one goal lead. Wayne Finnie stopped coming forward to take long throws and K's were increasingly caught deeper in their own half as The Blues were allowed to take control of the game. Just before the equaliser, Leon Johnson fired over after another scramble from a corner.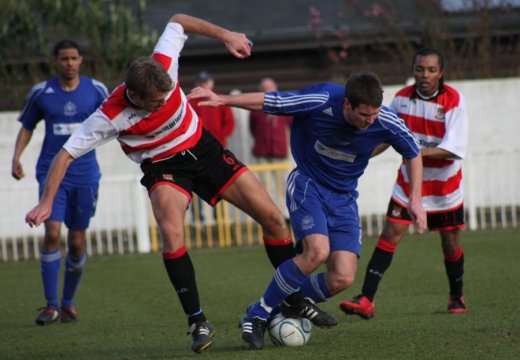 Photo: Chris Hatton - Kingstonian FC
There was a late controversial moment concerning the referee. Having booked Blues goalkeeper Will Packham for something he said, it was a remarkable loss of courage that saw him not dismiss The Blues' number one a few minutes later. After a foul was awarded against Dean Lodge, Packham bizarrely decided to shove him to the floor. Despite it being in full view of the officials, no further action was taken.

In truth, Lodge had had a hard time from the officials all match long - it was as if he were a marked man In the eyes of the referee, who seemed extremely reluctant to award him free kicks even as his pace caused the home side problem after problem. To blame the referee though would be to paper over the cracks of the real reason for K's defeat - a mental frailty that is seeing them collapse under pressure again and again.
Sat 1st Mar 2008
Imber Court
425
Isthmian League Division One South

Metropolitan Police
2
Kingstonian
1
Lodge

1
Luke Naughton
2
Jamie Beer
3
Jason Turley
4
Simon Huckle
5
Wayne Finnie
6
Gavin Cartwright
7
Neil Lampton
8
Tommy Williams
9
Bobby Traynor
10
Shawn Beveney

14

11
Dean Lodge
12
Danny Summers
14
Steve Goddard

10

15
Nick Rundell
16
Rob Sheridan
17
Luke Garrard
Simon Grier