Kingstonian 1-0 Metropolitan Police
LIGHTNING STRIKES THE FORCE
Danny Summers once again shone through for the third game in a row as he scored the only goal against local rivals Met Police in a match played in an almost constant deluge.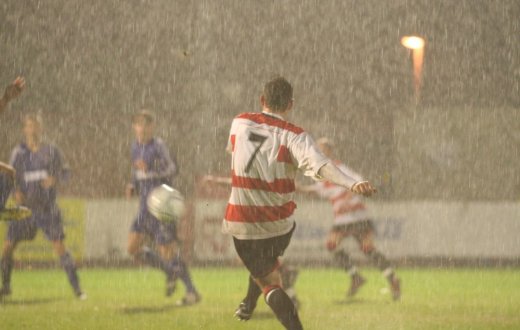 Photo: Chris Hatton - Kingstonian FC
He scored the opening goal in the cup defeat eight days before and then a last minute equaliser on Saturday, but this time he waited only until the 51st minute to net the only goal of the match.

Fortunately the Kingsmeadow pitch held up and allowed some decent level of play. But it was the sodden conditions under foot that ultimately played a role in the goal.

A defensive mistake let Saheed Sankoh in, after a fine pass from Dean Lodge, and Sankoh coolly took the ball to the by-line before crossing for the on-rushing Summers to coolly slot home at the far post from close range.

Minutes earlier at the other end Luke Garrard had a sticky moment when a loose ball stuck in the turf but he was able to rescue the ball without being put under pressure.

The first half began with visitors Met Police putting on pressure on Garrard. Craig Carley saw his 4th minute attempt miss the cross bar by less than five feet as it dipped over from the right on a volley.

Then ex-K's hero Martyn Lee saw his free kick bounce back off a solid defensive wall.

Two minutes later Kingstonian were finally able to set up a chance. A well-taken Lodge corner fell to NJ Lampton but he was unable to do anything as the mud got to it.

Dave Stevens then saw his left foot shot just over Garrard's cross bar in the 14th minute. But then that was about as good as it got for most of the first half as the constant rain began to wreck play.

Lodge twice set up chances again with the first one in 25 minutes but his weak free kick went past the near post.

Three minutes later he picked up a cross-pitch shot from Gavin Cartwright and then 30 yards out centred to Sankoh. He was then just beaten to it by a defender.

Then Tommy Moorhouse, who only recently moved to Imber Court from Kingsmeadow, headed a ball from Lee but as he jumped for it a clash of heads with a defender conceded another corner and Moorhouse needing attention to his left eye.

The subsequent corner had the skipper Dave Newman heading over and Moorhouse coming on after being patched up. This stay in the thick of it was brief and soon Moorhouse returned to the dugout for further attention, before coming on with a bandage across his header.

And in extra time a shot by Summers rattled the defence. A corner kick by Lodge was headed out by Moorhouse and Summers pounced on the ball to shoot wide.

The second half saw the rain begin to turn to heavy drizzle and with this Sankoh had an early chance in the first minute of the second half. This was soon forgotten with Summers scoring.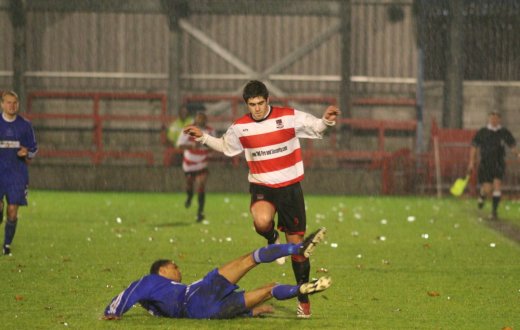 Photo: Chris Hatton - Kingstonian FC
Afterwards Lodge pressurised the defence with two more free kicks. The first one in the 58th minute was well defended but then three minutes later he split the same defence, finding Sankoh lurking 20 yards out. But this was to naught.

Five minutes later Newman speculatively kicked from long range after a 35 yard clearance by Michael Cobden. It sailed high and to the right with Garrard covering it all the way.

And as the drizzle reverted to a downpour Kingstonian once again took charge. Lodge crossed to Sankoh who did not pass it on allowing Moorhouse's substitute Tristan Frantin to clear away behind for a corner.

Lodge then took the corner. However Packham managed to tip this over dramatically.

Sankoh added another chance in the 85th minute which was 30 yards out. This was just wide as it passed the stanchion low. And with the rain now being accompanied by thunder and lightening, a Lampton free kick went just over from his right foot after Lodge was bought down by James Greenaway.

That the match went on in spite of the rain, while Staines' match being called off a few miles away, is credit to the pitch relay in the summer. Kingstonian deserved to win because they kept on pressing throughout the ever-changing rain. They now face three away trips to Kent and Sussex, including division leaders Dover on Monday.
Mon 19th Nov 2007
Kingsmeadow Stadium
231
Isthmian League Division One South

Kingstonian
1
Summers
Metropolitan Police
0

1
Luke Garrard
2
Jon Coke
3
Nick Rundell
4
Wayne Finnie
5
Gavin Cartwright
6
Simon Huckle
7
Neil Lampton
8
Wes Goggin
9
Danny Summers

16

10
Saheed Sankoh
11
Dean Lodge
12
David Shin
14
Carl Gibbs
15
Liam Cockerill
16
Craig Dunne

9

17
Luke Naughton
Michael Underwood