Kingstonian 2-1 Redhill
K'S OVERCOME RED ALERT
Kingstonian's extended slump in form is beginning to mystify staff and supporters alike. A reasonably comfortable, if unspectacular, victory over Redhill is not going to answer any of the questions about the side's capability to make the league playoffs. It does, however, at least put them a step closer to salvaging something from the season if, as seems increasingly likely with every defensive shortcoming in league games, they fail to make the top five.

Redhill captain Tony Reid is about as close as K's have had to a genuine cult figure since their Conference days, but his side's inability to defend crosses was indicative of their mid-table placing in the Sussex league and meant that their pacy forward line would always have too much to do against their Ryman League hosts.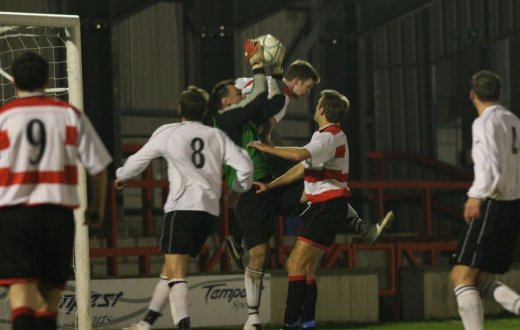 Photo: Chris Hatton - Kingstonian FC
The opening five minutes saw the visitors well on top though. Luke Naughton tipped Bobby George and Billy Jackson efforts over the bar at full stretch in between which Teddy Ansell headed over the top from a free kick. They would not manage such sustained pressure again though and K's quickly began to press an advantage.

Danny Summers drove wildly off target but on nineteen minutes K's took the lead. Jon Coke stayed on his feet as he rode an apparent foul by Jamie Sinclair and vindicated his decision not to take an easy free kick by crossing into the six yard box. It was met by Dean Lodge, who headed past Michael Czanner from about four yards. The shortest player on the pitch probably didn't expect a free header from such close range while Stuart McIntyre, now manager of Redhill, might have had some choice words for his missing defence.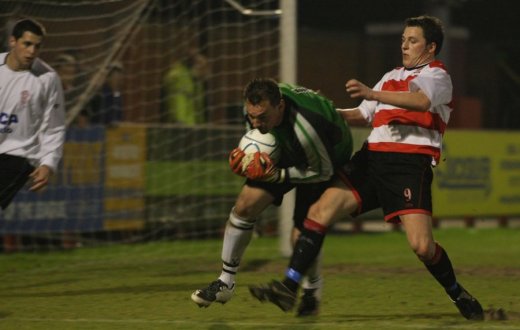 Photo: Chris Hatton - Kingstonian FC
The Ryman Leaguers continued to look the better side, with Jason Barton deflecting a Lodge shot wide and Czanner holding on to a Summers free kick. Lodge's pace was not proving easy for the visitors to deal with and he opened them on 35 minutes only for Summers to miscontrol when through on goal.

K's rarely make things easy for themselves these days though and on 44 minutes came the soft goal that is almost becoming inevitable. Bobby George burst into the box with a strong run but was heading away from goal when brought down by Jamie Beer for a clear, and quite unnecessarily conceded, penalty. Reid sent Naughton the wrong to level the scores.

Just a minute later though it was Redhill's turn to have a defensive calamity and this time they would not recover from it. Tommy Williams' low corner would have been cleared by any half-decent defence, and possibly even Newcastle United's as well, but Redhill allowed Simon Huckle to bundle it in from the midst of the six-yard box with what appeared to be a combination of his thigh and his hand.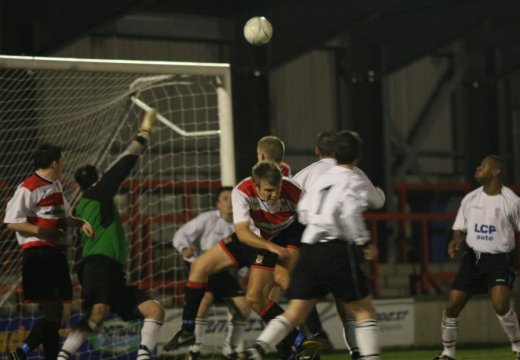 Photo: Chris Hatton - Kingstonian FC
The second half was nothing as a spectacle. K's were the better side, but such has become their frailty that even for their dominance, without a second goal the fans were always concerned that Redhill would equalise again.

K's were frustrated time and again - Czanner saved acrobatically from a twenty-yard Summers volley, while the visitors made another mess of defending a set piece as the goalkeeper and Charlie Stagg had to scramble to clear a Tommy Williams corner off the line with their feet after nobody attacked the low cross. A fired-up Reid in fact seemed to be the most adept at clearing corners for the visitors but he could not inspire his side to create much offensively.

Czanner saved a long-range Cartwright volley and then a Lodge cross-shot as K's continued to pressurise. He was relieved to see Lodge fire wide after mis-hitting a goal kick straight to him while Summers got the ball stuck under his feet in stoppage time but eventually the third goal was not needed for K's.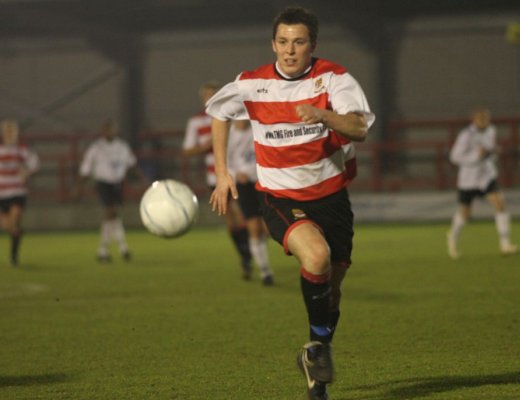 Photo: Chris Hatton - Kingstonian FC
For the third time in a row the job was done solidly but unspectacularly in the Surrey Cup, with Redhill not doing enough in the second half to question the K's defence. The semi-final will see a trip to either Combined Counties high-flyers Merstham or a Tooting side who have already racked up a trifecta of wins over K's this season. Neither will be an easy task but first, of far greater importance for Dowson, is trying to put a stop to K's woeful league form.