Sittingbourne 1-0 Kingstonian
BOURNE OUT OF FRUSTRATION
A second trip to Kent in six days saw K's draw a blank with a second loss - this time at Sittingbourne in a game that they did everything but score.

In spite of the obvious domination at Bourne Park by the visitors, a goal 12 minutes before the end when Hitcham Akhazzan popped up to score from close range from a corner conceded by a spectacular save from Luke Garrard.

While Kingstonian dominated most of the match, the first chance fell to Steve Hafner in the ninth minute with a shot that was tipped over by Garrard. This was followed by eventual scorer Akhazzan driving the ball over the bar from midfielder Bradley Spice.

At this point the visitors stepped up a gear and a Dean Lodge free kick rebounded out only for Jamie Beer to sky the ball over the bar. Lodge was once again involved when a ball destined for him by Simon Sobihy hit defender Joe Dowley on the upper body.

Dowley once again was involved in the 21st minute when he seemed block Simon Huckle, as he teed himself up for a chance from Saheed Sankoh's cross inwards. Again the referee refused to have anything to do with it, waving play on.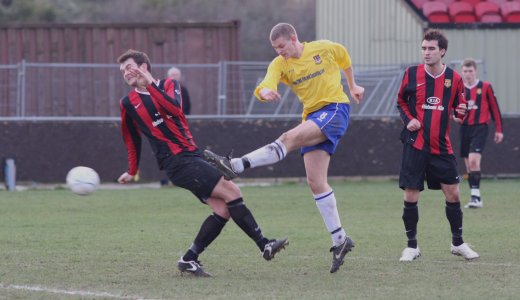 Photo: Chris Hatton - Kingstonian FC
This was quickly followed by Lodge being denied by a defence that surrounded him after Matt York found him. Huckle then saw his lob to Sankoh stopped by 'keeper Chris Lewington.

With Kingstonian dominating and running the home side ragged more chances ensued. Sobihy was denied from a long throw in by Wayne Finnie and then Sankoh was blocked by Lewington, who also blocked a 20-yard shot from Huckle in the 40th minute. Still Lewington was under the cosh after a Lodge lob to Huckle only got to the near-side netting.

Photo: Chris Hatton - Kingstonian FC
For the home side Hafner did at least attempt a cross in earlier but a punch from Garrard cleared any danger.

The second half saw Tarik Ozresberoglu bought on to replace midfielder Jack Baines but within a matter of seconds he was being shown a yellow card for flattening Lodge.

With Kingstonian's ascendency showing no results Sittingbourne began to believe in themselves, even though Sankoh shot weakly to Lewington and then Summers more powerful drive going straight again to the goalkeeper.

Alan Dowson then bought on Bobby Traynor for Sankoh. Soon he was in the thick of the action. Two crosses came to naught and Huckle's cross to Lodge went the same way.

At which point the hosts actually found their legs with a short period of domination, resulting in the only goal, although it could have been a more flattering more.

Bradley Spice saw his shot tipped out by Garrard. From the corner Paul Ainsworth headed weakly at Garrard.

Another corner minutes later saw Hafner find Paul Ainsworth head in the clearance to the unmarked Akhazzan find just enough space to slot in the eventual winner.

Almost from the kick-off the ever-threatening Hafner charged at the midfield and defence from his own half but, with only Garrard to beat from the area, saw his shot go slightly wide as the keeper spread himself enough to put him off.

And that was it for Sittingbourne and unfortunately for Kingstonian. Back they came galvanised by prospect of defeat. York's free kick in the 82nd minute found Lodge; but the shot went just wide of the upright.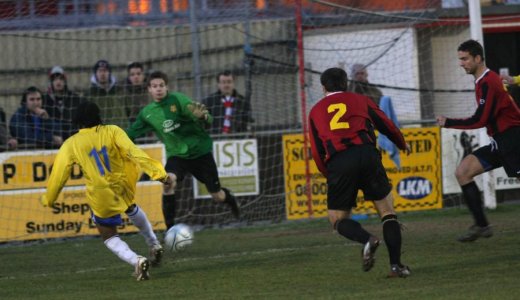 Photo: Chris Hatton - Kingstonian FC
Still they carried on and NJ Lampton, on minutes earlier for Wes Goggin, saw his cross in cleared to York, who could only shoot wide. Then Finnie's throw-in found Huckle but he could only sky the ball over. Another throw-in by Finnie with the clock firmly entrenched in injury time saw a diving Danny Summers head over. One last chance saw Lewington get to a loose ball before Traynor.

Again Kingstonian ended up returning from the far side of the M25, pointless. Only Ashford Town and Whitstable have seen any success and followed on from the weak display at Dover five days earlier. In comparison Kingstonian had beaten a poor Chipstead easily the previous Saturday and equally emphatically Sittingbourne in the autumn.

However Kingstonian do have the fire power to score and put teams above and below to the sword. When it happens in succession then the team's confidence will see them go back up the table.