Kingstonian 5-1 Sittingbourne
FIVE STAR K'S SHOW BOURNE SUPREMACY
Kingstonian kept up the pressure on league leaders Tooting and Mitcham by romping home to a five-one victory over Sittingbourne on Sunday. The emphatic victory was secured with the help of four goals from striker Bobby Traynor, taking his tally to seven league goals this season.

Kingstonian took the initiative on eight minutes, Bobby Traynor, latching onto a ball that pierced the defence and tapping past a helpless Steve Williams for his first of the afternoon.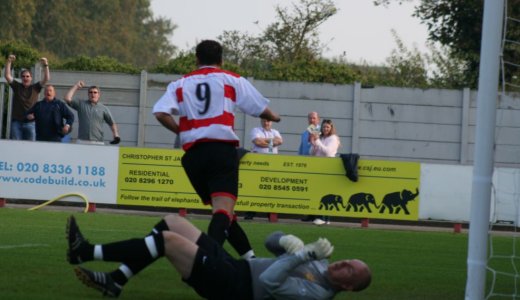 Photo: Chris Hatton - Kingstonian FC
Sittingbourne had the opportunity to immediately equalise when Hafner tumbled theatrically to earn a free kick on the edge of the K's box. Spice curled the ball over the wall but Garrard held the ball firmly.

At the other end Williams kept Sittingbourne in the game with a superb save. The effervescent Traynor picked the ball up on the left wing and cut inside towards goal. Whilst the defence were expecting the through ball that characterised much of Kingstonian's attacking play, Traynor spotted a gap and rifled his shot at Williams near post. Williams was alert to the danger and managed to tip the ball inches wide of the post with his fingertips.

Shortly before half time, Saheed Sankoh used his pace to pull away from the Sittingbourne defence. He caught a long ball on his foot, and sent a deep cross to the far post where Dean Lodge had sprung up. Lodge pulled away from his marker, but just as he attempted to strike, the ball took an awkward bounce and Williams gathered the weak shot.

Early in the second half the referee awarded a penalty against Aaron Goode for a foul on the edge of the box. Spice lined up against Garrard, and his powerful spot-kick beat the Kingstonian stopper to give the visitors an equaliser against the run of play. Before the penalty Sittingbourne did not look like getting back into the game, but the goal spurred them on, and the visitors began to push forwards looking for a second.

However this renewed confidence did not last long. A long range Garrard clearance was completely missed by the Sittingbourne defence. Bobby Traynor raced past the static back line and beat Williams to the ball. As the angle narrowed, Traynor cut back across the goal and dispatched a shot through a tangle of legs to restore Kingstonian's lead.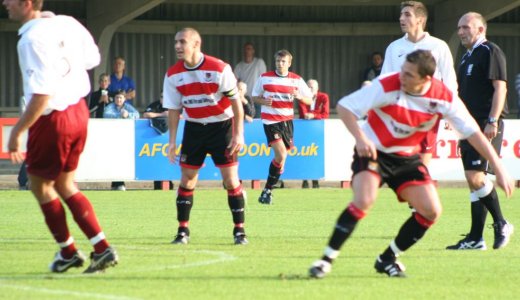 Photo: Chris Hatton - Kingstonian FC
Saheed Sankoh added a third ten minutes later, running onto a deep cross and tapping in at the far post, whilst his strike partner bagged his hat-trick a minute later, winning a loose ball and placing his shot paced the wrong-footed goalkeeper.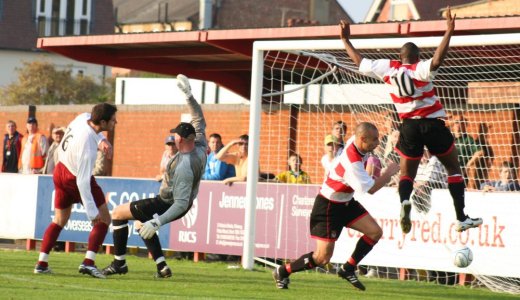 Photo: Chris Hatton - Kingstonian FC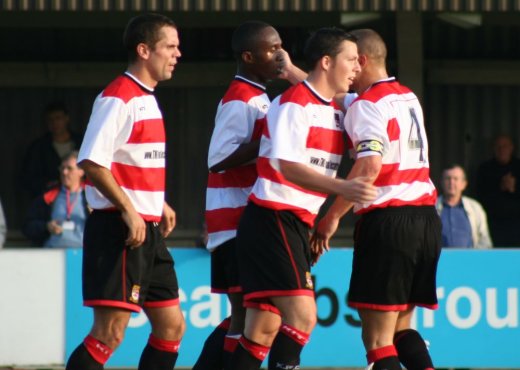 Photo: Chris Hatton - Kingstonian FC
In the 85th minute Traynor sealed a memorable afternoon, driving another shot past Williams for his fourth, and Kingstonian's fifth of the afternoon.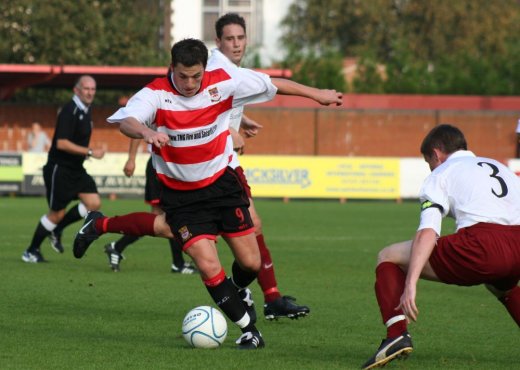 Photo: Chris Hatton - Kingstonian FC