Tooting & Mitcham 0-4 Kingstonian
K'S LOOK FOUR-WARD TO CUP FINAL
Kingstonian are off to Imber Court and the Surrey Senior Cup final after brushing aside Tooting & Mitcham by four goals.

In a much-anticipated semi final at Imperial Fields which saw the last two winners head to head, it was the K's that came on top with a goal each from Bobby Traynor, Danny Summers and Dean Lodge before half time and then a late penalty from Traynor again with minutes to go.

With the visitors facing a strong head wind from the off, it took 23 minutes before the many who once again crowded the roads and rails of south London to see an opening goal. Lodge broke from the midfield and pushed the home side back with his pace before centring to Traynor. A cool toe-tap past Dave King and K's were on their way.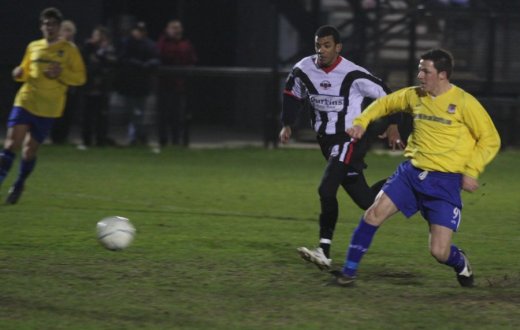 Photo: Chris Hatton - Kingstonian FC
12 minutes later and Summers was left alone to score the second, after once again Lodge broke the home side's defence with a charge upfield, before passing to Shawn Beveney. His flick in found Summers and the second goal followed with a low pass in to the left of King.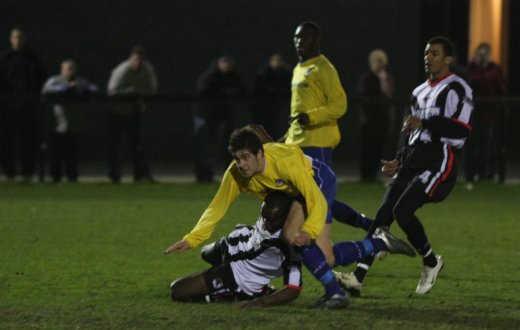 Photo: Chris Hatton - Kingstonian FC
The third followed in injury time when Summers returned the favour with a quickly-taken free kick that found Lodge 20 yards out. His right foot shot passed King to the near post and in.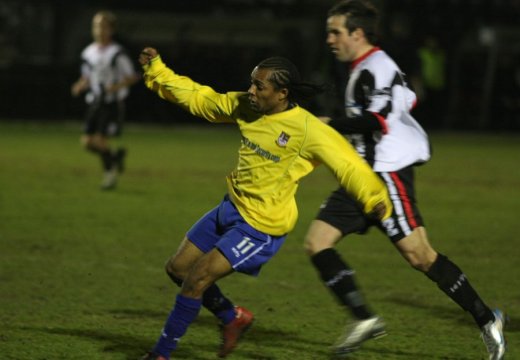 Photo: Chris Hatton - Kingstonian FC
Then with minutes to spare in the game and now with the gale on their backs, Allan McLoed bought down Tommy Williams and referee Nigel Lugg had no hesitation in pointing to the spot. Up-stepped Traynor with a low shot to the right and K's fourth goal.

With Alan Dowson fielding his strongest cup team so far, Luke Naughton in goal and Rob Sheridan and Summers in the outfield, the home side soon put pressure and wind advantage on the defence. Naughton was forced to tip over from Ronnie Green within minutes and then Vernon Francis forced another block before Ben Abbey once again forced another save, all within the first 20 minutes.

In-between Williams saw his pass to Traynor headed away from the desperate 'keeper.

Then Traynor finally found the mark with his first goal, and with Kingstonian sensing a regained confidence after a drop in form Summers added a second in the 35th minute.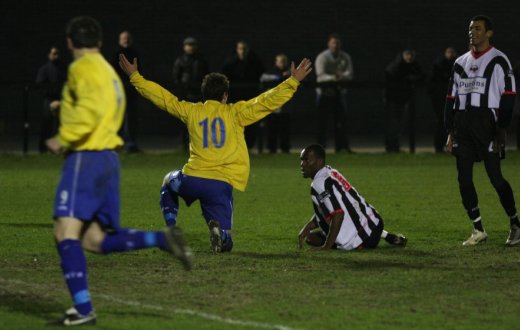 Photo: Chris Hatton - Kingstonian FC
Minutes earlier Beveney, who is becoming ever impressive with every match he plays, shot wide after running up the left after winning the ball and then regaining it after losing it. Five yards to the right was the margin of error.

With the minutes beginning to tick away Green was once again denied to halve the margin when his shot went just over the cross bar with Naughton at full stretch just covering any gap. McLeod had set the chance up.

The second half belonged to nobody other than the home side threw on three quick and precipitous substitutes - Jason Pinnock and Jamie Byatt being the most effective.

K's were still up for scoring and, with three goals under the belt from Saturday, they were chasing more. Beverney was found wanting twice with a shot over the bar and then a lone run also ended up in a shot over the top.

But as the second half continued the hosts found fighting against the wind too much and the game began to peter out. Defender Colin Hartburn floated in crosses but nought came of them. Then striker Henry-Hayden finally gave Naughton something to think about in the 82nd minute with a header. It was easy meat.

The second half finally woke up with Williams ending up on the deck and Traynor converting the penalty. Four-up K's continued to press. Traynor forced King into a save after late sub Mark Watkins found Williams, whose pass found Traynor.

Seven goals none conceded and only three days, Kingstonian have stormed into the final of the cup at Imber Court but also they are beginning to overcome the winter slump. They face fellow play-off contenders Worthing this Saturday, and continuing their form of seven goal without concession, the final play-off place ought to be this way.