Kingstonian 0-3 Tooting & Mitcham
TOOTING CAUSE TERROR AGAIN
Alan Dowson has recently become very frustrated with those K's fans who doubt his side's promotion credentials but their current form is doing little to inspire confidence in the sceptics. After an error-strewn performance against promotion rivals Tooting & Mitcham, K's are now out of the playoff zone for the first time all season. Short of luck, perhaps, but this was nonetheless a game that cruelly exposed the limitations of Dowson's side which had already been in evidence against Ashford and Leatherhead.

In the simplest of terms, Kingstonian's problems were that they rarely looked like scoring and made too many errors defensively. If Ryman League games were filmed, then Tooting's second, a sixty-yard free kick from goalkeeper Dave King, would have been a certain candidate for a blooper DVD next Christmas, presented by a charismatic ex-Premiership player looking to avoid the Pele route of making a career post-football. Going forward, K's actually created more chances than they have in recent weeks - they were just desperately inept in actually taking them.

Goalkeeper Luke Garrard ultimately had a game to forget but did himself proud in the third minute, making a superb double-save after panic in the Kingstonian penalty box. Garrard alone wasn't enough to hold out the early Tooting charge, and full back Nick Rundell was called upon to clear off the line in a frantic opening.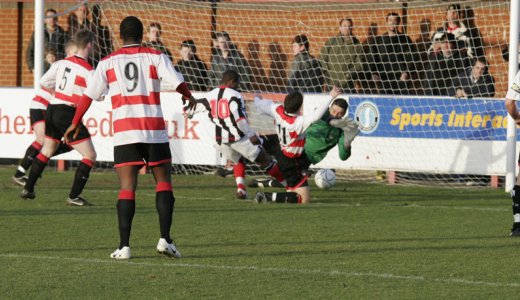 Photo: Stephen Baird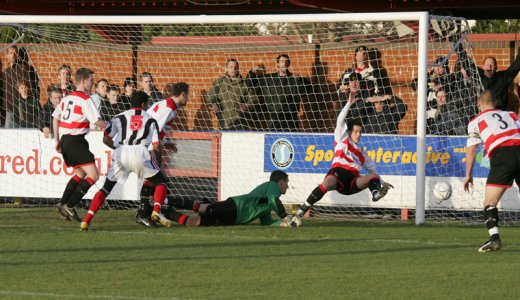 Photo: Stephen Baird
On fourteen minutes though, the visitors took a deserved lead. The linesman flagged for a free kick against Simon Sobihy that the referee had missed, and Jacob Erskine demonstrated the quality that can reside in non-league football by neatly curling it over the wall and past Garrard.

K's had, and missed, chances to level the scores, but five minutes before the break came the incident that the game would be remembered for. Deep inside his own half, King hit a long ball into K's box looking to pressurise the home defence. He overshot his own attackers but Garrard horribly misjudged the bounce and the free kick went in without a touch from anybody. King, the proverbial Cheshire cat, and his teammates went in two goals up.

K's best period of the game came after the break but they failed to take their chances, while Jon Henry-Hayden and Allan McLeod both missed opportunities to secure the points for the visitors. The noisy visiting contingent ultimately had to wait to the 75th minute to be sure of taking the win, again thanks to a K's error. Dean Hamlin's long ball went only to NJ Lampton filling in at right back, but Lampton headed across the face of his own goal. Henry-Hayden was first to react, beating Garrard with ease and condemning K's to their biggest defeat in almost a year.

As Dowson admitted after the game, if you concede three goals at home then you will lose, but K's did have chances throughout the game. Just after K's fell behind, Wayne Finnie missed a header from five yards out after being picked out by Sobihy. Nick Rundell and Jason Turley both came close from the edge of the box, while King was equal to Saheed Sankoh's effort from the same distance.

The third quarter of the game was probably K's best of the match. Simon Huckle, sliding in at the far post, almost turned a Sobihy free kick in and then King did well to redeem himself with a one-on-one save from Danny Summers after miskicking straight to the teenage substitute. Five minutes later King saved well again, this time from a close range Sobihy header after Lampton's free kick. Shortly afterwards came Tooting's third, which completely took the wind out of K's recovery attempts, the only chance thereafter being a header wide by Rundell.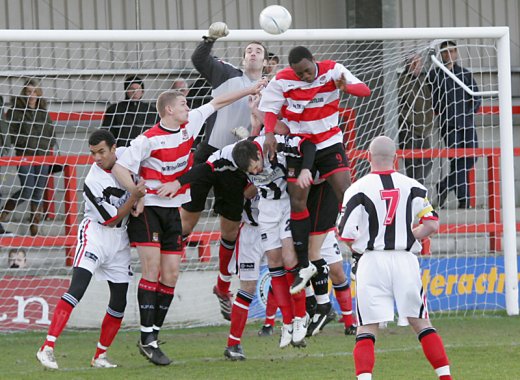 Photo: Stephen Baird
K's in the second half had a lot of territory and possession, but did not convert enough of it into chances, relying almost exclusively on set pieces to test King. With Dean Lodge, the squad's best creative outlet, spending 66 minutes on the bench there was once again a lack of creativity in the K's midfield. By the 56th minute Dowson had swapped his strikers, but Summers and Bobby Traynor received no better or worse service than Sankoh or Steve Goddard and none of the four made an impact on the game.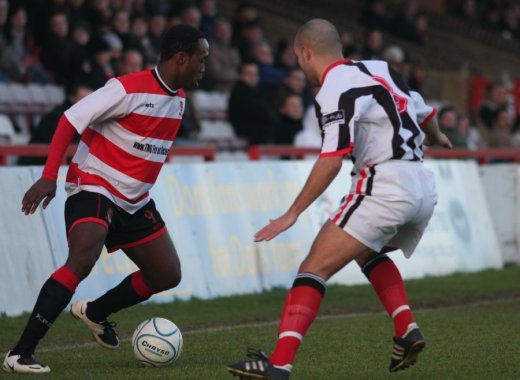 Photo: Chris Hatton - Kingstonian FC
K's are not lacking in tough, committed players, and those are qualities that will take you a long way in this league. Against the top 8 though, K's have recorded just two wins from seven, scoring six goals, as they struggle to show their quality against better sides. With a good manager and a far more stable boardroom, off-the-pitch Kingstonian seems to be in the best state it has been for years. On the pitch however, there is a lot left to prove.
Sat 29th Dec 2007
Kingsmeadow Stadium
449
Isthmian League Division One South

Kingstonian
0
Tooting & Mitcham
3

1
Luke Garrard
2
Jamie Beer

15

3
Simon Sobihy
4
Simon Huckle
5
Wayne Finnie
6
Matt York
7
Neil Lampton
8
Jason Turley
9
Saheed Sankoh

12

10
Steve Goddard

16

11
Nick Rundell
12
Danny Summers

9

14
Jon Coke
15
Dean Lodge

2

16
Bobby Traynor

10

17
Luke Naughton
Simon Grier