Walton Casuals 1-1 Kingstonian
NO STAG PARTY FOR K'S
There are not many teams that K's can claim to have had the measure of since their halcyon days under Geoff Chapple, but no matter how hard times have been, Dover Athletic and Walton Casuals have tended to be a reliable source of points. With K's mired in a winter of discontent and struggling for form though, even those two opponents have failed to yield the victory that would have been their first in five games.

Alan Dowson was scathing of his players after the match, seeming mystified at the poor run which has seen K's slide out of the playoffs. The club are still in a strong league position but a defeat next Saturday could put them bottom of the league's form guide. Any hope of automatic promotion has surely been rescinded, if it wasn't already.

Once again, a K's lead was wiped out late in the game after panic in the penalty area. On both occasions K's were good value for their leads, yet only through red and white tinted glasses could one say the opposition did not deserve a point. K's suffered defensive mishaps and were wasteful in front of goal - the strikers were especially guilty, with Saheed Sankoh in particular needing a goal to end a barren run of form. So too did Bobby Traynor, but his twelfth minute miskick ended a month-long drought and will hopefully initiate a return to form.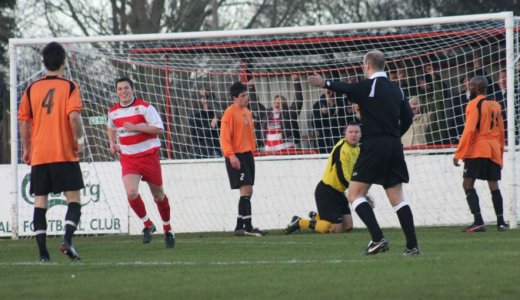 Photo: Chris Hatton - Kingstonian FC
Kingstonian were dealt an unfortunate hand from the referee though. Often their fans are too quick to blame officials for their own team's shortcomings, but on this occasion they had a justified grievance. The hosts' captain and man of the match, combative ex-K Craig Lewington, might well have received a yellow card for a second half foul had he not been booked in the first half, but at no point in the encounter did the referee show courage. Two good penalty shouts were dismissed, firstly when ex-K Max Hustwick tripped Dean Lodge and then when John Ambridge used his hand to block a Sankoh chip. It may not have been deliberate, but was certainly careless and reckless.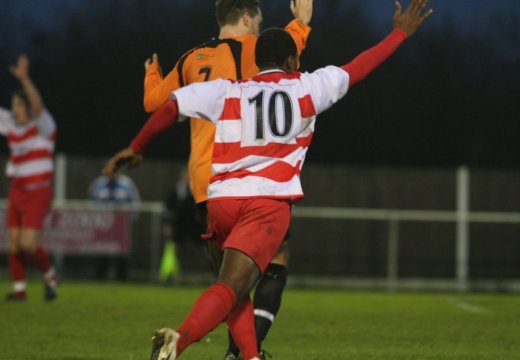 Photo: Chris Hatton - Kingstonian FC
But officiating aside, K's had every chance to win the game but their finishing was poor all day. The warning signs were there early on, when Traynor missed an open goal from barely a yard trying to turn in a mishit Gavin Cartwright drive. The chance, which only arose after Craig Bradshaw saved with his leg when Sankoh should have scored, left Dowson positively nonplussed.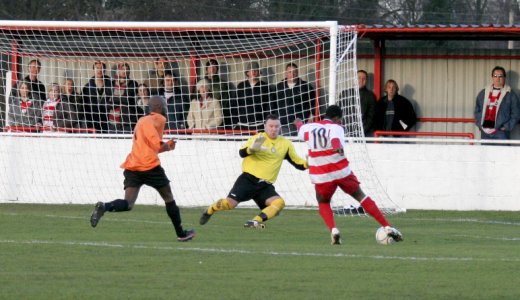 Photo: Stephen Baird
It took Traynor just four minutes to make amends though. Lewington headed a corner away only to the edge of the box, where Sankoh volleyed goalwards. Traynor found himself in the way, but awkwardly skewed the ball forwards, diverting it enough to make it difficult for Bradshaw. The goalkeeper got a hand to it, but it trickled over the goal-line to put K's one-up.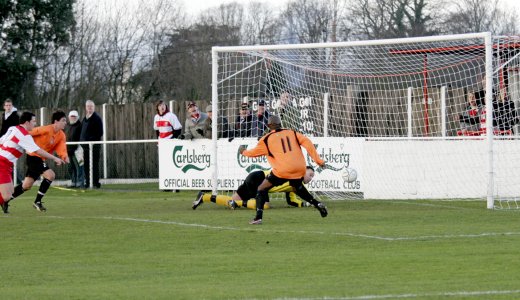 Photo: Stephen Baird
K's showed little impetus or intent though to double their advantage before the break, with Bradshaw only making two more significant saves, the first from Sankoh. It came after a fine run from the young striker, for whom all aspects of his forward play were good all day except for the most important one - shooting. Wes Goggin also managed a shot on target, but his attempt to place the ball from 20 yards was indicative of a man short on confidence.

The home side had good chances to equalise. Jean-Serge Musugu, another who used to call Kingsmeadow home, would have scored had he connected with a diving header, while Nana Badu headed onto the top of the crossbar.

Dowson tried to encourage his players at half time and the second half saw more attacking intent but no cutting edge to finish Casuals off. Bradshaw made an excellent diving save to keep a Lodge twenty-yarder out while the winger, of whom the manager was especially scathing in his post-match interview, fired just over from the same distance ten minutes later.

Lodge was denied a penalty shout after nice work with Sankoh, while Goggin had another effort that was easily saved. All of this was nearly interspersed by a bizarre goal for Casuals, as everyone left an inswinging Mark King cross and Luke Garrard was relieved to see it come off the inside post and straight back into his welcoming arms.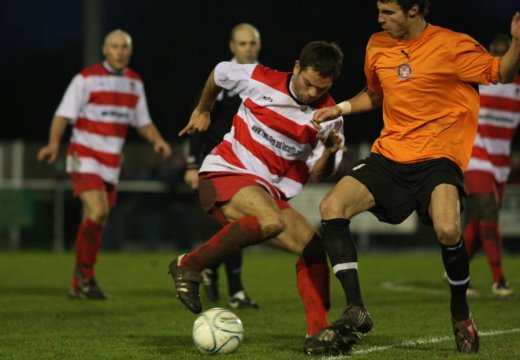 Photo: Chris Hatton - Kingstonian FC
The second penalty shout came about six minutes from time but in truth Sankoh should have scored before it arose. His weak chip when in on goal, albeit at an angle, was parried down by Bradshaw before Ambridge's hand blocked his subsequent effort to pick out a team-mate.

It seemed almost inevitable that Casuals would go up the other end and score, which they did to the groans of the away fans. The ball was pumped into the box, and in an incredibly similar manner to the Dover equaliser, panic set in, nobody cleared it and substitute Chris Kiyanda slammed it through the crowd and into the bottom corner.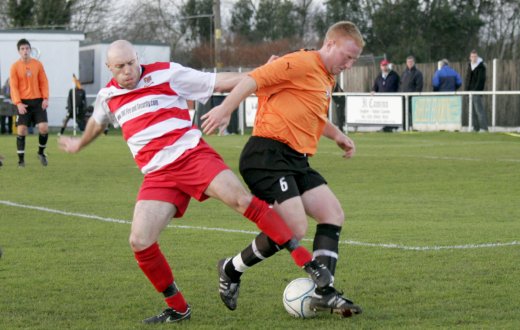 Photo: Stephen Baird
Only the most pessimistic of Walton Casuals supporters would have expected K's to recapture the lead in the four remaining minutes, though if Simon Huckle's vicious volley had been a few inches lower then he would have provided a golden memory from Franklin Road almost the equal Mazin Ahmad's at the same ground two years ago. At that point, Ahmad was in the midst of a golden run of ten goals in a three month spell where K's lost just one league game - Kingstonian are crying out now for somebody to hit that level of form.
Sat 12th Jan 2008
Franklyn Road
229
Isthmian League Division One South

Walton Casuals
1
Kingstonian
1
Traynor

1
Luke Garrard
2
Jamie Beer

12

3
Nick Rundell
4
Wayne Finnie
5
Gavin Cartwright
6
Simon Huckle
7
Jason Turley
8
Wes Goggin
9
Bobby Traynor
10
Saheed Sankoh
11
Dean Lodge
12
Danny Summers

2

14
Neil Lampton
15
Jon Coke
16
David Suchy
17
Luke Naughton
Simon Grier