Whitstable Town 2-3 Kingstonian
K'S DINE ON OYSTERMEN CATCH
Four goals - including another own goal - made sure that Kingstonian's first ever competitive match against Kent's Oystermen ended in a victory.

Having won 5-0 in a friendly back in 1999, the visitors had a 100 percent record to keep up and more importantly this season's promotion push to continue.

Nick Rundell opened up the scoring in the first half and then with a stroke of tactical genius by Alan Dowson, Carl Gibbs came on to replace recent hotshot Danny Summers and scored within six minutes, before NJ Lampton scored from the penalty spot.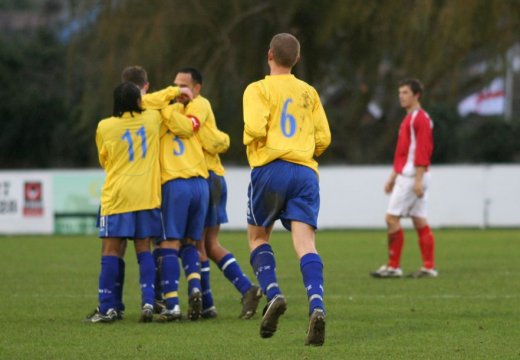 Photo: Chris Hatton - Kingstonian FC
The own goal came from Jon Coke, who headed past Luke Garrard, but K's not only held on for the last few minutes but could have easily added a fourth.

Rundell found the back of the net after Steven Lloyd gave away an unnecessary free kick just outside the box and then the home side's defensive wall was anything but. Rundell went through the wall and low past Kevin Fewell in the goal in the 38th minute.

This was followed up in the second half Dean Lodge picked out Saheed Sankoh on the left in space in the 64th minute. This came back to Gibbs in the centre and a volley left Fewell standing again.

And to end the goal fest by Kingstonian Lampton took the penalty in the 75th minute after Gibbs was tripped up by Gary Sayer as he waited for a cross from Sankoh.

In between another penalty was won this time by Town after Jon Neal was held by Gavin Cartwright in the goal area, who scored despite Garrard, booked seconds earlier for delaying the kick, managing to get his hand to it.

And then in the 87th minute Coke, wearing the skipper's armband, headed past Garrard after a long aimless ball into the area for K's fifth own goal of this campaign - two of them in the league.

Kingstonian began the game brightly with an almost immediate goal after Lampton found Lodge, whose through pass was just too long for Summers. Then Simon Huckle headed skywards to the goal, beating Fewell with the lob, only for Liam Quinn to save the home side's blushes with a header out on the line.

Kingstonian continued to press for a goal with Sankoh being denied by an attentive defence and Fewell judging another Huckle header, from Wayne Finnie's long range throw-in, rather better than before.

However it was not all one way traffic with Garrard finding Tom Parker's shot less impressive than his work in setting up the chance. Neal also seemed likely to score when Cartwright tackled well to deny him a shot. From the corner Neal went over from 25 yards.

It was Kingstonian that however opened the scoring with Nick Rundell finding the back of the net from his free kick, minutes after Summers free in the centre was tackled by Lloyd.

The first half ended quietly with only one real chance from Whistable, easily saved by Garrard.

The second half began lively with Summers once again denied - this time by the inconsistent Fewell - when his cross was well saved after being found by Lampton. Another chance by Summers was also denied by Fewell. Soon he was trudging off the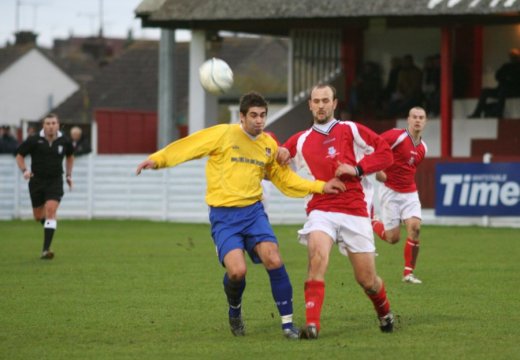 Photo: Chris Hatton - Kingstonian FC
Two shots from the home side came close to scoring an equaliser but first Garrard pushed away at length Danny Tipple's shot and then skipper Marcos Perona passed to Danny Stubbs whose in-swinging shot went just wide.

Up stepped Gibbs to beat Fewell with his volley and put some light between the two sides.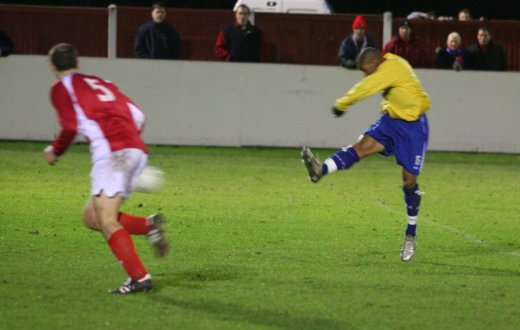 Photo: Chris Hatton - Kingstonian FC
Then minutes later Gibbs nearly made it three but Fewell parried the ball out after the pass from Lampton.

The home side finally got their opening goal after Cartwright was judged to have been a bit too strong in holding up Neal.

Another penalty minutes later by Lampton, reward for his work rate, put the focus back on Kingstonian.

The Coke own goal had Kingstonian on edge but with minutes ticking deep into injury time, Gibbs found Craig Dunne, on earlier for Wes Goggin, but his shot went wide with Fewell rushing out to shorten the angle.

Once again it was a useful win, with the team playing attacking football and not resting on a single-goal lead. On the down side another own goal, although unlike the match at Whyteleafe, with a similar score line, Kingstonian did not have to pay for it.
Sat 24th Nov 2007
The Belmont Ground
239
Isthmian League Division One South

Whitstable Town
2
Kingstonian
3
Rundell, Gibbs, Lampton (pen)

1
Luke Garrard
2
Jon Coke
3
Nick Rundell
4
Wayne Finnie
5
Gavin Cartwright
6
Simon Huckle
7
Neil Lampton

12

8
Wes Goggin

16

9
Danny Summers

15

10
Saheed Sankoh
11
Dean Lodge
12
Simon Sobihy

7

14
Liam Cockerill
15
Carl Gibbs

9

16
Craig Dunne

8

17
Luke Naughton
Michael Underwood