Whyteleafe 3-2 Kingstonian
LATE GOAL STILL LEAVES 'LEAFE WINNERS
Kingstonian nearly grabbed an injury-time equaliser in a dramatic second half of five goals and one red card.

A long punt from Aaron Goode found Saheed Sankoh but he was unable to convert with a low shot 15 yards out four minutes into injury time.

Five minutes before Bobby Traynor had set up the prospect of an unexpected draw with a penalty for the visitors.

Losing 3-1 to ten men Whyteleafe, Dean Lodge was upended to the left of the goal by defender Leigh Douce. Traynor slotted the penalty low to the right, leaving 'keeper Robert Tolfrey standing.

An earlier goal by Lodge in the 68th minute seemed to herald the visitors' revival. His cheeky toe poke, with his right foot, in the centre of the area ten yards out from Nick Rundell's pass reduced the earlier two-goal deficit to one.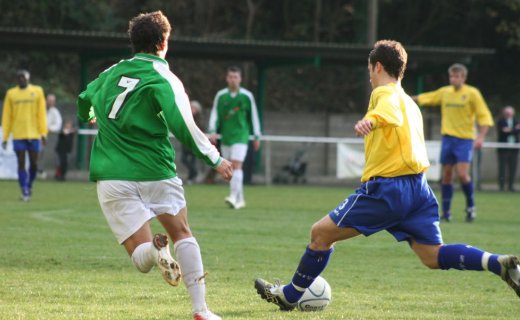 Photo: Chris Hatton - Kingstonian FC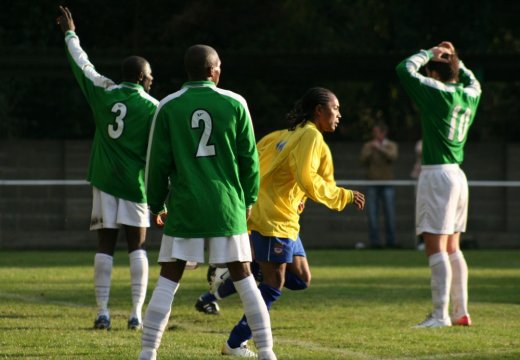 Photo: Chris Hatton - Kingstonian FC
But a third 'Leafe goal four minutes later proved enough to guarantee that the vocal Kingstonian fans would head home empty-handed and disappointed.

The second half itself was in complete contrast to a quiet first 45 minutes that had seen both 'keepers tested occasionally with both sides failing to impose any sustained pressure on their opponents.

Kingstonian had begun the game brightly but were unable to repeat last week's feat of an early score. However it was a speculative shot by Samuel Clayton, a late call-up to the host's starting line up, that proved the first test. Luke Garrard was more than equal.

Almost immediately, in the sixth minute, Sankoh attacked the other end but was called offside. A minute later he was denied again as he was beaten to Jason Turley's high pass.

Thence followed a series of wasted free-kicks by Kingstonian - only punctuated by two efforts from Clayton and then Daniel Platel, whose 25-yard shot had Garrard saving with his finger tips.

Alan Dowson was then forced into a substitution and took of Turley in the 31st minute, eight minutes after a clash of heads that had seen him then clutch his right leg. Wes Goggin came on.

Lodge then began to attack with his runs against the defence. In the 34th minute a short tap back to Goode produced a swirling in-swinger from the right with Traynor free but once again the 'keeper was quicker.

Then in the 37th minute another short pass back - this time to Goggin - was not headed. Sustained pressure from Sankoh and Shin finished the half. But for Shin that was it as he was taken off at half time, with NJ Lampton coming on for the second half.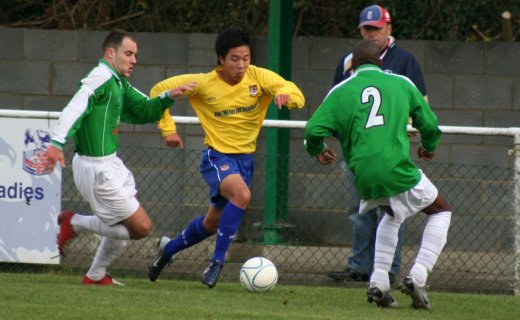 Photo: Chris Hatton - Kingstonian FC
Disaster struck almost immediately. Whyteleafe kicked off and Gavin Cartwright collected the ball with the back of his head, knocking it back to Garrard 30 yards out - only to find no-one was there.

Kingstonian were a goal down within 30 seconds.

Minutes later Sankoh, unmarked, shot unconvincingly to the left and low but Tolfrey saved before the referee Frank Meilack blew for offside - saving Sankoh's blushes.

The liveliness continued with Garrard palming away a shot, diving to the left, from a late and long cross by Clayton. In the 56th minute Lodge's free-kick tested Tolfrey at the other end, as it curled just short of the right near post from 30 yards out.

Five minutes later Cartwright and Lodge forced a corner. This made it 2-0 as Lodge's poor corner was intercepted easily and a long pass up the left touchline found Platel. His cross hit the far post and rebounded in beyond Garrard for a goal.

It would take seven minutes before Lodge would open the Kingstonian scoring but in-between the visitors exerted pressure. Sankoh missed from 10 yards, going wide as he was tackled. Then Traynor also went wide, from further out, also under pressure. And Lodge was then bought down a minute later, in the 65th minute, by skipper Robert Smith.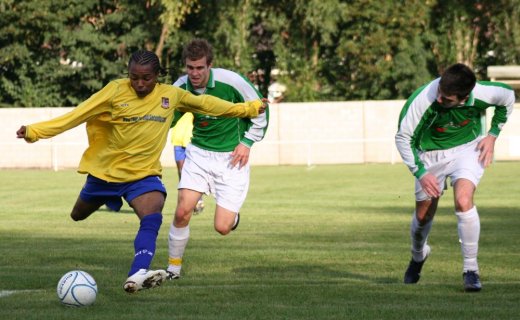 Photo: Chris Hatton - Kingstonian FC
His poor free-kick was soon forgotten with his goal two minutes later.

A minute after the referee called back action to award Kingstonian a free-kick with Lodge almost certain to score a second.

The third goal for Whteleafe soon followed with Clayton shooting in from the right low that had Garrard just able to touch it but unable to stop it as he dived.

The reply came but neither a Traynor header nor Lodge got anywhere. Then with 12 minutes remaining, Tolfrey stopped a long-range shot from Lodge, and with Sankoh lurking, Sankoh followed up from 10-yards for Tolfrey to save it to the left by the post.

Once again both players combined two minutes later to exert pressure on the goalkeeper - unfairly in the eyes of the referee.

And with the sun setting below the hills, behind Garrard's goal a small bit of light appeared. Smith was shown a second yellow card, for dissension, and given his marching orders. Danny Summers came on at the same time, replacing Cartwright. With time ticking away Traynor swivelled on his left foot but shot wide. He did find the back of the net with the penalty two minutes later.

Injury time saw Kingstonian up the pressure on Whyteleafe but eventually the home side closed out the goal, with only Sankoh's effort to shout about.

While not the horror show that February's previous meeting, at Kingsmeadow, had been, it was probably a bad day at the office. However, with November beckoning, only a second defeat this season shows hopes for a positive ending to the season remain.
Sat 20th Oct 2007
Church Road
234
Isthmian League Division One South

Whyteleafe
3
Kingstonian
2
Lodge, Traynor (pen)

1
Luke Garrard
2
Aaron Goode
3
Nick Rundell
4
Simon Sobihy
5
Gavin Cartwright

15

6
Jon Coke
7
David Shin

14

8
Jason Turley

12

9
Bobby Traynor
10
Saheed Sankoh
11
Dean Lodge
12
Wes Goggin

8

14
Neil Lampton

7

15
Danny Summers

5

16
Andrew Wylde
17
Luke Naughton
Michael Underwood