Worthing 2-0 Kingstonian

Two goals - one in each half - sunk Kingstonian as they failed to weather the storm across Worthing.

With constant rain throughout and a gale against them the visitors were unable to weather the conditions any better than their hosts on the rain-sodden South coast.

Ben Johnson headed the first goal and then in the second half Danny Davis added another with the foot.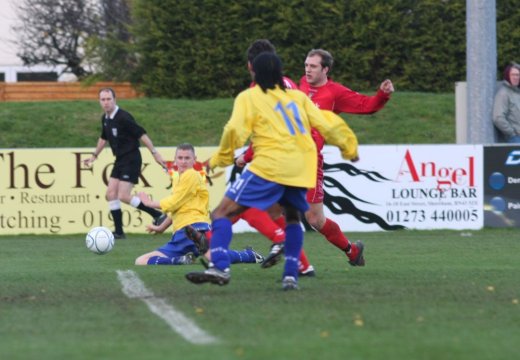 Photo: Chris Hatton - Kingstonian FC
Kingstonian were on the back feet almost from the start with Worthing's captain Ben Andrews almost chipping Luke Garrard after a long wind-assisted ball from 'keeper Rikki Banks. The ball was pushed skywards and then down but Gavin Cartwright headed out from the line. This was only the 5th minute.

Then scorer Phelan and Dean Lovegrove both shot over the crossbar while Garrard held onto Davis' shot.

It was not until the 19th minute that Kingstonian got their first real tester on goal when Wes Goggin, finishing a long run up field, saw his cross headed away by Roy Pook. It was picked up by Dean Lodge but his shot was parried away by the keeper at the near post for a corner.

Thus began a few minutes of pressure by the visitors. An unmarked Danny Summers blasted over the cross bar after taking a pass from Wayne Finnie.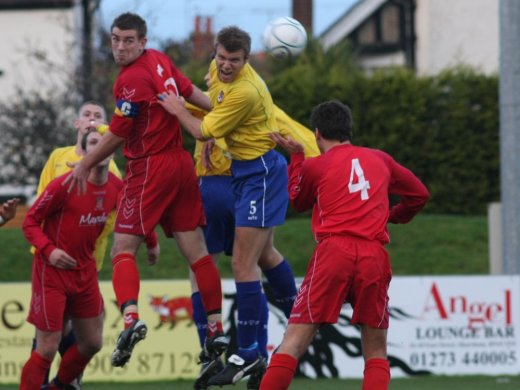 Photo: Chris Hatton - Kingstonian FC
Inevitably it was Worthing then that scored. Matt Phelan's run down the right ended with a defence-splitting cross and Johnson, left alone, then headed past Garrard with barely 30 minutes played.

And before the end of the first half, it could have easily been a second with the best chance going to Andrews after a long throw-in from Mark Pulling beat the defence. Fortunately Andrews could only shoot wide. Lovegrove also shot wide. Goggin made a bit more of a match with a 25 yard effort as half time fast approached, but it was well over.

The second half began with K's now with the wind behind them but this had dropped quite a bit, so this advantage was lost. NJ Lampton tried a speculative shot from 40 yards but this was covered by Banks in the Worthing goal. This forced the home side to respond and they went for a second. Pulling once again combined with Andrews from the throw-in but this time Andrews was unable to repeat and shot wide.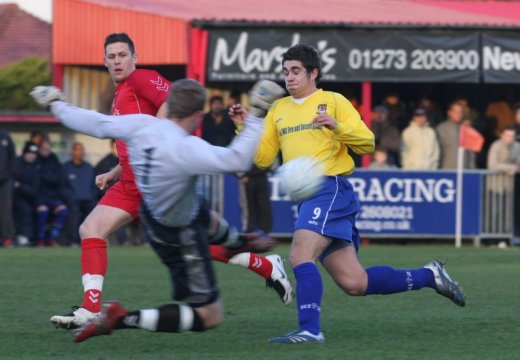 Photo: Chris Hatton - Kingstonian FC
Jon Coke replied with arguably K's best chance of the match. His long shot down the right found Carl Gibbs, who outfoxed Banks and then cut his shot back to Lodge in front of the goal. Lodge sliced the ball badly.

Pook played a shot out from defence that found Davis. He then ran at the defence before slotting the ball past Garrard. And with that Kingstonian looked beaten.

Pulling twice could have made it three nil but his first chance was badly controlled and went spinning wide and then a second chance also went wide when he ought to have scored.

And with the game drawing to a close Simon Huckle picked up Coke's dummy run, but then he shot over the bar as he tried to shoot too early.

This is only Kingstonian's fourth loss this season in the league and they will be hoping that they can reverse this when they play Cray on Saturday, who have a worse record too but lie one place ahead. In this season's previous encounter at Kingsmeadow between the two, Kingstonian took the honours in the Isthmian Cup and there is nothing to suggest that this cannot be repeated.