Kingstonian 3-2 Worthing
K'S VICTORIOUS OVER THE REBELS
When this website was formed some ten years ago, it was the week that K's took a big step towards their eventual promotion to the Conference with an incredible 7-0 win over Walton & Hersham. For all the ups and downs in between, that scoreline has never been repeated but while a 3-2 win over Worthing to celebrate a decade in cyberspace was nowhere near as empathic, come the end of the season it may prove equally as important.

With Worthing three points ahead of K's and occupying the vital 5th spot in the league, a defeat would surely have ended K's promotion bid. After gamely hanging on for a narrow win though and seeing a late equaliser ruled out, only goal difference is now keeping K's out of a playoff berth.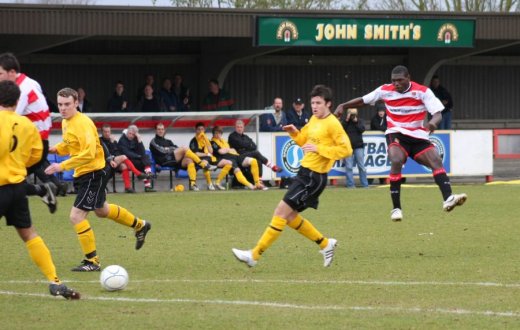 Photo: Chris Hatton - Kingstonian FC
Worthing looked strong technically but ran into a K's side who were motivated to salvage their season after learning of the threat to their place in the Surrey Cup final. Worthing twice wiped out K's leads but some ferocious late tackling made sure the home side did not suffer the same fate a third time.

The Rebels came into the game as the form side with five straight wins and did not take long to get out of the blocks, as Luke Garrard made a reflex save in just the second minute to stop a Dominic Douglas volley. Worthing had the better of the opening minutes but having nearly been a hero, Douglas soon found himself responsible for his team going behind. Losing possession to Shawn Beveney on the edge of his own box, he responded by bringing the Guyanan international down and Bobby Traynor reliably converted his fifth penalty of the season, perfectly finding the bottom corner of Rikki Banks' net.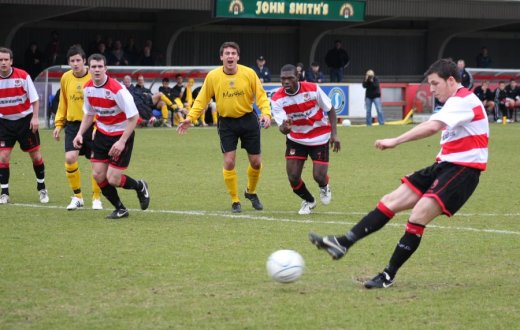 Photo: Chris Hatton - Kingstonian FC
Worthing remained a constant threat though and after a good spell of pressure equalised on twenty minutes. Jerahl Hughes, a loanee from Yeovil Town who looked by far the visitors' best player, beat Jon Coke down the right and crossed for Scott Kirkwood. Kirkwood got little power behind his side-footed volley but it bobbled, almost in slow motion, past the dive of Garrard and into the bottom corner.

K's have not always responded well to conceding goals this season but they were soon back in front thanks to a large slice of luck. Tommy Williams curled a dubiously awarded free kick into the penalty area; nobody made contact but Banks was rooted to the spot and it went straight in to restore the home side's lead.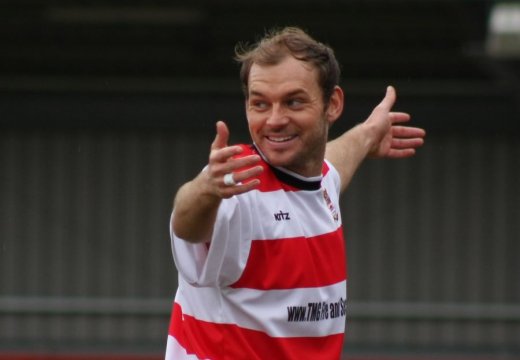 Photo: Chris Hatton - Kingstonian FC
Worthing dominated the remainder of the half with skipper Ben Andrews at the heart of their play but could not find the equaliser. Kirkwood came close again after a knock-down by Andrews and then Andrews himself came close from a free kick. Garrard made a tremendous near post save from a corner and then Andrews was involved once more, firing wide to round off a counter-attack after a Jamie Brotherton pass.

The equaliser came early in the second half however. A magnificent run by Hughes saw him beat Coke and then cut inside where his weighted pass gave Brotherton a fine opportunity. He neatly dinked the ball over Garrard with a coolness rarely seen at this level of the pyramid.

K's fought to recapture the lead for a third time though, with NJ Lampton and Williams both coming close from long range. Worthing came close on 65 minutes, with Garrard saving from Andrews and then Jason Turley, who had only just been brought on to replace the injured Jamie Beer, throwing himself in front of Hughes to prevent a certain goal from the rebound.

A set piece gave K's the chance to take the lead once more though. Williams' corner was headed up in the air by Douglas and it was met with a powerful header by Simon Huckle that gave Banks no chance. A daft penalty and two goals from set pieces will have been a particularly unpleasing way for the Sussex side to ship three goals and would prove to waste their impressive attacking endeavour.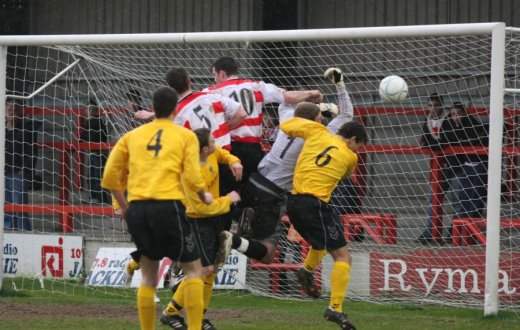 Photo: Chris Hatton - Kingstonian FC
They did come close to forcing K's to rue yet another late equaliser but, for once, it was not to be and K's protected their single goal cushion. Lloyd Skinner's looping header hit Garrard's post and when Brotherton turned the rebound home he was deemed offside. Further late chances saw Stuart Axten head wide, Joe Keehan miss from long range and Andrews find the wall when a late handball from Huckle gave Worthing a free kick on the D.

It was to be K's day though and leaves the race for the final playoff place quite preposterously close, with two points separating five teams. If it was not one of K's best performances of the season it was certainly one of their gutsiest and will hopefully give them the self-belief they'll need to emerge from the plethora of upper mid-table sides vying for a shot at promotion.